Thanks to the design freedoms afforded by the mirrorless camera configuration, we are becoming accustomed to seeing more exotic lenses, especially zooms. The shorter flange back distance and, in many cases, wider throat of the mirrorless camera mounts provide more scope for optimizing lens performance without requiring complex and expensive optical constructions. And optical correction for distortion and optical aberrations can be assisted by in-camera corrections, so lens designers are generally becoming more adventurous.
Samyang's AF 35-150mm f/2.0-2.8 FE is both 'everyday' and exotic. Also available under the Rokinon range, the focal range initially looks to be quite conservative until you appreciate that it spans a whole bunch of classic focal lengths – 35mm, 50mm, 90mm (for photographers, 85mm for video-makers), 135mm and 150mm – with, of course, all points in between. It's a lot more versatile that you might initially think, made more so by the fast maximum aperture range of f/2.0 to f/2.8 which is advantageous for low-light shooting as well for using selective focusing via the shallow depth-of-field, especially at the shorter focal lengths. The 'FE' designation in the model number indicates that the mount is for Sony's full-frame Alpha series bodies, but now that Samyang has joined the L Mount Alliance, it's not unreasonable to expect a version in this fitting will arrive at some point.
If you think that this particular focal range and lens speed look familiar, you're absolutely right because there's a similar Tamron 35-150mm F/2-2.8 Di III VXD which is available for both the Sony FE and Nikon Z mirrorless mounts. The latter is the result of Tamron's long relationship with Nikon which has given it access to the Z mount protocols and it's although noting that Tamron earlier made a 35-150mm f/2.8-4 Di VC OSD zoom – albeit a little slower – for the Canon EF and Nikon F DSLR mounts. It's proved to be very popular which is no doubt why the focal range is being reprised in the mirrorless mounts… and Sony FE users actually have a choice of two models.
They're also quite similar in size, weight and external design, but there are some key differences in the optical construction and, not surprisingly, the Samyang model is the more affordable. Significantly, as we've come to expect from Samyang, this saving doesn't come at the cost of either performance or capabilities. In fact, Samyang continues to load up its newest AF mirrorless lenses with ever more features and functions.
Having built its reputation with solidly performing manual focus primes, Samyang now seems equally adept at building autofocus zooms.
Specifications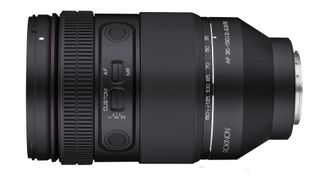 Mount: Sony E (FE)
Full frame: Yes
Image stabilization: No
Autofocus: Yes
Lens construction: 21 elements in 18 groups
Diaphragm blades: 9
Minimum aperture: f/16-22
Minimum focusing distance: 0.33m (W) 0.85m (T)
Maximum magnification ratio: 0.18x (W) 0.175x (T)
Filter size: 82mm
Dimensions: 92.8x157.4mm
Weight: 1,224g / 43.2oz
Handling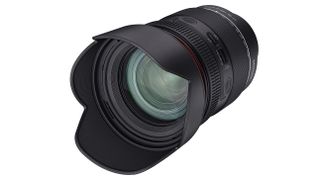 The fast maximum apertures make the 35-150mm a big lens and result in a screw thread filter diameter of 82 millimetres. It weighs in at a substantial 1.23 kilograms so even on the most compact of Sony Alpha bodies, it's still quite a handful. A tripod mounting collar would probably be beneficial, but it's comfortable to use handheld although shooting over longer periods – say at a sports event – would likely become more of a challenge.
The zooming collar is quite wide, so it affords a firm grip, and the zooming mechanism is telescopic so the lenses increases in physical length as the focal length is increase. There's a zoom lock to secure it at the 35mm setting, and prevent the barrel extended when you're carrying the lens on-camera. However, in practice, we found that the zooming mechanism is stiff enough to prevent any creep.
The manual focusing collar is also a decent size and has a nicely weighted feel despite being an electronic 'fly-by-wire' control. The 35-150mm has a number of other controls on the barrel and these comprise an MF/AF switch, a pair of focus hold/memory buttons – set at the 12 o'clock and three o'clock positions – and a 'Custom' switch which is becoming a common feature on Samyang's most recent lenses, both zooms and primes. On the 35-150mm there's three setting positions and a total of four mode settings straight out of the box. With the lens set for AF operation, the Mode 2 setting switches the MF control ring into a manual aperture collar, allowing for stepless adjustment from f/2.0-2.8 to f/16- 22. With the lens set for manual focusing, the 'Custom' switch settings then vary how the MF control collar works – non-linear, linear or what Samyang is calling the "Dolly Shot" function. With non-linear adjustment, the amount of focus shift is governed by the rotation speed of the focus collar… in other words, if you turn it quickly, you'll make big adjustments, but turning it slowly allows for more precise control thanks to the smaller degrees of change. With the linear-type adjustment, the focus is shifted at a constant speed according to the rotational angle of the focus ring. The latter allows for more uniformity of adjustment – i.e., more linear – which is something video-makers often require when using focusing creatively. There's also a long focus 'throw' of 300 degrees which is also something that video makers like for more precise focusing control. With the Mode 3 "Dolly Shot" function, the focusing collar and zooming control are linked so, once you've established the size of your subject, you can zoom out while moving in and it will be maintained, but obviously the perspective of the background will change. It doesn't quite replace the versatility of a proper dolly, but if you only need to use this effect occasionally and only over short distances, then doing it via the Samyang's zooming ring is a lot cheaper and, in practice, just as effective. And, of course, you can achieve it single-handedly. The other main stipulation is that you need to be relatively close to your subject (Samyang recommends no further out than a couple of metres).
Being a fully supported Sony FE mount lens, the focus hold buttons can be programmed for different functions from the camera body such as 'Hybrid AF' and 'Eye AF'. With manual focusing, the hold buttons can be used to store a distance setting that you can then immediately return to. You can also reprogram the Custom mode settings, but for this you'll the need the optional Samyang 'Lens Station' docking module.
The main barrels are made from metal alloy with extensive sealing to prevent the intrusion of dust or moisture. This includes a rubber gasket around the lens mount which is even more important on a mirrorless camera where the sensor is more exposed than with a DSLR. The lens looks – and feels – exceptionally well-made and has Samyang's "hidden red ring" – so named because it can only be seen from the front of the lens – which is a cosmetic feature of its premium models.
Design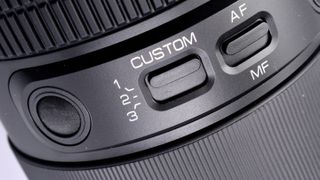 There are no fewer than 21 elements at work inside the Samyang 35-150mm zoom and they're arranged in 18 groups. A total of 12 elements are special types which indicates that Samyang has gone to considerable lengths to provide a high degree of optical correction. The specials include one hybrid aspherical element ('H-ASP'), two aspherical ('ASP') types, six with extra-low dispersion (ED) characteristics, and three made from glass with a high refractive index (HR). Together, these correct for distortion, chromatic aberrations (both lateral and longitudinal) and spherical aberrations, as well as minimizing the fall-off of both sharpness and brightness towards the corners of the frame. Samyang's 'Ultra Multi-Coating' (UMC) prevents internal reflections thereby reducing both flare and ghosting. By the way, a hybrid aspherical element is one made by shaping optical-standard resin over a glass spherical which allows for more powerful corrective capabilities.
Autofocusing is via a stepping-type motor (STM) which delivers a faster response – due to its low inertia – and then faster operation. This speed is particularly important when tracking fast-moving subjects. STMs are also very quiet which is a plus for video shooters. The minimum focusing distance is 33 centimetres at 35mm and 85 centimetres at 150mm which gives a maximum reproduction ratio of 1:5.5. Importantly for video-makers, the optical design is parfocal which means that a manually-set focusing distance won't shift when zooming. Interestingly, Samyang describes it as "Digital Parfocal" which suggests the lens is automatically re-adjusting the focus during zooming to maintain the set distance. Makes sense given just how expensive an optically parfocal design can be. Also, good news for video-makers is that there's no evidence of focus 'breathing' so the image size remains unchanged across the lens's distance range.
The aperture diaphragm employs nine blades to give smoother, more rounded out-of-focus effects. There's no optical image stabilization so dealing with camera shake relies entirely on the in-body systems in the full-frame Sony Alpha cameras.
Performance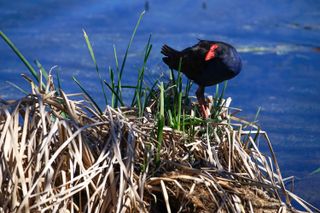 As noted previously, Samyang has worked hard to optically correct the 35-150mm zoom as effectively as it can, and it shows in the optical performance. The center sharpness is exceptional across the focal range and while there is some fall-off towards the corners at 35mm and f/2.0, it's not as much as might be expected. By f/4.0, the centre-to-corner sharpness is impressively uniform as is the brightness. Again, there's slight vignetting when shooting at the widest focal length and wide open, but it's not excessive and may not even be enough to warrant any post-camera correction (depending on your personal preferences).
Distortion is very well-controlled with a tiny amount of barrel-type bending at the wide-angle end which then becomes pincushion-type bending from around 50mm. This progressively increases towards the telephoto end, but only slightly and so, overall, distortion just won't be noticeable in a great many real-world subjects and scenes. Lateral chromatic aberration isn't evident at all so crisp definition is maintained along all the high contrast edges. Longitudinal chromatic aberration, if it occurs, is only very slight when shooting wide-open and is effectively countered by stopping down.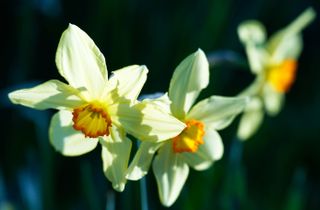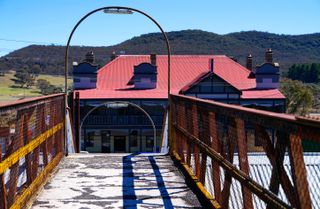 Given the large expanse of front element, using the supplied lens hood is a must with strong side lighting, but some flare is unavoidable when the sun is the frame. However, closing down to f/16-f/22 converts the flare into nicely defined sun stars.
This zoom is nicely contrasty and delivers a convincing impression of depth with the very smooth roll-off from the in-focus to the out-of-focus. For portraiture, backgrounds can be rendered softly blurred thanks to the fast maximum aperture that's maintained across the zooming range. On the other hand, if you want sharpness and definition, the Samyang 35-150mm can resolve the tiniest of details and the most intricate of patterns… so it's easily a match optically for Sony's growing line-up high-res 61 megapixels Alpha bodies, such as the Sony A7R V.
Verdict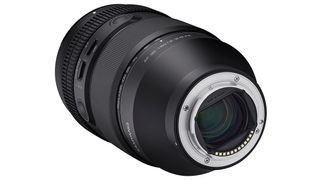 There's no shying away from the size and weight of Samyang's AF 35-150mm zoom, but there's plenty of reward for effort here too. The zooming range covers all those focal lengths that we now consider 'classical' because they have proven universally useful. Importantly, the f/2.0-2.8 maximum aperture range means that you aren't sacrificing a whole lot of speed compared to using primes, especially at the telephoto end. And, of course, carrying a set of fast primes would be a much heavier load… with a lot of time-wasting involved when changing focal lengths compared to the convenience of simply zooming. Samyang backs up this practicality with a solid optical performance all round and excellent affordability which makes the value-for-money proposition hard to ignore too.