Samyang launched an AF 24mm F2.8 FE autofocus prime for Sony full-frame mirrorless cameras back in 2018. Almost qualifying as a pancake lens, it's just 37mm in length and weighs a mere 120g. Three years down the line, the new Samyang AF 24mm F1.8 FE lens is 1.33 f/stops faster and about twice the physical length and weight, but it's still quite diminutive at 65x72mm and 230g. The faster aperture makes this a candidate for one of the best lenses for astrophotography and for shooting indoors, where the similarly wide viewing angle of 83.7 degrees enables you to shoehorn more into the image frame, when contending with cramped interiors. As usual, this Samyang lens is also available under Rokinon branding, as the Rokinon 24mm F2.8 AF Sony E.
Specifications
Mount: Sony E (FE)
Also known as: Rokinon 24mm F2.8 AF Sony E
Full frame: Yes
Autofocus: Yes
Image stabilization: No
Lens construction: 11 elements in 8 groups
Angle of view: 83.7 degrees
Diaphragm blades: 9
Minimum aperture: f/22
Minimum focusing distance: 0.19m
Maximum magnification ratio: 0.21x
Filter size: 58mm
Dimensions: 65x70mm
Weight: 230g
Key features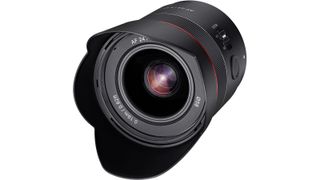 There are several 24mm f/2.8 lenses on the market for Sony full-frame mirrorless cameras (which also work fine on APS-C crop-sensor bodies), as well as a couple of f/1.4 options. The f/1.8 aperture rating is more unusual, but a good compromise between speed and physical size.
The optical path consists of 11 elements in 8 groups, including two aspherical elements, three high-refractive index elements and two extra-low dispersion elements. Suffice it to say that the little lens packs some high-quality glass. Autofocus is driven by a linear stepping motor, which is typical of the breed in being speedy and virtually silent in operation, while also enabling smooth autofocus transitions when shooting movies.
Trick features include an autofocus hold button and a dual mode switch, the functions of which can be customized via the host camera's menu system. Given the suitability of the lens for astrophotography, a neat inclusion is a bi-color LED. You can configure the autofocus hold button and mode switch so that the LED lights up red, turning green when the infinity focus distance is achieved, taking the guesswork out of shooting in the dark.
Build and handling
Although lightweight, the Samyang feels strongly built and incorporates weather-seals. The focus ring works with smooth precision and handling is enhanced by the customizable options, like being able to use the focus ring for controlling the aperture when in autofocus mode. The lens has a 58mm filter attachment thread and comes with a petal shaped lens hood, of equally high quality.
Performance
The autofocus system works with consistent reliability, while the short minimum focus distance of 0.19m enables you to get in close to subjects and emphasize perspective, making the most of the wide viewing angle. Sharpness is superb in the central region of the frame, even when shooting wide-open, and edge-sharpness is excellent in the aperture range between f/4 and f/11.
Color fringing and barrel distortion are very minimal, even when uncorrected, and are essentially eliminated when switching on the in-camera corrections available in Sony bodies. There's a little vignetting at f/1.8 but this isn't necessarily a problem and can be seen as a good thing, drawing attention to the central region of the frame. Either way, automatic in-camera corrections are available for this as well. The lens also performs well in minimizing ghosting and flare.
Sample images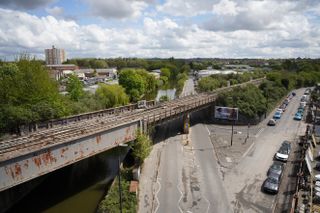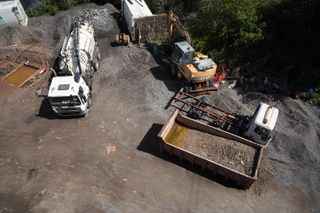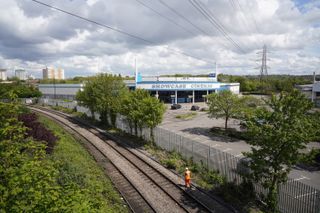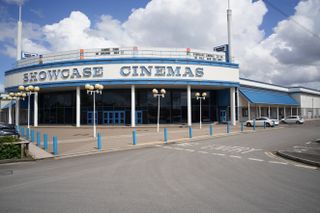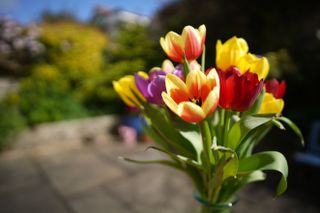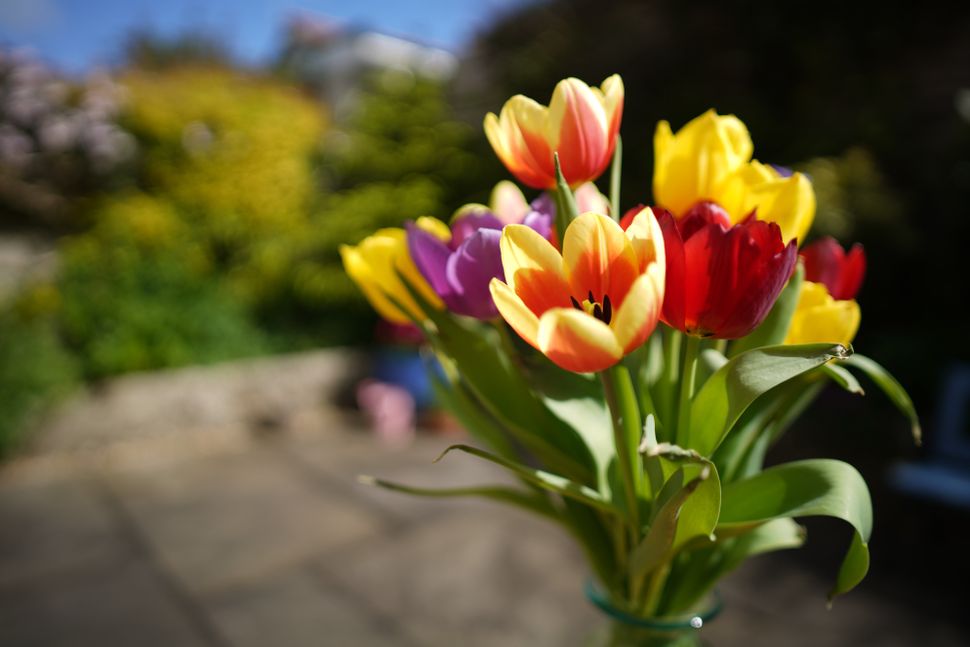 Lab tests
Sharpness:
The sharpness scores in the graph below are produced by shooting a monochrome test chart covered in multiple sharp boundaries between black and white. This image is then assessed by specialist software, with the extent of blur on the contrast boundaries at the centre, mid and edges of the image converted into a spatial frequency value to determine how many line widths per picture height the lens is capable of resolving. A higher spatial frequency corresponds to a greater number of finer lines over a given distance that the lens can resolve - this number is the sharpness score.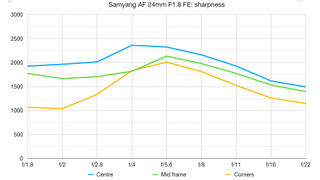 Centre-sharpness is outstanding even when shooting wide-open at f/1.8. Corner-sharpness is very good, becoming excellent at apertures between f/4 and f/11.
Fringing:
The chromatic aberration scores are calculated using the same chart we use for measuring sharpness. This time the processing software assesses the sharp black-white contrast boundaries and determines the width in pixels of the color fringe that divides black from white - the larger the width of the fringe, the greater - and worse - the fringing score.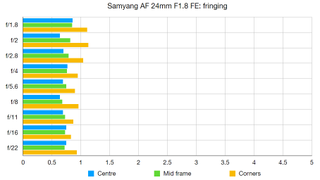 Lateral chromatic aberration is very negligible throughout the entire aperture range, even in the extreme corners of the image frame.
Distortion: -1.67
At the top and bottom of our lens test chart are horizontal black bars that run its full width. A lens that bulges these lines towards the edges of frame produces barrel distortion, the degree of which is indicated by a negative score. Shrinking (pincushion) distortion, usually produced by a telephoto lens, produces a positive score. The higher the number - positive or negative - the greater the distortion. A score of zero indicates no distortion.
Barrel distortion is very slight for a wide-angle lens and, as with lateral chromatic aberration and vignetting, in-camera corrections are available.
Verdict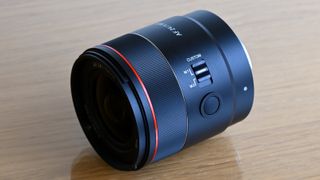 Small and lightweight for a 24mm f/1.8 lens, the Samyang nevertheless packs a real punch, with fast, virtually silent and consistently accurate autofocus, and excellent image quality in all respects. Handling is enhanced by a customisable autofocus hold button and a customizable dual mode switch, while the neat LED illumination makes infinity focusing easy for use as an astrophotography lens. All in all, it's a great wide-angle prime, night and day.
Read more:
The best Samyang & Rokinon lenses
The best lens for astrophotography