The LG G8X ThinQ is one of LG's top phones for 2019/2020, but it doesn't aim for quite the same audience as the Google Pixel 4 XL or iPhone 11 Pro.
It is a little more affordable at $699 with LG's unusual Dual Screen accessory. This is a case with a second (and third) display, and turns the LG G8X ThinQ into a slightly clumsy alternative to the Samsung Galaxy Fold. It's also cheaper than the LG V50 ThinQ, also available with Dual Screen.
A game controller is the clearest use for this second touchscreen, but it can also review your images as you shoot with the camera. And camera quality itself?
It shares some hardware with the most expensive phones around. But image quality is just slightly below the best, in terms of raw detail and very low light performance. A dedicated zoom camera is missed too, but this phone is worth considering for those only interested in a phone from one of the "classic" phone giants: Samsung, Apple, LG and Sony.
LG G8X ThinQ: Camera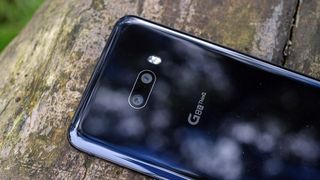 First, let's take a closer look at the photographic hardware. The LG G8X ThinQ has two rear cameras. Its primary one uses a Sony IMX363 sensor and a f/1.8 lens, the ultra-wide a 13-megapixel Samsung s5k3m3 sensor with f/2.4 lens.
This is a familiar combination for a higher-grade mid-range phone. The main sensor uses excellent hardware, including the same sensor as the Pixel 4, but the ultra-wide is more pedestrian.
Take it out for a shoot outdoors and you'll find many of the same benefits as the most desirable and expensive phones. The LG G8X ThinQ has excellent dynamic range enhancement. You can shoot directly into the sun with either rear camera and the processing automatically brings out a lot of shadow detail.
The LG G8X ThinQ also avoids the obvious color oversaturation some phones apply to make their images look more punchy or "poppy". Its hit rate is fairly high, and the basic color tone between the two cameras is fairly well-matched.
You get a dedicated night mode, called Night View. Like just about every other recent low-light addition, this emulates the effect of a long exposure in a form that can be used handheld. This offers image fidelity at night that just wasn't possible in a phone a few years ago.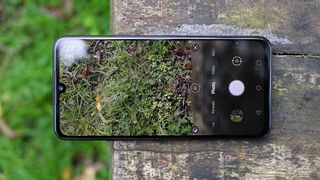 However, the LG G8X ThinQ does not quite match the Pixel 4 despite using the same sensor. LG's image processing tends to result in fairly contrasty pictures, but it also has a habit of over-sharpening edges slightly and de-noising away some fine texture detail. Of course, here we're comparing the phone to models £200 more.
The LG G8X ThinQ's 136-degree ultra-wide camera is, no surprise here, not nearly as good as the Huawei Mate 30 Pro's. It has a fixed focus, the lens distorts quite significantly at the edges and it has a habit of turning brown tones purple.
Take the phone out to a local park and the inter-lens consistency rapidly falls apart. Muddy tracks look natural through the primary camera, but far too purplish through the ultra-wide. This is a simple effect of the much lower-end sensor.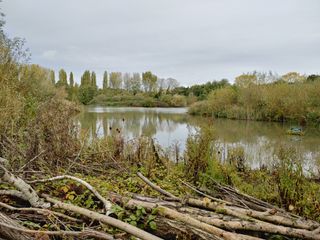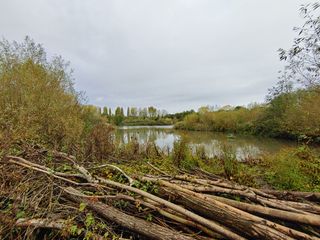 Still, in other situations the ultra-wide performs perfectly well. It offers a more dramatic view of architecture or big looming trees. And detail is good, outside the 15% border to the sides of the frame, where purple fringing ramps up significantly. And even this can be used to creative effect.
The LG G8X's Portrait mode, used for virtual wide aperture background blurring, is mixed too. Its cut-out of subjects is far better than the Pixel 4's, and you can choose the level of blur effect. However, it's a little too picky about the distance of your subject. Get too close and the mode refuses to engage.
We also miss the "zoom" camera. Up against the Pixel 4 and Huawei Mate 30 Pro, pixel-level crops of 2x and 3x zoomed images look poor. No one should surprised here, given it involves digital zooming into a 12-megapixel image.
The LG G8X ThinQ has a good camera, but without class-leading hardware or processing, it needs other aspects to stand out. There are several of these.
The LG G8X ThinQ has an extremely bright 6.4-inch screen, but you wouldn't necessarily guess from day-to-day use. It can kick into a "turbo" backlight mode when it's bright out and you use the camera app. This keeps the preview image clear regardless of weather conditions.
LG goes further than some with the G8X video stabilization too, much like the Samsung Galaxy S10. Shoot using standard stabilization and the phone uses the main sensor's optical image stabilization and software stabilization, cropping into the frame a little. It's very effective.
Turn the extra stabilized mode on and it switches to the ultra-wide camera, allowing for much more powerful software stabilization. However, there's a hit to image quality, particularly in lower light. This mode is best kept to bright outdoors shooting, as the ultra-wide has a significantly smaller sensor.
1080p is also the maximum resolution for this stabilized mode. However, turn it off and the LG G8X ThinQ still uses a combination of software and hardware stabilization right up to the maximum resolution of 4K, 60 frames per second.
Want slo-mo shooting? The LG G8X ThinQ shoots at 240fps (8X) and you can use either field of view. There's also an editing feature that lets you alter the speed (1/2/4/8x), add music and the slowed-down portion right after shooting.
On the more unusual end there's an ASMR microphone mode and live background blur for video. ASMR videos feature what sounds like someone whispering in your ear, and the ASMR mode drastically increases mic sensitivity, so you can get the necessary effect without all-but kissing the mic.
LG G8X ThinQ: Sample images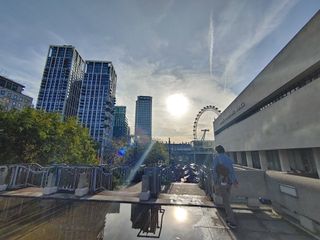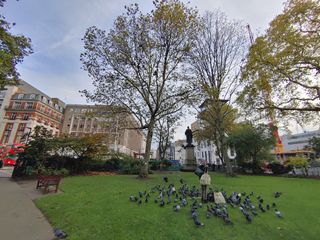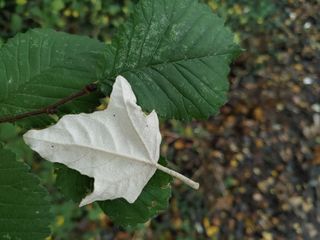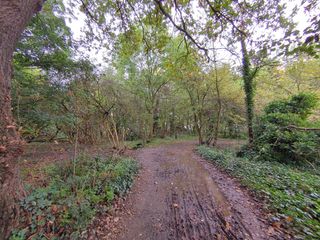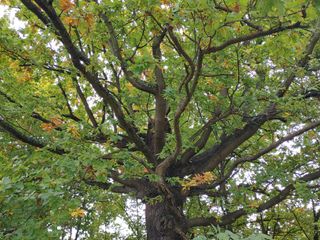 LG G8X ThinQ Dual Screen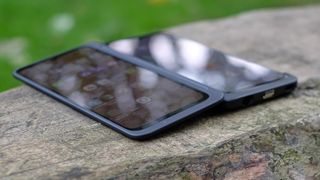 The Dual Screen accessory can also be used during shooting. This is a chunky case that protects the phone and has two displays. A small 2.1-inch monochrome OLED on the front relays the time, battery level and some notification icons, mimicking the "window" cut into some folio cases.
A screen inside matches the main display in size and shape, even down to recreating the notch (despite an absence of camera in it). When you tap the Gallery shortcut in the camera app with the Dual Screen attached, it opens up in the second screen. This lets you quickly looks at shots as you shoot them, and as it is a touchscreen you can even check focus quickly with a pinch zoom gesture.
Alternatively, you can use it like the tilt screen of a dedicated camera, keeping an eye on composition when shooting above or below head height.
The second screen can also act as a soft selfie light, and there's an on-screen slider to alter the colour temperature. It doesn't provide a huge amount of light, but the off-axis position does make it genuinely different to a standard screen flash (which is also an option).
Actual selfie quality does not impress, though. The LG G8X ThinQ has a 32-megapixel Samsung front camera, which uses pixel binning to improve low light performance. Sure enough, it can take fairly bright images in low light without using the screen as a flash. However, performance in better lighting is below average. Too many shots end up blurred, and in-focus ones are not that detailed.
But should the Dual Screen case really sway you from something cheaper and similarly capable, like the OnePlus 7T? We're not convinced. It makes the phone very large, reduces battery life significantly and feels a little clunky despite being arguably far more practical than a true flexible phone.
Flexible phones uses a plastic display coating, which is very susceptible to damage. LG's Dual Screen has panes of glass on both front and inside. If it's a gimmick, it's a fairly well-made one.
Its best use is for gaming, not photography. LG's Game Pad mode turns one of the screens into a virtual controller. Profiles mimic the layouts of real-world pads and controllers, and you can design your own if these don't work with a particular game. It's not a replacement for a physical controller, but is certainly more practical than digging out a Bluetooth gamepad on the train during your work commute.
You can also use the Dual Screen case to run two apps at once, any apps you like. Run a browser app and you can turn on Wide View, which lets a web page scroll smoothly between the two screens.
LG's Dual Screen can do everything you could reasonably ask of something tacked onto Android. However, it's fiddly to use and results in some bizarre bugs. For example, on a few occasions the navigation soft keys disappeared completely after removing the LG G8X ThinQ from its case. We had to restart to the phone to make them reappear.
Its biggest problem is the simplest one, though. The LG G8X ThinQ is much more pleasant to use on its own as the case adds a lot of weight and bulk.
LG G8X ThinQ: Hardware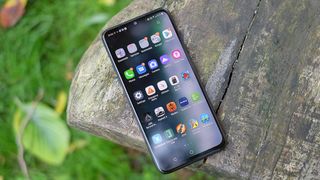 Flying solo this is an attractive phone with a somewhat minimalist design. Its back is curved Gorilla Glass, the front flat (2.5D) glass, and the sides lightly curved aluminum.
The Snapdragon 855 processor provides masses of power, enough to run two high-end Android games concurrently on the two screens. It also has a headphone jack, when almost every other alternative does not.
This is because DAC quality is one of the long-standing attractions of a high-end LG phone. A DAC converts digital audio into the analogue signal headphones require, and this DAC is higher-quality than most, capable of 32-bit decoding.
LG also talks-up the G8X ThinQ's speakers. They are tuned by high-end hifi brand Meridian, there's one driver above the screen and another on the bottom edge of the phone. This layout delivers stereo sound, but volume and general sound quality are not the best around. These speakers sound OK, not exceptional, although they get a boost when the phone is laid flat on a resonant surface.
There are two parts of the LG G8 ThinQ experience we don't like much outside the little camera issues. It has an in-screen fingerprint scanner, and it is one of the worst we've used recently. It's slower and more picky than most.
LG's software is not the best-looking either, and it sits on top of Android 9, not the newer Android 10. LG makes a few odd design choices, like changing the width and spacing of fonts in app icon text depending on the length of the title. It ends up looking a bit of a jumble.
These sorts of visual issues seem important for the first day or so, but most invariably get used to them quickly. And, more importantly, the LG G8X ThinQ's battery life is solid. As long as you do not use the dual screen all day long, which of course sucks up the juice more quickly, it shouldn't fail to last a full day.
One Saturday, when we eased off the photography and audio streaming a little, we had 50 per cent left by bed time.
LG G8X ThinQ: Verdict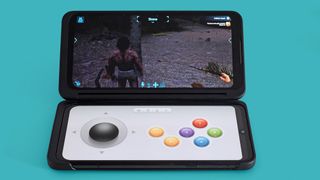 The LG G8X ThinQ is not a particularly dramatic phone until you add the LG Dual Screen case. But does it make the phone more appealing than the cheaper OnePlus 7T and Xiaomi Mi 9T Pro?
LG has put real work into making this dual display seem useful. Its multiple functions for photography and gaming are a highlight. But the hit to weight, battery life and the Dual Screen's clumsy feel mean you'll probably want to plan when to bring it along with you. This is one of the most interesting phone accessories we've seen in a while, but it is not perfectly polished.
This is a sensible buy if you want something different. However, when its camera doesn't quite match the best when dealing with the extremes, the slightly more affordable options from OnePlus and Xiaomi start to look like better buys for some of you.
Read more
• The best camera phone in 2019
• Best budget camera phone
• Best selfie sticks for your smartphone
• The best iPhone tripods
• The best gimbals for your iPhone, GoPro and camera
• The best phone cases to protect your camera phone
• The best 5G phone for photographers