Joby produces a wide range of portable and affordable LED lights such as the Joby Beamo (see our review). You can use these little Beamo LEDs to add extra illumination to your video productions or portrait shoots.
This extra light source enables your camera to use a slower and therefore less noisy ISO setting, leading to a better-looking image. A portable light source can also add some light and shade to a face which helps bring out (or 'model') the subject's contours in a more three-dimensional way.
The Beamo Reel Color is the latest addition to Joby's Beamo range of LED lights. Unlike the standard Beamo - with its fixed color temperature - the Beamo Reel Color enables you to get more creative with your location's lighting.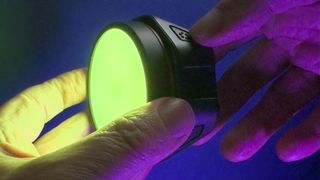 Joby Beamo Reel: Specifications
Swipe to scroll horizontally
| | |
| --- | --- |
| Contents | Beamo Light, cold shoe adapter, USB-A to USB-C Cable |
| LUX (at .5m) | 250 |
| CRI | 80+ |
| Mounting methods | 1/4"-20 tripod mount, cold shoe mount |
| Beam Angle | 60° |
| Material | Aluminium, ABS Plastic, TPU |
| Battery Life | 3 hours on max brightness |
| Size | 7 x 5 x 7 cm |
| Weight | 0.8 Kg |
Joby Beamo Reel: Key Features
Many LEDs have small and fiddly switches that you have to press to turn the lights on and off. The Reel Color springs to life - or light - when you rotate its circular face. This makes it much easier to turn on and off.
You do have to tap a small button on the body of the light to cycle through the 12 variations of color. These colors (such as reds, blues, and greens) mimic the type of gels you have to place over some LEDs to add a range of atmospheric colors to your shoots.
A second button enables you to toggle between three more conventional color temperatures - from a warm 3200º to a cool 6200º. These color temperatures enable the Beamo Reel Color to complement a range of available daylight sources.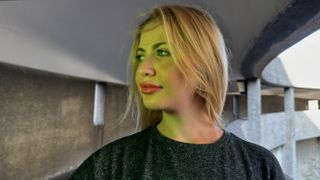 Joby Beamo Reel: Build & Handling
Built from ABS (Acrylonitrile Butadiene Styrene) plastic and small enough to for into your palm, the Beamo Reel Color is incredibly portable. It won't take up much space (or add noticeable weight) in your kit bag but it is bright enough to add some modeling light to portraits if you get it close enough (at around arm's length).
The plastic body's flat edges mean that you can rest the light on a hard surface and it'll point up at a slight angle, so in theory, you don't need a tripod (though in practice a Joby GorillaPod is a useful accessory as you can then adjust the angle of illumination.)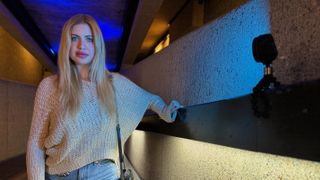 A supplied adaptor means you can attach the Reel Color to a DSLR's cold shoe mount, but by mounting it directly above the camera's lens you'll get a flat-lit face. I prefer keeping the Beamo Color on a tripod (using its 1/4" thread) so that I can light the subject from an angle and create a more three-dimensional 'modeled' look. After charging the Beamo Reel Color for 3 hours you should get 3 hours of full brightness performance from it, so you don't need the hassle or bulk of carrying an external battery.
Joby Beamo Reel: Performance
To test the Beamo Reel Color LED I hired a model and headed to London's Barbican Centre, which has a wide range of indoor and outdoor locations.
The colored gel-like light from the Beamo Reel Color helped creatively complement the neon colors from an indoor walkway (as you'll see from our supporting video). The daylight color temperatures helped boost the presence of available light in outdoor walkways whilst simultaneously adding modelling light to Eli our model.
By popping the Beamo Reel Color on a Joby GorillaPod I was able to clamp the light to street furniture such as handrails or collapse the legs or use the GorillaPod as a handle. In many shots, Eli held the LED to illuminate her face while I snapped away on an iPhone 15 Pro Max.
I was initially concerned that the Beamo Reel Color wouldn't be strong enough to illuminate my subject. However, at arm's length, its 350 Lux output did a great job as you'll see from our footage and stills - especially in darker locations.
In brighter sunlight, the LED did need to get closer to the model's face. I could have chosen to shoot a tighter portrait to lose the light but thanks to Adobe Photoshop's new Generative Fill tool I was able to scribble around the light in wider shots, click a button and the LED was replaced by suitable bits of architecture. No cloning was required!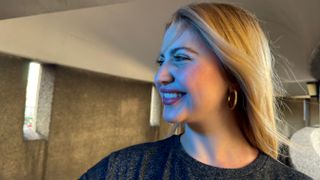 Joby claims rather LED has 12 colour presets. In reality, it's more like 4, as the presets are weaker to stronger range of reds, greens, and blues. This does enable you to go from a weak orange to a more vibrant red for example. You can also dim the intensity of each color by rotating the rim (though in practice most people will go for the maximum 350 Lux option I'm sure.)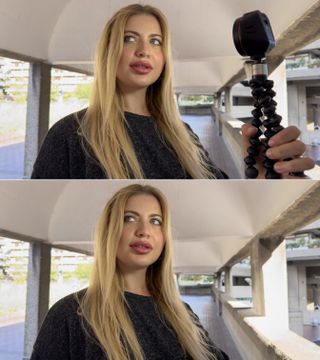 Joby Beamo Reel: Final Verdict
I found that the Joby Reel Color LED was easy to use, and light to carry and it made a real difference to the look of the portraits in my test shoot. The colour presets were very effective at changing the atmosphere of a portrait. I could use a blue light to add a contrast to the warm available sunlight or go for a ghoulish green for a Halloween vibe at the press of a button.
The daylight color temperature options were also useful when I needed a more subtle fill to mix with a daylight temperature key light. Combined with a tripod the Joby Reel Color is a useful accessory for a photographer who wants to travel light but capture more 'modeled' (or creatively colored) portraits'.
Read more: check out our top picks for the best lights YouTube videos or the best video lights.