The Interfit Badger Beam 60W AC/DC LED Monolight is Interfit's new kid on the block, taking its styling cues from the popular battery-powered Honey Badger Unleashed 250Ws HSS TTL portable flash head. Unlike its sibling flash head, however, the LED monolight can be powered directly from the mains, instead of just from its battery pack, and features a cooling fan which runs constantly.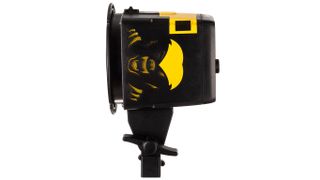 Stealing the limelight, so to speak, from burning-hot halogen photographic lamps, high-intensity yet relatively cool-running LED constant lighting solutions like the Badger Beam have become commonplace. Typically, they're available as square or rectangular LED light panels with arrays of high-performance LEDs, often with tungsten and daylight colour temperature LEDs interspersed, so you can alter the colour temperature to match the ambient lighting conditions. Circular LED arrays are also available, like the popular Rotolight NEO II. Constant LED lamps with a more conventional monolight form factor are rather thinner on the ground, but include Interfit's own LM8 100W LED unit. But regardless of the form factor, an LED lamp can be one of the best video lights for vlogging or filmmaking.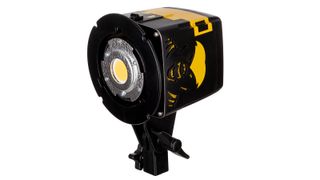 Specifications
Max Output: 60w (watts)
Colour Accuracy: 95+ CRI (Colour Rendering Index)
Color Temperature: 5600k +/- 200k
Max Brightness: 5000 lux at 1m
Beam Angle: 120 Degrees
Brightness Control: Stepless 0-100%
Battery Type: 2850mAh Li-ion
Battery Life: 45 Minutes (full power)
Battery Recharge: 2 Hours
Modifier Mount: Bowens S-Type, Pop-Up Softbox, Umbrella Tension
Brightness (Lux): 19,000 lux at 1m (11" deep reflector), 6,560 lux at 1m (7" standard reflector)
Key features
The Honey Badger Unleashed is easy enough to use but the Badger Beam really is simplicity itself. The integral mount enables easy attachment to a lighting stand, with almost +/-90 degrees of up-down tilt, while the power switch on the bottom of the casing has Off/AC/DC options, for using mains or battery power respectively. On the back panel, there's a single stepless 'dimmer' knob for adjusting the power output from 1 to 100 per cent, above which there's a digital display screen that shows the power setting as well as the color temperature of the output. The latter is superfluous, as the lamp doesn't feature bi-color LEDs and is only capable of producing a nominal daylight color temperature of 5600k +/-200k (Kelvin). The rear panel also features a 'Batt' button, for displaying a bar graph of the remaining charge in the battery pack.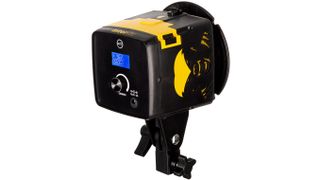 Like Interfit's existing Honey Badger Unleashed flash head, the new Badger Beam LED monolight is compact and lightweight, measuring just 127x127x178mm and weighing in at 1.3kg, complete with clip-in 2850mAH rechargeable Li-ion battery pack. The battery pack itself gives 45 minutes run time at full power output, or a lengthy 2 hours and 50 minutes at half power, and takes 2 hours to recharge from completely flat. Additional battery packs are available at around £59/$44 and they're exactly the same as for the Honey Badger Unleashed, ensuring consistency across the range.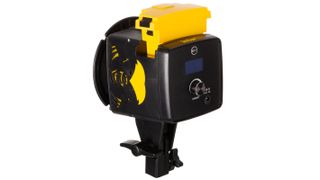 Unlike with the Honey Badger Unleashed flash head, you can plug the companion battery charger directly into the Badger Beam LED monolight to power it from the mains. The big upside is that you don't need to worry about the battery going flat if you're shooting anywhere with access to mains electricity. Another bonus for long periods of shooting is the built-in cooling fan, which runs constantly. It's pretty quiet but is clearly audible in a quiet location like a living room or home studio.
Build and handling
Build quality feels solid and sturdy, based on a high-quality plastic casing and mounting bracket. The battery pack is easy to fit and remove, with spring-loaded squeeze-to-release clips on either side. The standard Bowens S-type mount on the front enables the easy fitment of reflectors including Interfit's own 11-inch deep reflector and 7-inch standard reflector. There's also an integral umbrella socket in the mount section attached to the underside of the monolight.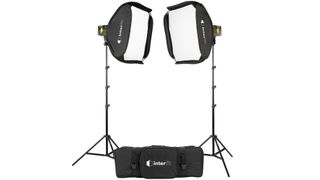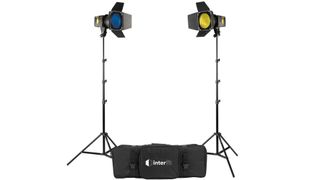 Available as a bare-bones monolight, the Badger Beam is also available in a variety of complete kits, so far including twin-head kits that comprise two batteries, two mains adapters/chargers, two lighting stands and a carrying case. Options include the Badger Beam 2-Light Barndoor Kit, the Badger Beam 2-Light Softbox Kit (currently only in the UK), and the Badger Beam 2-Light Umbrella Kit. The build quality of the accessories in each case is very good but not up to the fully pro-grade quality of some of the best photography lighting kits. That's only to be expected, considering the relatively affordable price of the Badger Beam kits.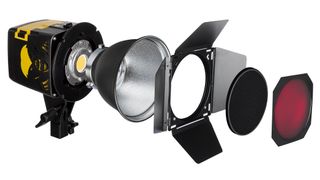 The 24-inch square softboxes are particularly worthy of mention, as they have a somewhat unique pop-up design. Whereas most softboxes take a considerable amount of time to set up, with a fiddly process along the way, the Interfit softboxes take literally a couple of seconds. Like other companion accessories, the quality of construction is good rather than completely great, but they do feature a Velcro-mounting front panel and internal diffusion panel, both of which stay in place during the pop-up and fold-down process. Once popped up, they simply stretch over the front of the monolight's mounting plate. The only real downside is that, if you 'lack the knack' and find the folding down of pop-up backgrounds and light tents to be something of a wrestling match, you'll have a similar struggle to pack these softboxes away.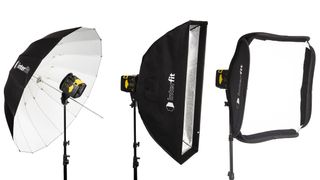 Performance
If you've ever used an LED panel or monolight before, you'll know that the maximum available output is nowhere near that of a flash head. The Badger Beam runs true to form although it's no lightweight in terms of performance compared with most other LED lamps on the market. In our tests, using Interfit's standard 7-inch reflector, the maximum output enabled a 'correct' exposure of 1/60th of a second at f/6.3 (ISO 100), when the lamp was placed one metre from the subject being photographed. Naturally, fitment of the pop-up 24-inch softbox with its front and inner diffusers causes a drop in intensity, so we had to widen the lens's shooting aperture to f/3.2. The white reflective (rather than translucent) umbrella gave a further drop in effective intensity, equating to an aperture of f/2. Of course, you always have the option of increasing your camera's ISO setting if you need faster shutter speeds and/or lens apertures.
Even so, the light output is sufficient for portraiture and still life in a studio environment, and perfectly viable for use as fill-in lighting, either indoors or outdoors. The quality of the LED lighting is also very good for both stills and movie capture, with a 95+ CRI (Colour Rendering Index). As we've mentioned, the single-colour 'daylight' LED array can't be adjusted to balance with tungsten ambient lighting but Interfit offers a range of gel sheets for matching the output with a variety of light sources, or for special effect.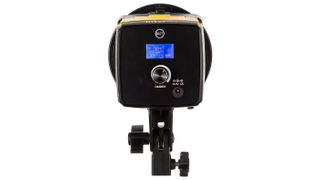 Verdict
LED panels might seem to be the order of the day but the Badger Beam monolight has the advantage of being compatible with a wide range of modifiers including umbrellas, softboxes, barn doors, snoots, grids and more besides. A range of coloured gel filters adds versatility and the range of complete kits and useful accessories adds to the attraction. All in all, the Badger Beam is a high-performance LED monolight that's robustly built, dead easy to use and very good value at the price. It also works seamlessly with Interfit's Honey Badger mains-powered and Honey Badger Extreme battery-powered monolight flash heads, as part of a more comprehensive lighting solution.
Read more:
Best photography lighting kits
Best backdrops for photography: collapsible backgrounds for the home studio
Best video lights: continuous video lighting for vlogging and filmmaking
Best flash diffusers, softboxes and modifiers for your speedlight