To look at, the Sony Xperia 1 instantly stands out from the crowd thanks to its incredibly long screen. While other flagships are only just broaching 19.5:9 displays, and with the help of notches no less, the Xperia 1 is loaded up with a 4K, notch-free, HDR, 21:9 screen.
Combined with a metal frame and a premium finish, not to mention three cameras, it's a top-tier phone that could prove a candidate for our list of the best camera phones you can get right now, though this is reflected in its premium price. If you're thinking about picking one up, the Xperia 1 is available at Carphone Warehouse, or through EE, O2 or Sky Mobile, with the Cool Grey edition available exclusively to Vodafone.
While Sony delivered an excellent screen in the XZ3, its cameras have only ever been good; can the Xperia 1 camera finally wow us in a way the company's Alpha line has been doing for years?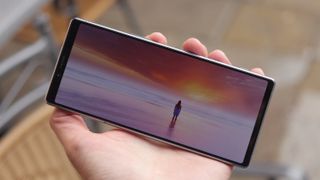 Design and features
Everything about the Xperia 1 revolves around that long, long OLED display. Measuring in at 6.5-inches, it's about the same size as the Samsung Galaxy S10 Plus screen on paper, but with its 21:9 aspect ratio, is both taller and narrower.
It isn't just the aspect ratio that stands out though. Thanks to its 4K resolution, clocking in at 1644 x 3840 pixels, the Xperia 1 is sharp, delivering over 643 pixels per inch (PPI). That's incredibly sharp - with the likes of the Huawei P30 Pro clocking in at 398 PPI and the iPhone Xs Max sporting 458PPI.
Sony's also loaded it up with OLED technology, ensuring blacks are incredibly deep, colours are luxuriously punchy and everything from films, to videos, to simple UI scrolling is glorious.
Also loaded up with HDR tech and a new Creator Mode colour space, which has been certified by Netflix engineers as one that delivers an accurate viewing experience, it's clear this screen is special.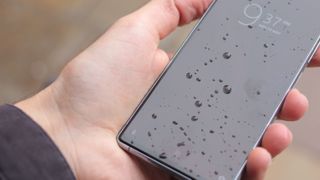 That message carries over to the design and in-hand feel, with the Xperia 1 built with a Gorilla Glass 6 front and back, paired with a polished aluminium frame.
Around the back, there's a camera bump, which houses the triple camera, and to the right side of the screen are all the buttons and a fingerprint scanner. While the power button and volume rocker aren't anything out of the ordinary, the camera shutter release, which comes complete with half-press to focus functionality is a novelty for smartphones today.
Probably the most concerning thing when looking at the spec sheet of the Xperia 1 is its battery capacity. With just 3330mAh under the hood, it's significantly smaller than flagships from Huawei and Samsung, but rather than ring alarm bells just yet, we'll wait for our full review to deliver a definitive verdict on the subject.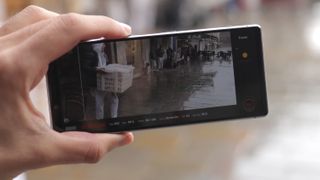 Camera
Despite a long history of big pixel counts and good, but not great smartphone cameras, the Sony Xperia 1 drops the resolution from over 19MP to 12 MP across all its sensors. In addition, the Xperia 1 is the first flagship from Sony to feature a triple camera system, with one wide, one telephoto and one ultra-wide snapper.
The primary camera features a 26mm equivalent focal range, an f/1.6 lens, with a 1/2.6 sensor and 1.4μ pixels. Loaded up with Dual Pixel PDAF and 5-axis OIS, from a specs point of view, it reads very well indeed.
At 52mm, the telephoto 12 MP camera gets you closer to the action and is also loaded up with an f/2.4 lens, a 1/3.4" sensor with 1.0µm pixels, Dual Pixel PDAF and 5-axis OIS as well.
Finally, the ultra-wide angle camera features a 16mm equivalent focal range, an f/2.4 lens, and a 1/3.4" sensor, with 1.0µm pixels.
These combine to cover a range of prime lens bases and compete directly with other flagships like the LG G8 ThinQ and Huawei P30-series.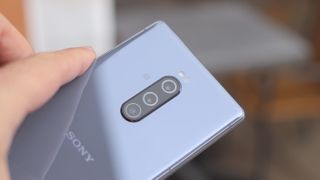 The Xperia 1's total megapixel count around the back is lower than a single sensor on the primary camera of some key competitors like the Honor View 20 Pro, but don't let that put you off. The 12MP Pixel 3 is still one of the best smartphone cameras around today, so we'd urge you to suspend judgement until our full review is live.
Shooting modes are plentiful, from portrait mode which defocuses the background of shots, right through to full manual, which has seen an increase in shutter speed over old Xperias to 32 seconds.
Another standout feature of the new Xperia 1 is eye tracking. Cascading down from Sony's Alpha line, it's designed to give portraits the precision photographers strive for. It also makes sense given how advanced and prevalent background defocus and artificial bokeh has become on smartphones.
Video capabilities build on the successes Sony has had in the past, with the 4K HDR video introduced on the Xperia XZ2 present, not to mention 960fps slow motion bursts. What really differentiates the X1 however is its Cinema Pro app.
Positioned as an alternative video recording tool for anyone who has an interest in shooting cinematic style video, it's powered by the tech behind Sony's cinema camera division – CineAlta. With a range of looks available, including a default, high dynamic range, flat finish, it grabs footage that's perfect for taking away and grading on a desktop.
The app also gives users control over a lot of features once reserved for pro camera shooters. You can control the shutter speed for example, in addition to manual focus mid-video, setting a base point marker for your subject to help you focus more accurately. The app also lets you set frame rates for your projects too, and shoot in either 16:9 or 21:9.
A notable omission within the Cinema Pro app is a video editor of any kind. We weren't even able to trim clips. This relegates the feature to enthusiasts who might export their footage from their phones and edit them on a desktop, which is okay for video pros, but might render this great tool underutilised.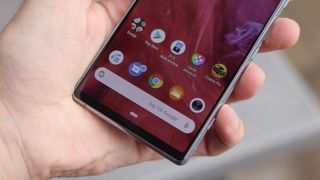 Performance
Powering the imaging experience behind the Xperia 1 is a Snapdragon 855 processor paired with 6GB RAM. The chipset can be found in top-tier devices like the US variant of the Samsung Galaxy S10, and the Xiaomi Mi9 and is best-in-class.
Combined with 128GB internal storage, you get plenty of room for all your photos and videos out of the box, and there's also a microSD card expansion slot too, though footage shot on the Cinema Pro app needs to be saved to internal storage.
Running Android 9, with Sony's light touch UI over the top, everything looks and feels very stock. App support is also great thanks to Google Play Store access, and the UI felt smooth and stable in our 24hrs with the phone.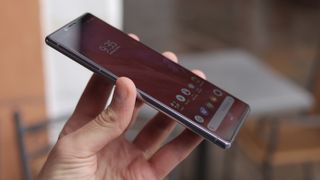 Early verdict
The Sony Xperia 1 is an exciting flagship, if only for the fact it dares to do something different. Its design is rich, its screen is long, sharp and immersive and we can't wait to test out the camera more thoroughly in our full review.
As for initial thoughts, while photos taken on Xperias of old just haven't stacked up to the best from the rest, the Xperia 1's photos look visibly less processed in the images we reviewed, setting things off to a good start.
The idea of pro-grade video is also exciting, so while the price may be high, if this phone lives up to its potential, it may well be warranted.
Read more:
• The best camera phones you can get right now
• 10 amazing photos that prove the iPhone is one of the best camera phones around
• 9 fantastic camera phone accessories shown off at The Photography Show 2019