The Pixel 8 has a tough job competing with Google's own Pixel 7a and Pixel 8 Pro. The 7a is quite a bit cheaper without a huge number of tangible compromises, while the Pixel 8 Pro adds a periscope camera and pro-grade features to the shooting experience.
Google's new advanced features introduced on the 8 Pro are not available for the Pixel 8 – so the shooting experience of the 8 and 7a are actually more comparable in some ways than those of the 8 and 8 Pro. So with pared-back camera software, what is the Pixel 8's appeal?
The Pixel 8 features Google's Magic Editor tool and AI-powered computational photography at a chipset level. It's also a very comfortable size in hand, has enough power for all tasks other than top-tier gaming, and is future-proofed exceptionally well, with seven years of Android updates expected for the line.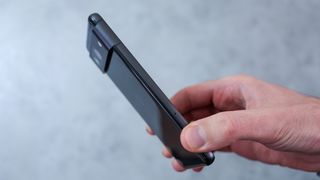 With tough competition from affordable flagships like the OnePlus 11 5G and Xiaomi 13T Pro, not to mention Google's own Pixel 7a and the light-up Nothing Phone 2, can the Pixel 8 really hold its own?
Google Pixel 8: Design
The Pixel 8 feels more compact and rounded than the Pixel 7 and Pixel 7a. With softer corners, it sits comfortably in the hand, and its Gorilla Glass Victus 2 front and back and metal frame feel rich.
Nice and light, Google's latest Pixel 8 is 187g, a few grams lighter than the Pixel 7 and 7a, and the phone is IP68 water and dust-resistant.
Definitely a Google phone, a visor-style camera strip adorns the back of the Pixel 8, extending out of the buffed metal frame. You can pick up the new Pixel in three colors: Obsidian, Hazel, and Rose.
We tested the Obsidian version, which is fond of clinging onto fingerprints thanks to its shiny polished glass back, but the lighter colors are better at fending off smudges.
Ports and buttons are predictable, with a USB-C port for charging at the base and all the buttons – power and volume – on the phone's right side. The SIM tray houses just one SIM card, but with eSIM support, you can still activate a second SIM.
The Pixel 8's styling is simple but effective for anyone who wants a compact phone. It isn't the thinnest or the most premium-feeling phone at its price, but it still sits well in-hand and carries forward that Pixel charm we have come to appreciate.
Google Pixel 8: Screen
With a slightly smaller screen than the Pixel 7, the 6.2-inch Pixel 8 display might seem like a downgrade when it comes to immersion, but this is a much better panel than we've seen on any 7-series Pixel to date.
The more rounded corners mean content looks a bit more stylistically framed. This isn't always good, cropping out a tiny portion of the interface, but it adds to the display's charm.
The 20:9 aspect ratio is instantly familiar when set against other Android phones, and the 1080 x 2400 resolution and 428 pixel-per-inch pixel density are exactly what we'd expect at the price.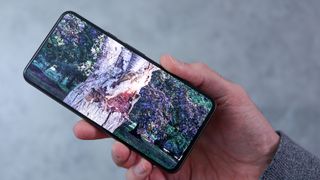 Where the Pixel 8 edges ahead is when it comes to brightness and visual quality. Climbing up to 1400 nits in high-brightness mode and a mighty 2000 nits peak spot brightness, it's easy to see what's on-screen even in direct sunlight.
Unlike the Pixel 7 and Pixel 7a with their 90Hz screens, Google also upgraded the display refresh rate of the Pixel 8 to 120Hz, and with HDR10+ support that works within Netflix, visuals when playing back content are excellent.
This is on top of impressive viewing angles missing from pricier phones like the Sony Xperia 5V, creating a flagship-grade quality that showcases vibrant colors and deep, inky shadows to great effect.
Ultimately, the Pixel 8 has one of the best screens around for the price, especially at its 6.2-inch, compact size.
Google Pixel 8: Camera specs
If you're an enthusiast photographer who wants manual control over photos out of the box, the Pixel 8 isn't for you. The new Pro mode in the Pixel 8 Pro is missing on the vanilla Pixel 8. The camera software also misses out on the 8 Pro's high-res capture, so photos are capped at 12MP. However, you get the same primary camera across the Pixel 8 and 8 Pro as well as RAW support.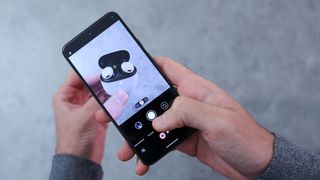 Wide camera: 50MP resolution, 1/.31" sensor with 1.2-micron pixels, an f/1.7 aperture lens with a 25mm equivalent focal length.
Ultra-wide camera: 12MP resolution, 1/2.9" sensor with 1.25-micron pixels, an f/2.2 aperture lens with a 126° field of view.
Front camera: 10.5MP resolution, 1/3.1" sensor with 1.22-micron pixels, an f/2.2 aperture lens with a 20mm equivalent focal length.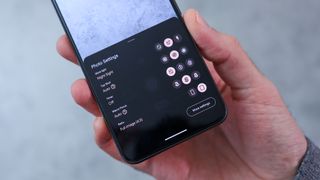 As for shooting modes, we've mentioned what isn't available on the Pixel 8 – Pro and high-res capture – but its automated modes are extensive. The camera fires up in Photo mode with auto night capture enabled. A Night Sight mode also forces a longer shutter time and is your gateway to Astrophotography. Panorama, Portrait, Long Exposure, and Action Pan are also back for a suite of automated ways to capture stylized videos and stills.
Video is recorded at up to 4K 60fps, with support for 10-bit HDR capture at up to 30fps. The Pixel 8 series's editing tools are also worth mentioning, with Magic Editor and Audio Eraser adding AI smarts to stills and video edits.
Google Pixel 8: Magic Editor
Smart AI and AI-like features are peppered throughout the whole Pixel 8 experience. Live transcriptions of voice notes and videos, Google Assistant call-screening, and even battery management are tuned based on your specific needs with machine learning algorithms. But the aspect of AI that Google's pushing the hardest in its marketing is photography, or more specifically, photo editing.
Open a photo on the Pixel 8 – it doesn't have to have been taken on the phone – tap Edit, followed by the Magic Editor icon in the bottom left corner of the UI, and once your photo is backed up to Google's cloud, the reality distortion begins.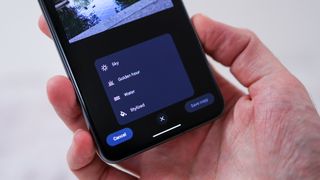 Depending on what's in your shot, you can access portrait optimizations, totally swap out the sky for a different one, generate some heavily stylized options, or apply a Golden Hour filter. Each time you generate a new set of images, you have four options to pick from, and if none fit the bill, you can keep generating another four until one does.
If your photo has an object in it, draw around it with your finger to select it, then move it around the frame at will. Generative AI will fill in the background behind the moved object or, using the same smarts, it can erase objects altogether.
Google Pixel 8: Camera review
As with all Pixels we've tested to date, the Pixel 8 is a very safe point-and-shoot camera. Its photos capture balanced tones and pull detail from shadows even in challenging light thanks to computational photography smarts.
The optical focal length mix is adequate yet unexceptional at the price. You get a solid wide camera and a fairly good ultra-wide, and any zooming is done using that 50MP primary camera.
While results aren't too dissimilar to the Pixel 7 – processing is tidied up in areas, but detail and optical quality are comparable – if you're deciding between the Pixel 7a and Pixel 8, you can see some comparison images below.
The Pixel 7a is excellent for its price, but the Pixel 8 edges ahead with shallower natural depth thanks to a larger camera sensor, better shadow reproduction, and richer colors.
Unlike the Leica-tuned Xiaomi 13T, the Pixel 8 keeps shadows looking textured, so it might not be for anyone who likes a very high-contrast auto mode a la Motorola or Samsung. However, shots still have punch, and serve up extra scope to edit.
Color accuracy and saturation from the Pixel 8 are strong, though when capturing very dark subjects, the tendency to eke out extra information from darker tones can result in visible softened color noise. In bright scenes, however, Google does a commendable job of balancing dark and bright areas while retaining depth.
The Pixel 8 uses the ultra-wide camera to capture macro photos by default, though this can be switched off in the settings – something we'd suggest doing – as the main camera can also pull out pleasing close-up shots and does a better job in darker environments.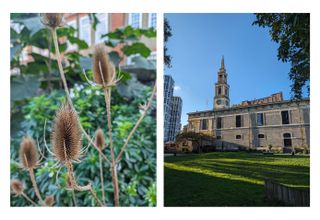 On the subject of low-light photography, the Pixel 8 is probably one of the best options for night shooters at the price. Its zoom won't win any awards after the sun sets. However, thanks to Google's computational photography smarts, the ultra-wide and especially the wide camera do a good job in most environments.
We also had good results from the selfie camera, with flattering detail and an accurate portrait mode, and video capture is also competitive for the price, with strong stabilization at up to 4K 60 from the main camera and clean sound recording.
Google Pixel 8: Additional features
Google's Tensor G3 chipset that powers the Pixel 8-series is capable, but won't best the newly announced Qualcomm Snapdragon 8 Gen 3 and MediaTek Dimensity 9300 when it comes to GPU performance and in turn, gaming grunt. The Pixel 8 struggled with keeping frame rates high when playing back Genshin Impact at max graphics settings; however, you can expect reliably smooth performance in day-to-day tasks and less intensive games.
Google's Tensor chip excels at on-device AI computation, something far less tangible but set to become more important over time. The phone is also future-proofed with up to seven years of major OS updates, so on top of launching with the latest version of Android – 14 – it should, in theory, be updated all the way through to Android 21 (if Google sticks with this number system).
The phone starts with just 128GB storage, which isn't much if you intend on using it for more than a year, and with no SD card slot, we'd suggest the 256GB option for anyone concerned about space. This is especially important if you plan on shooting a lot of 4K video (a two-minute clip at 60fps is over 1GB). If you have a large WhatsApp backup or play top-tier games like Genshin Impact (currently clocking in at 31GB), 128 will fill up within a matter of months.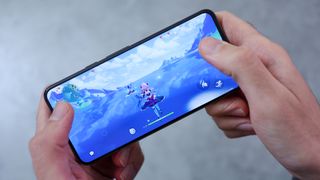 With support for both face unlock and an in-display fingerprint scanner, which worked well in our tests, it's quick to securely fire up the phone. Dual speakers ensure sound is clear, even when holding the phone sideways, though it's also shriller than iPhones, for example, so listening to music from the Pixel 8 for long periods won't be particularly comfortable.
The Pixel 8 lasts a comfortable day until you start hammering games, which we found to be the main battery drain, with its 4575 mAh battery going the distance, and the combination of wired (27W) and wireless (18W) charging rounding off the package nicely.
Google Pixel 8: Verdict
The Pixel 8 is a charming, compact option for anyone who wants a quality, pocketable phone that takes excellent pictures in auto mode.
Enthusiast photographers might get frustrated by the camera app's limitations, but most will appreciate Google's smarts working to help eke out a better shot.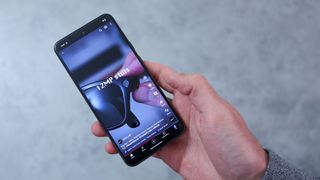 The phone's design and screen impress without being standout, and Google's software update promise can't be beaten, making the Pixel 8 and 8 Pro the most future-proofed phones around.
A great alternative that's almost the polar opposite of the Pixel is the Xiaomi 13T. It's cheaper, the camera app is more traditional and less reliant on computational photography, and it packs ample storage, though the design is lacking. Alternatively, the Nothing Phone (2) is also a powerful option that packs style in spades and delivers arguably better value.
So while the Pixel 8 isn't the best camera phone of 2023, along with a few other choice options, the race for the best phone under $700/£700 is definitely hotting up, with Google leading the charge.