The OnePlus 11 5G isn't a Pro model, but don't be fooled – this is the most balanced phone we've seen from OnePlus in years. Despite missing out on wireless charging, it sports a slick glass and metal design, the latest Qualcomm Snapdragon power, and a very attractive price. What's also delightful is the fact that, unlike other recent OnePlus phones, it's launching in the US.
Costing $699 / £729, the OnePlus 11 5G hits the market with plenty of competition. There are the similarly priced 200MP Xiaomi 12T Pro and Motorola Edge 30 Ultra, and it undercuts the iPhone 14 by around $120 / £100. So why's our money on this new OnePlus?
It's one of the first phones to pack the Snapdragon 8 Gen 2 chipset, so should be a gaming champion. It also includes the same powerful camera system introduced on the OPPO Find N2, and it's very well-priced, given the spec.
Also read our guide to the best Android phones.
Undercutting top-end flagships like the Samsung Galaxy S23 Ultra also gives OnePlus a pass, so it doesn't have to compete on things like zoom range or pack a huge, Vivo X90 Pro-grade, 1-inch camera sensor.
As a result, the OnePlus 11 5G doesn't need to be the best camera phone of 2023, it just needs to be the best at its price. And you know what? We think it is.
OnePlus 11 5G design
If you're thinking about buying the OnePlus 11 5G, get the black one. It's also available in a fingerprint-loving, glossy green, but the black version feels better and looks fresher for longer. It has a diffuse, matte texture that's rich to the touch, and it's great at fending off smudges.
The phone's screen and back both taper into the metal frame elegantly. Unlike the OnePlus 10T, the 11 5G sports an alert slider, last seen on the OnePlus 10 Pro, and the polished metal frame feels and looks great.
We like the loud, off-center, circular camera surround. It's a bit of a statement, bleeding into the back of the phone from the side, and the Hasselblad insignia stands out nicely.
The glass over the cameras feels smooth, though it has a fine craquelure texture beneath it, and tiny micro-dials around the circumference that add a watch-like quality to the bezel.
The 11 5G also has some weight behind it at 205g, feeling both solid and elegant, and it's relatively slender at 8.5mm. There's also a pre-fitted screen protector on the Gorilla Glass Victus screen for added protection. Meanwhile, the back is Gorilla Glass 5, though there is no case in the box or an official water resistance rating.
Ultimately, OnePlus has made a premium-looking, feeling phone with a couple of flourishes that does what it needs to do at its price.
OnePlus 11 5G screen
The OnePlus 11 5G's screen is a Super Fluid AMOLED panel with a 120Hz display, complete with support for Dolby Vision and HDR10+. It curves off at either side, so gives the illusion there's less bezel than there is, and as soon as it fires up, looks expansive and high-quality.
At 6.7 inches and with a resolution of 3216 x 1440 pixels, OnePlus brings back the clarity we've come to expect from the line, cramming in 525 pixels in every inch of screen (PPI). That's iPhone 14 Pro-beating levels of sharpness.
OnePlus has included plenty of display settings so you can make the visual experience your own. In addition to dark mode, and other standard features, the phone's Video Enhancement Engine features an Image Sharpener and a Video Color Enhancer, as well as a handy option to brighten up HDR video.
Set the screen refresh rate to either high (120Hz) or standard (60Hz), with the high setting automatically switching down to 60Hz when using an app like Amazon Kindle, which doesn't need silky motion smoothness.
We had no issues seeing what was on-screen outdoors on a sunny day, and the OnePlus 11 5G's LTPO 3 panel, in general, looks fantastic head-on or off-angle. Animations have punch and pop, illustration-heavy games like Marvel Snap look sumptuous on it, and photo editing in apps like Lightroom are also on the money.
OnePlus 11 camera specs
OnePlus is an OPPO brand, and nowhere is that clearer than in its camera setup. Just like the OPPO Find N2, the OnePlus 11 5G is Hasselblad co-branded. It also shares identical camera hardware with – a 50MP Sony IMX890 at the helm, a 48MP ultra-wide, and a 32MP portrait camera.
Diving into specifics, the main 50MP camera features a relatively large 1/1.56-inch sensor. It's matched with a six-element lens, optical image stabilization, and a 24mm focal length, as well as an f/1.8 aperture.
The ultra-wide camera has a 1/2-inch Sony IMX581 sensor with a 48MP resolution, as well as an f/2.2 six-element lens with a 115º field of view. As for the 2x zoom portrait camera, its 1/2.74-inch 32MP sensor is matched with a roughly 50mm lens and an f/2.0 aperture.
OnePlus's shooting modes include all the usual suspects – Photo, Video, Portrait, and Night. These are supplemented by the Hasselblad Pro Mode, Panorama, Slow motion, Time-lapse, Film, Long exposure, Dual video, Tilt-Shift, and XPAN mode – results pictured below.
We love the fact OnePlus gives us control over the interface layout, so shooting modes we use frequently are where we need them to be. We're also happy that OnePlus has brought back the Film mode, so can capture LOG-type footage that's ready for editing. In automatic video mode, you can shoot up to 8K resolution at 24fps for plenty of versatility in your edit.
Selfies are shot on the 20MP Sony IMX471-powered front camera, which features a fixed-focus f/2.45 lens and 16MP resolution, complete with support for up to Full HD video capture.
OnePlus 11 5G camera review
What we love about the OnePlus 11 5G's photos is that they almost always look balanced. They aren't the sharpest, they don't pack the most background blur, and they definitely aren't the very best across lighting conditions – but nine times out of ten, they're balanced.
Is this down to the Natural Colour Calibration with Hasselblad optimization we've also seen on recent Oppo phones? Or does the "13-channel multi-spectral sensor for light-color identifying" in this phone actually work? We couldn't tell you why – but we can tell you that the OnePlus 11 5G is a no-frills camera phone champ.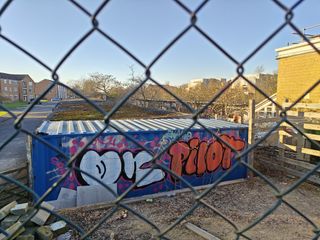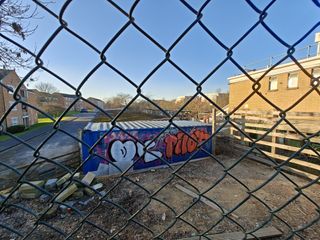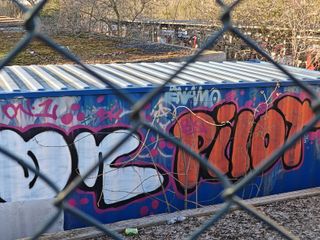 Images from its main camera have a great amount of detail, contrast, and saturation and are usually exposed very well. Dynamic range is broad, but not HDR-effect unrealistic, so should please photo purists and folks who love pulling out shadow detail alike.
Colors also strike a healthy balance of looking both natural and punchy. A photo captured alongside the Galaxy S23 Plus showed Samsung's more aggressive processing compensated for ambient light with a heavily corrected white balance. Meanwhile, the OnePlus 11 5G's photo looked like what the eye saw, delivering a more natural tone.
The OnePlus 11 5G does a good job in low, mixed, or ambient light. Its noise suppression isn't class-leading, but it can still capture a beautiful shot when matched with a steady hand. Below, you can see some examples of hand shake softening the foot shots, though the portrait, taken in the same environment, looks superb given the limited light available.
There's no getting around the fact that both the ultra-wide and portrait cameras are weaker than the main camera, and markedly so in poor light. At its price and positioning, though, they still best the secondary cameras on phones like the Xiaomi 12T Pro by a country mile and benefit from that tasty OnePlus color science.
The ultra-wide in particular doubles up as a macro camera, with a nearest focal distance of around 10cm.
We're excited to see what OnePlus can do with a 1-inch sensor or, less specifically, better hardware. Occasionally, the 11 5G's shutter speed just couldn't keep up with our subjects – the dog picture above was the a crisp shot in a flurry of blurry ones. With a larger sensor and better light-grabbing hardware, though, the OnePlus 11 would be better able to stop time, adding another highlight to its balanced camera.
Selfies from the OnePlus 11 look fine, though the camera is frill-free. No autofocus means you'll want to grab shots at arm's length, but even so, casual shots and video calls are all handled well.
OnePlus 11 5G additional specs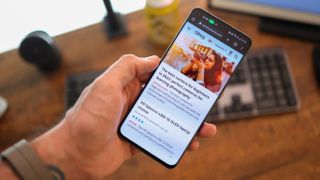 With Qualcomm Snapdragon 8 Gen 2 power, the OnePlus 11 5G goes toe-to-toe with the Samsung Galaxy S23 Ultra when it comes to performance, with both phones scoring around 4850 in Geekbench (multi-core).
It's no surprise games are handled well, from simpler titles like Marvel Snap, through to the more demanding Genshin Impact, and the phone doesn't get as hot as last year's 8 Gen 1 OnePlus 10 Pro.
With either 128GB (UFS 3.1) or 256GB (UFS 4.0) storage, there's plenty of space, and the higher-capacity version ships with faster storage and 16GB RAM, so should tear through tasks for years to come. If you like to store tons of offline content or capture a lot of 4K or 8K footage, there's no SD card slot – just a dual-SIM slot, so pick up the higher-capacity option, and the phone also supports eSIM as well.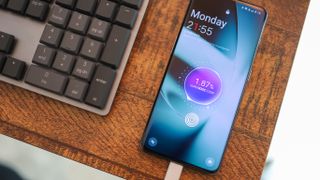 Running Android 13 – the latest version of Google's OS, with OnePlus's OxygenOS 13, the OnePlus 11 5G is future-proofed from a software point of view too. App support is excellent, and the interface, which feels like a love child between OxygenOS of old and Oppo's ColorOS, performed well in our week with the phone.
The large 5000mAh battery also helps the OnePlus 11 5G last all day, irrespective of whether you're taking a lot of photos or gaming on the go, and with its very fast 100W charging speeds, you can power up in under half an hour, with 12 minutes of charging taking the battery to 50 percent.
The lack of wireless charging initially put us off, but when you consider the phone's price, and the convenience its fast charging offers, the OnePlus 11 5G battery package is still a good one.
OnePlus 11 5G verdict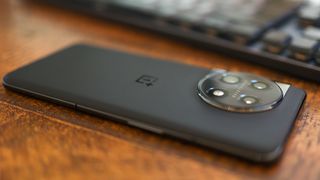 If we could use one word to describe the OnePlus 11 5G, it would be "balanced". The phone balances a very fair price with a rich feature set and a powerful camera system, and importantly – doesn't pull up any real red flags.
By going back to its roots, OnePlus has created a phone that doesn't need to compete on every single feature. It costs less than the incredibly expensive iPhone 14 Pro and Samsung Galaxy S23 Ultra, so its zoom range can afford to be pared back, and the lack of wireless charging isn't a deal-breaker.
In the core areas you need your smartphone to be great – design, screen, primary camera, performance, battery life – OnePlus absolutely nails it. While in the past, therefore, we weren't sold on OnePlus being absorbed into Oppo, if this phone's anything to go by, the future is once again bright for this once plucky upstart.
Pre-order the OnePlus 11 5G at the OnePlus store
For a great alternative to the OnePlus 11 5G that costs a bit more, but levels up the camera zoom, the Google Pixel 7 Pro is a fine choice – and if you want a lower-cost Pixel, check out our best Google Pixel phones guide to help you find the right one for you.