Instax has already covered a broad spectrum, from various instant film sizes to a plethora of body styles and even digital hybrid models, so it seems as if they've catered to every photography enthusiast out there, right?
Enter the Instax Pal, an incredibly compact digital camera designed to snugly nestle in the palm of your hand. Given its petite form, this camera doesn't churn out instant prints in the traditional sense. Instead, it establishes a Bluetooth connection with a companion app and employs the Instax Mini Link 2 to bring your photos to life in print. If you don't have a printer already, in the US it is sold bundled with the Instax Pal, while in the rest of the world is a separate purchase.
For those who are already proud owners of other Instax printers or Instax hybrid cameras, there's no need to worry. The Instax Pal is seamlessly compatible with a range of other devices, including the Instax Square Link, Instax Link Wide, Instax Mini LiPlay, and Instax Mini Evo.
When Instax is so synonymous with instant prints, how does an all-digital camera fare in recreating some of that fun Instax experience? And when we have a good phone camera in our pocket already, is another device really necessary?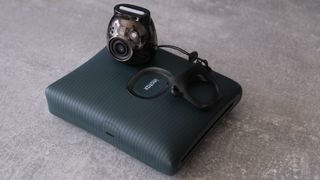 Instax Pal: Specifications
Swipe to scroll horizontally
| | |
| --- | --- |
| Resolution | 4.5MP (2560 × 1920) |
| Sensor | 1/5-inch CMOS |
| Field of view | 16.25mm (35mm equiv) |
| Shooting distance | 19.4 cm to ∞ |
| Aperture | f/2.2 |
| ISO | 100 - 1600 |
| Shutter speed | 1/4 - 1/8000 |
| Memory | 50 images internal storage, microSD slot |
| Charging | USB-C (Approx 2 - 3 hrs) |
| Battery life | 350 shots |
| Size | 42.3 mm × 44.4 mm × 43.0 mm |
| Weight | 41g |
Instax Pal: Key Features
The Instax Pal itself is a very simple device, fundamentally offering a 4.9MP digital image sensor in a tiny compact body, weighing just 41g and measuring in at 42 x 44 x 43mm. The more noteworthy side of the equation is the Pal's companion app, which is exclusive to the Instax Pal.
The app is where all functionality of the Pal is managed, and enables you to handle settings, shoot remotely, and download images taken with the Pal to your phone. In the app, you can add filters and stickers to your images before you send them to the printer. There is an option to add up to five custom shutter sounds to the Pal, if you really want your camera yelling at you to smile.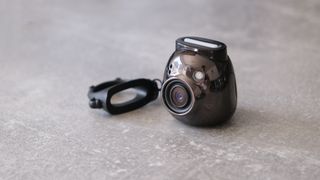 The Pal can shoot images in any of the Instax film sizes (Mini, Wide, or Square), these can be selected after the image is taken in the app, but might be easier for framing to imagine beforehand. To assist with framing, the only accessory that comes with the Pal is an attachable viewfinder that also doubles as a lanyard/keyring for the Pal.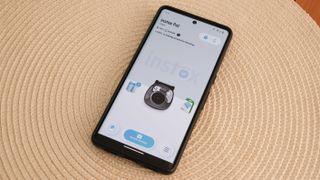 Instax Pal: Build & Handling
The Instax Pal is absolutely tiny and is also absolutely adorable. The design is reminiscent of a shrunken-down Instax Mini 12, with cute touches like the power button looking like an ejecting film. The build quality is reassuringly solid for the body itself, which is essential for a camera that will be thrown in bags and passed around a lot. You could easily put this on your keychain and carry it around with you everywhere. Although, I do have some slight concerns over the lens, which has no protection, so could be vulnerable to an impact.
The camera itself is incredibly simplistic to use, which is its main charm, you can pass this camera to anyone and they will be able to understand it in seconds. However, whether they will actually get a good picture is another question. It is really hard to line up this camera in the same framing you are imagining. Using the attachable 'viewfinder' accessory doesn't really help all that much, the majority of the shots I lined up with the viewfinder were not how I envisioned them at all.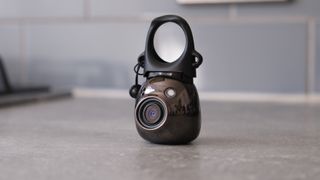 After a lot of trial and error, I couldn't work out how best to line up the camera, even when I thought I finally had nailed it, I would later try and line up a shot and find out I got it completely wrong. I actually had more success just not using the viewfinder altogether. When the big selling point of the camera is you can just take shots and not worry about them until later when you want to print them, I found I was having to check my shots in the app after taking them to make sure they were even usable.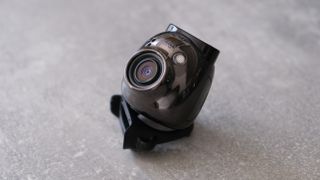 One of the most fun elements of the camera is the cute noises it makes. When starting up and shutting down the Pal has cute little sounds that add to its charm, although these do make it feel somewhat childish. However, the real selling point is you can add your own recordings to use as the shutter sound. So if you have always wanted a camera to yell "cheese" at you then your prayers have been answered. And I am sure this function won't be abused at all...
Instax Pal: Performance
The Instax Pal is not built to be your default digital camera, at 4.5MP, it's safe to say that the digital images the camera produces are just not very good. However, this is also the exact point. The low-fi image quality is more than enough to print comfortably on Instax film without you noticing the pixelation too much, and actually, might even help the Instax "look". However, take note, if you don't intend to print your pictures then do not buy the Pal.
The Instax Pal is actually very fun to use. I spent the weekend cycling around with friends and we all actually enjoyed using the camera to take pictures without really thinking too much about them, which as I understand it, is kind of the point of the Pal. It was easy to just slip into my jersey pocket and pull out quickly, and it also felt more spontaneous and less intrusive than taking photos with a phone.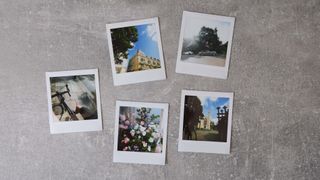 The Instax Pal app is very simple to use, there were a few brief teething issues with the initial Bluetooth connection, but once this was locked in, the app had no problems reconnecting to the Pal in just a few seconds. The app is then very streamlined, downloading images quickly into the app, and then removing them from the Pal's internal storage so you can take some more. The app also links absolutely seamlessly with the Instax Square printer app, yes you have to use two apps, but apart from the unnecessary icon on your app menu, this process is near unnoticeable.
The app is also the only way to change the settings on the camera, I did find the reliance on the app a little annoying when wanting to check I had got the picture I wanted, as I would have to wait some time for the app to finish downloading all the images from the camera before it would let me go through them. The flash on the Instax Pal is also quite inconsistent, you can turn it on and off manually, but again you have to go into the app and into the camera settings, wasting valuable moments.
The Pal app with then be very familiar to anyone who has used any of the previous Instax apps. You have the option to augment your photos with text and stickers, as well as apply a number of different filters to your photos such as sepia or soft focus. Honestly, I find most of the filters very overdone and tacky, but hey, I'm not here to judge.
The biggest flaw with the Instax Pal isn't actually with the device itself, but instead with its purpose. I just don't really understand why the device actually exists when we all already have phones in our pockets that can print photos directly to Instax film. As well as taking shots with the Pal this weekend, I still took shots most of the same shots on my phone, both for posterity but also for social media, so the Pal is not solving anything here.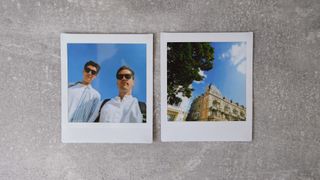 Printing the photos directly from my phone camera on Instax Square film produced prints that were just as good or actually better in most cases than the photos from the Pal. Using the Instax Square printing app, you can still add stickers and effects. So I am not sure why I would choose to use the Pal instead except for the added "fun" element, and maybe for some people that is enough to encourage more picture-taking.
Instax Pal: Verdict
The Instax Pal is one of the most shareable cameras out there and would be a welcome addition to any party, as it is just fun and simple to use. Instax seems keen not to market this camera towards kids, but alongside the cutesy design and sounds as well as its robust design, I can't see how this wouldn't be an excellent camera for any youngster to get started with.
I have used the Instax Pal for a few days, and while that has been fun, I am not sure this would ever become more frequently used than that. I am also left still not really sure of the purpose of the Instax Pal. You can print very similar-looking pictures from your phone camera, complete with augmented text, stickers, and everything else the Pal offers. For $200 with a bundled printer, I am just not sure this is a better purchase than the Instax mini Evo, which costs less and is a fantastic device, offering the whole hybrid Instax experience in one single device. The Instax Pal is incredibly giftable, but I feel many are destined to be quickly forgotten in draws.
Read more: check out our top picks for the best instant cameras and the best hybrid cameras.