The Instax Square Link is the manufacturer's latest portable instant printer, which uses real Instax film as its medium. So in short, if you've ever wanted to print your photos onto a "Polaroid" and give them to somebody, this is what you're looking for.
As you might have guessed, the Instax Square Link uses Instax Square film. As such, this printer completes the lineup of Instax printers using the manufacturer's three different formats – if you want to print on smaller Instax Mini film, then the Instax Mini Link / Instax Mini Link 2 is for you, while the Instax Link Wide is the one to go for if you want prints on the larger Instax Wide film. The Square Link replaces the now discontinued Instax Share SP-3.
Polaroid also offers a spin on the idea, in the form of the Polaroid Lab. However, while this does print your photos onto real Polaroid film, it goes about it i a different way – effectively taking a photograph of your phone screen, and developing a print using Polaroid photochemistry. While this produces unique results, it's more experimental and produces less satisfying images if judged purely on 'print quality'.
So, how does the Instax Square Link stack up against its big and little brothers?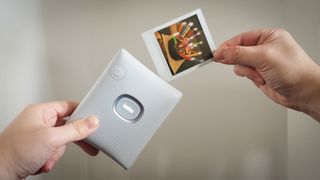 Instax Square Link: Specifications
Paper type: Instax Square film
Print size: 2.8 × 3.4 in / 72 × 86mm
Image size: 2.4 × 2.4 in / 62 × 62mm
Resolution: 12.5 dots/mm (318 dpi, 80 μm dot pitch)
Connectivity: Bluetooth, USB-C (charging only)
Dimensions: 105 × 37.5 × 127.5 mm
Weight: 236g (without film pack)
Battery: Internal lithium-ion, approx 100 shots, 80-120 minutes charging time
Compatibility: iOS/Android
Supported formats: JPEG, PNG, HEIF, DNG
Available colors: Ash White, Midnight Green
Instax Square Link: Key features
Obviously the key feature of the Instax Square Link is that it prints square-format pictures on Instax Square film, which makes it distinct from the Mini Link and Link Wide in terms of aspect ratio. It does, of course, share a similar format to the Polaroid Lab (though Polaroids are slightly larger, but also slightly more expensive).
Like the other members of the Link family, the Square has its own bespoke (and free) app for smart devices. Where other models have their own unique app features (such as light painting on the Mini Link 2), here there are two exclusive features: AR Print and Instax Connect.
The former enables you to add augmented reality features, such as animations, and print a QR code onto images so that the effects can be scanned (using the Instax Link app) and viewed by the recipient. The latter works as a sort of instant messenger or Post-It Note, where you can choose a background and send electronic messages that are overlaid on top – and can then be printed out as a keepsake.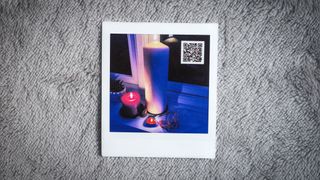 Instax Square Link: Build and handling
Instax has clearly done a bit of spring cleaning with its Square products when it comes to their design. Much as the Instax Square SQ1 instant camera ditched the more dramatic look of the Instax Square SQ6 that it replaced, so the Instax Square Link foregoes the striking art deco design of the discontinued Instax Share SP-3 in favor of a more unified look that's more in line with the other Link printers.
The printer is a smaller, sleeker, more streamlined affair than its predecessor, with a subtle 'wave' pattern that both imbues the device with some aesthetic interest and also gives it some physical purchase for handling (rather than it being smooth like a bar of soap).
Like the other Links, and unlike the SP-3, it lacks any indicator to tell you how many prints are left in your cartridge, and its integrated lithium-ion battery cannot be replaced. Unlike its siblings, however, Instax has finally given it a USB-C connection for recharging.
Another welcome difference from the other Links is the addition of a function button that enables you to instantly reprint a picture, making this an ideal party printer for when five people all say, "Can I have one too!" While the apps for other Links enable you to print the last picture, and the Mini Link enabled you to turn the printer upside-down to perform a reprint, having an on-body button is much better.
Size wise, the Instax Square Link is marginally bigger than the Mini Link and substantially smaller than the Link Wide (as you can see below).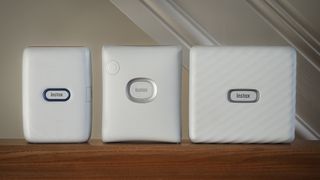 Instax Square Link: Performance
The quality of the prints on the Square Link – as with the Mini Link and Link Wide – is excellent. The nature of the printing / developing process means that you are inherently getting a more contrasty look, but the "Instax look" is a brilliant one that complements virtually any scene or subject you print out.
The Instax Square Link app now applies Instax Rich mode as standard, which produces superior colors on virtually every shot – though this can be disabled if you prefer the original, more natural look (where colors are slightly less vibrant / more washed out).
The app is by and large brilliant, enabling you to make basic exposure and saturation adjustments, as well as rotation and cropping tweaks… BUT it can also be a huge pain in the butt. Perhaps due to the amount of bleed that it's programmed to keep around the edge of a photograph, it can be impossible to recompose and / or resize your images exactly as you want.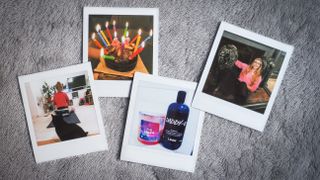 Trying to enlarge an image sometimes results in the app making it 'bounce' back to its previous size, and dragging it too close to the native picture's edge likewise can 'bounce' it back to its previous position – which can make it a real pain, when trying to recompose a rectangular image into the square frame.
The app also has a nasty habit, when making a minor readjustment to the image position (or even just tapping the image) of throwing you back out to the image folders and making you select an image all over again. This is a problem with the app (and the Mini Link app, for that matter) rather than the printer itself, so it can be patched or firmwared out, but it's still an annoyance.
In operational terms, a minor niggle is that the Square Link is no longer compatible with any Fujifilm camera – not even the Fujifilm X-S10, which still works with the Mini Link, Link Wide and Share SP-3. This is a minor inconvenience, and one that most people (who print from their phones) probably won't experience. But it feels a shame that you can no longer directly print from a Fujifilm camera to a Fujifilm printer.
Instax Square Link: Verdict
Although we'd still love an indicator to show us how many prints are left in the current cartridge, we otherwise have no gripes with the Instax Square Link printer itself. The prints are great quality, the reprint button is a life saver, and it's a real Goldilocks in terms of its price and the size of its pictures, compared to the other Instax Link options.
The AR features are interesting, though we're not sure how much you'll use them past the first few times. And the app, despite a couple of really annoying quirks, is overall easy to use and makes it simple to turn images on your phone into pleasing, physical instant prints.
As someone who owns all the alternatives, I can safely say that the Instax Square Link is my favorite instant printer – and, for my money, the best all-rounder on the market.