Yes, Canon really has made its own speed booster for the RF mount! The new Mount Adapter EF-EOS R 0.71x adds a stop of light-gathering speed when you adapt your EF lenses… however, it comes with a very specific proviso.
While it is designed for the RF mount, the Mount Adapter EF-EOS R 0.71x will only work with a Super35 sensor. So, while it will physically fit any Canon EOS R body, it will only function correctly with the new Canon EOS C70 cinema camera.
• Read more: Best Canon lenses
Still, this is massive news for Canon in terms of developing both its Cinema EOS line and RF lens ecosystem. And for the traditionally conservative manufacturer, it's yet another step in a bold direction of innovation for a company that has already made some massive moves this year in terms of pushing imaging technology.
The new Canon EOS C70 features both an RF mount and a Super35 sensor. However, rather than using one of the existing mount adapters to use EF lenses (which would increase the lens' effective focal length, by virtue of the smaller sensor's crop factor), the Mount Adapter EF-EOS R 0.71x can capture a full-frame angle of view. So an EF 16-40mm lens would still behave like a 16-40mm lens.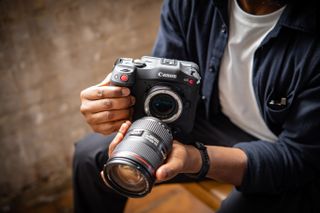 Like third-party speed boosters, it achieves this via an optical conversion, made possible by a series of glass elements (unlike standard EF adaptors, which have no elements at all). And the conversion process not only retains the full-frame angle of view, it also increases light transmission by about a stop – meaning that the aforementioned EF 16-40mm lens will give you improved low light performance and shallower depth of field.
Better still, Canon's adapter has electronic connections for full communication with the camera body – meaning you retain autofocus, peripheral illumination and chromatic aberration correction, and full EXIF data.
The Mount Adapter EF-EOS R 0.71x goes on sale in late November for $599 / £529.99.
Read more:
Canon EOS C70 is a DSLR-sized RF cinema camera with 16 stops DR + 180fps
The best Canon lenses: go longer, wider and closer with your Canon camera
Best Canon RF lenses: the best lens for the Canon EOS R system