Measuring just 68x23mm and weighing around 130g, the Canon EF 40mm f/2.8 STM is a low-profile lens that's ideally shaped for street photography – and it's also one of the best pancake lenses for Canon cameras. Fitting full-frame cameras, it carries a filter thread of 52mm and comes with the optional ES-52 hood for controlling stray light and reflection. It also provides a viewing angle of 59 degrees, a nice all-around perspective that makes it useful in a huge number of different situations, and especially good if you don't know exactly what your subjects are going to be doing. As we said, it's an ideal street companion in lots of ways.
The EF 40mm f/2.8 STM uses a gear-type STM (Stepping Motor) focusing system, which uses gear wheels to drive the focusing action. This means that while on the one hand it's slower and noisier than the 'lead screw type', it can be built much smaller and lighter. This is what gives the lens such a slender profile. One thing that's worth noting is that manual focusing can only be applied when the camera is switched on, as the tiny focus ring is electronically coupled. Conventional zone focusing or accurately setting the hyperfocal distance are both impossible, due to the lack of a focus distance scale or depth of field markers.
The 40mm also has a minimum focusing distance of 0.3m – not as short as some comparable lenses, but close enough for pretty much any street photography subject.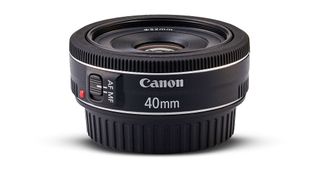 Performance
From our extensive and thorough lab testing, we're happy to report that the EF 40mm f/2.8 STM provides stellar sharpness across its frame, with little in the way of colour fringing or barrel distortion – it's a very impressive performance across the board. The inner barrel extends at shorter focusing distances, increasing the lens' profile slightly, but does not rotate. Extreme corner sharpness isn't quite as good at maximum aperture as it is on Canon's EF-S 24mm f/2.8 STM – an extremely similar lens – and the manual focus ring is arguably a little thinner than is comfortable, but otherwise most aspects of this lens are very strong indeed.
Read more: