Creating a photo book is definitely a labour of love. No matter whether you're creating it for your own work or as a gift for a friend or loved one, making sure that all the elements are working together perfectly can take some time. That's why it's important to choose a photo book service that can make the process as quick and simple as possible.
Bob Books is an online photo printing service that offers a wide range of products, including photo books, wall art, calendars and photo cards. We delved into the Bob's Books photo book service to see how easy it was to navigate and what the quality of the final product was like.
• Read more: Best photo books
Specifications
Book shape: Landscape, Square, Portrait
Book size: 19 x 15 cm, 28 x 21 cm, 38 x 29 cm, 21 x 21cm, 30 x 30 cm, 21 x 28 cm, 28 x 36 cm
Paper: Classic, Gloss-coated paper, Matte paper, Lustre photographic paper, Gloss photographic paper
Style: Paperback, hardback
Extra pages: £5.78 per four pages
Shipping: UK, Europe, USA, UEA, Australia, New Zealand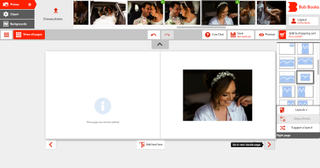 Ease of use
Bob Books offers four different options for creating your photo book, including the 'Bob Designer Software', the 'Online Book Creator', a PDF-to-Book option and an iOS App. We tried out both the 'Bob Designer Software' and the 'Online Book Creator', and found them both very easy to use.
While it took us a little while to wrap our heads around the design system that Bob Books employs, we actually grew to really like it. You simply add as many images as you want onto the page and then you're able to choose from a variety of different layouts to get the most aesthetically pleasing page. You can also use the 'Swap photos' button to adjust your layout until you're happy with the order of the photos. If you're not sure how to arrange your images, Bob Books also offers a 'Suggest a layout' button, which does it all for you.
Quality of results
A common theme across many of the photo books we've reviewed is that the saturation on the image used for the front cover seems to be pushed up. However, the Bob Book's cover was by far the worst example we saw of it. With the original photo graded with warm oranges, the final cover had an unfortunate you've-been-tangoed vibe that significantly detracted from the book as a whole.
This was actually a massive shame, because we were very pleased with the quality of the rest of the book. The paper was nice and thick and the colors of the prints inside the book were accurate. The book felt pleasantly heavy in the hands, and the surface of the cover itself was smooth and flaw-free.
If you're going to order from Bob Books, we'd recommend choosing your cover image very carefully. Think twice about going for a photo that's already quite saturated, as you might end up with garish colors.
Update: We have since been contacted by a Bob Books representative, who has advised that the reason our photo book cover was so overly saturated was because we had used the 'Automatic Image Optimization' function (as seen in the screenshot below).
While the 'AIO' function only advises that "Crop, aspect ratio, red-eyes, etc. will be corrected if necessary", it appears that it also affects the saturation of your photo as well. We would recommend that you turn this function off to avoid your cover becoming over-saturated.
You can do this via Settings > Photos in the Bob Books software.
Conclusion
While using Bob Books' software was simple and the quality of the book was fantastic, the over-saturation of the cover image was so egregious that it's impossible to give this service five stars. This is a real shame, as we had high hopes for Bob Books. As mentioned previously, if you're interested in ordering from the site, we recommend avoiding the 'Automatic Image Optimization' function to avoid overly-saturated images.
However, despite this small quibble, we were very impressed with the quality of the rest of the book, the designing experience and the speed of delivery.
Read more:
• Best photo books in 2020
• Best photo printing online: top services from around the web
• Best canvas print services in 2020
• Best photo albums in 2020