Short-form mobile videos are everywhere, but until now they've relied only on smartphones. Cue the Akaso Keychain, a seriously tiny clip-on camera that's seemingly designed for TikTok, but has some core extra features that might just widen its appeal.
Described as a 'mini vlog' camera by its creators – which recently launched the impressive Akaso Brave 7 LE action camera – the splash-proof Keychain is claimed to be the lightest 4K camera around. It's hard to argue with that; it measures 63x33x18 mm and weighs just 36g, with a microSD card slot and a USB-C slot hidden away behind a flap on its undercarriage.
There's something very familiar about the Keychain. Stylistically it's the spitting image of the Google Clips and the Insta360 GO from a few years ago – albeit a bit bigger – though Akaso's effort boasts more resolution and a narrower 124º field of view. For most short videos, both are useful. As well as being 4K, the Keychain has a larger suite of features that make it less about 'life-logging' and more about TikTok. Its lens has an array of six LED 'fill lights' around the lens.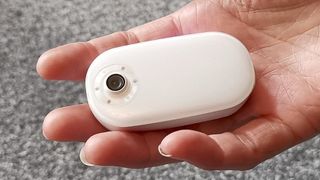 Its TikToc-centric design becomes apparent immediately; when used in its upright position it shoots portrait-shaped 9:16 video, just like a smartphone. It's no problem to change its orientation to 16:9 by turning it through 90º, of course, though you can't do that with its 'carry-on case' – a silicon rubber cover with a hook that allows it to be worn around the neck – which keeps Keychain upright for portrait videos. Not so a magnetic 'easy clip', which is best used to attach to backpack straps and head-torch harnesses – but which can turn the Keychain into a body cam.
There's a magnetic ball-and-socket pivot stand, which can be physically stuck to a surface (or used as a desktop stand). Better still, the bottom screws-off to reveal a 1/4 inch thread for attaching to any tripod or selfie stick. Another useful accessory is a magnet base that slips behind a shirt or t-shirt to attach Keychain anywhere on the body, and in any orientation.
Handling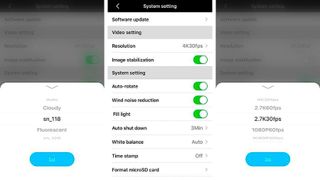 Keychain shoots video in resolutions up to 4K 30 frames per second (fps) – including slow-motion 720p 120fps – and has an impressive electronic image stabilization system. It takes still photos in 20 megapixels.
Attaching it to a phone via WiFi is a little tricky, with a series of subtle presses required to get it into pairing mode. We're not sure why it doesn't go into pairing mode automatically when switched-on, though Keychain can also be put to work without using a phone. Once paired, you get a live preview on a phone of what Keychain is seeing through the Akaso Go app that, thanks to that narrow field of view, can be easily held out of sight of the lens. Sadly the Keychain suffered from a couple of freeze-ups during the test, which is a worry, though this was a very early review sample.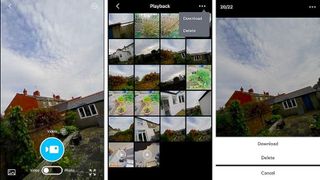 It's a cinch to use Keychain in its basic modes. You just press record on either the device itself or via the app. Ditto taking photos. You then download content to your phone for editing in the app.
The app is great, and all about TikTok. There are all kinds of editing options, though everything begins with an option to trim a video. Once that's done you enter the 'advanced edit' suite, which contains hundreds of options. You can add subtitles, stickers, doodles, put another video or photo in the frame picture-in-picture style, change the orientation, add music or increase the speed. You can even reverse the entire video so it plays backwards. A plethora of effects range from a basic black-and-white to various mirror effects, fade-ins blurs, a 'glitch' and an old TV broadcast effect. Slightly less zany are options to add filters – of course – as well as adjusting brightness, saturation, white balance, contrast, sharpness and vignetting.
Performance
Akaso Keychain 4K sample video at 30fps - Image Stabilization on
Akaso Keychain 4K sample video - Image Stabilization off
Akaso Keychain 2.7K sample video at 60fps - Image Stabilization on
Given its narrow field of view, the EIS on this camera is all-important. Thankfully, it's impressive, with fluid-looking video that's as useful when walking as it is when cycling or skiing. However, it only works on 4K and 1080p modes with frame rates of 60 fps and below. The detail on show in its videos only just appears 4K in terms of detail, though there's some decent colour. Photos – for which there are burst (3 shots up to 30 shots) and interval modes – also look reasonably good, with plenty of colour and contrast, but the Keychain's highlight is its time-lapse mode. Although it necessitates putting Keychain into a special mode before using it, it's a genuinely useful hands-free way of creating a fuss-free hyper-lapse – a sped-up version of a run, or a walk through a city centre – without having to clutch a phone to your chest.
Keychain has another trick up its sleeve in the shape of one, three and five-minute loop recording so you don't miss anything, and can easily create a video around an unexpected 'moment'. That's perfect for the TikTok generation.
Akaso Keychain: Verdict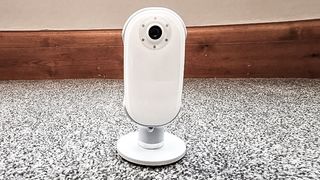 If you're after a versatile camera for TikTok or YouTube, or hands-free hyper-lapses, the low-cost Keychain is worth investigating, but it does come with that caveat of unknown reliability. Overall we were happy with the quality of the video and photos, and loved the plethora of manual settings and endless editing options in the app, but we're not convinced the Keychain does enough above and beyond what a smartphone can already do.
Read more
Best body cameras
Best spy cameras
Best action cameras
Best cameras for vlogging
Best camera phones