Yashica is back from the dead once again, with the release of a new 35mm film camera: the Yashica MF-1 Snapshot Art Camera. It is joined by a trio of new 35mm ISO 400 film stocks, one color, one black and white, and one called "Golden 80s".
Unlike its previous release – the ill-fated and abominable Yashica Y35 "digiFilm" camera, which was a sad electronic mockery of an analogue camera – the Yashica MF-1 is a true 35mm film camera. Likewise, the new films are real 35mm rolls, not the ludicrous popinjays that were the digiFilm modules for the Y35.
While it's a real film camera this time around, don't expect the MF-1 to challenge the best film cameras, and it is a low cost point-and-shoot – which is reflected by its HK$278 price tag ($36 / £28).
The camera has a 31mm f/11 lens, with a fixed shutter speed of 1/120 sec. It has a built-in flash (with a lifetime of 3,000 discharges) and accepts a single AA battery, which will take 120 shots with flash.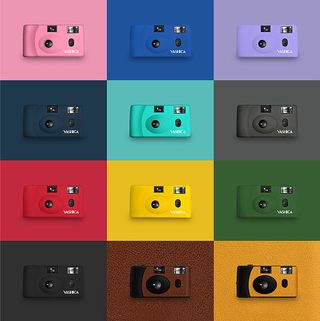 The Yashica MF-1 has been "optimized" for ISO400 film, such as the company's three new stocks that have been released at the same time. Time will tell how these compare to the best 35mm film out there.
Described as a portrait film, the HKD$55 ($7 / £5.50) Yashica 400 produces photos that "look a little on the warm side, good for skin tones. Balance grainy converts to a stylish photo." The contrasty HKD$60 $7.60 / £6) Yashica 400 Black & White, meanwhile, looks promising for street photography.
Then there's the limited edition HKD$65 ($8.30 / £6.45) Yashica Golden 80s, with a suitably garish canister, that "tends to skew more towards large saturate scale, probably best working with natural light and street snap. Strong grainy which perfect for your moody shot."
You can investigate and order the Yashica MF-1 Snapshot Art Camera, along with the three new films, on the Yashica online store. Without a hint of irony, one of the sample photographs on the Yashica film page is a facepalming statue.
Read more:
Yashica is back… and let's hope it's better than last time
The best film cameras in 2019: recapture the magic of film photography
Best film: our picks of the best 35mm film, roll film, and sheet film for your camera