The new Canon RF 50mm f/1.8 isn't just a much needed nifty fifty for Canon's RF mount cameras – it's a lens that truly legitimizes the manufacturer's entire full-frame mirrorless endeavor.
I was a day one adopter of the Canon EOS R, and thus Canon's entire RF system. After testing a prototype earlier in the year, I bought the original EOS R when it went on sale in October 2018. Then I bought the Canon EOS R5 in July this year.
As great as those cameras are, though, the strength of a new system isn't in its bodies but in its lenses. And for the past two years, the RF mount has consisted almost exclusively of incredible but incredibly expensive lenses.
• Read more: Best Canon RF lenses
The 50mm f/1.8 has been the bread and butter of photographers for decades. Dating back to the SLR days, you would invariably get a nifty fifty – a fast but inexpensive lens with a 'standard' all-purpose focal length – with whatever camera you bought.
Upon its launch in 2018, though, you couldn't buy a nifty fifty for the EOS R – you could only buy the Canon RF 50mm f/1.2L USM, which costs well over two grand. It was, by all accounts, a baffling decision; why would Canon only offer an astronomically priced premium option, instead of the essential f/1.8 lens forms the backbone of a camera system?
• See also: Canon EOS R vs Sony A7 III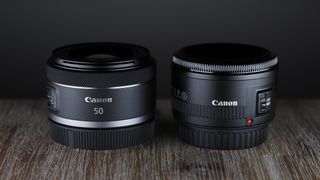 It remained a baffling decision for the following two years. Aside from the (quite brilliant) Canon RF 35mm f/1.8 Macro IS STM, the RF mount has been built around high-priced prestige lenses like the Canon RF 85mm f/1.2L and the Canon RF 70-200mm f/2.8L IS USM – glass that, quite rightly, showcases the unique properties and advantages of the RF mount, but made Canon's new system feel like one that was only an option for those with money to burn.
I own that 85mm f/1.2L. It's brilliant. But what I've really wanted ever since 2018 was a nifty fifty. And now, after two years of adapting my rattly old Canon EF 50mm f/1.8 STM, I have one.
The release of the RF 50mm f/1.8 dovetails with the release of the Canon RF 85mm f/2 Macro IS STM, and this is a watershed moment for Canon. At last, the three affordable "trinity primes" as I call them – the 35mm, 50mm and 85mm – are finally all available.
Now you can buy an entry level Canon EOS RP, and not be expected to purchase a 50mm f/1.2L that costs over twice as much as the body. You can pick up the bleeding edge Canon EOS R6, and not have to mount a 50mm DSLR lens designed in 1987.
The Canon EOS R system is, finally, legitimized. And not a moment too soon.
Read more:
Canon RF 50mm f/1.8 STM review
Canon RF 50mm f/1.2L USM review
Canon EOS R review
Canon EOS R5 review