If you're a massive Leica fan and enjoy the Disney universe for its unique take on history, and all the fun and joy it brings to you and your family, then you are going to love the latest announcement from Leica.
For over 100 years, Leica has been developing precise optical instruments that have revolutionized the world of imaging. Leica often partners with creative people and those who work with images, so collaborating with Disney – with Walt Disney himself bringing his vision and passion to animated filmmaking 100 years ago – is an iconic pairing.
Disney has been producing refined cartoon storyboards using Leica cameras and projectors (then called Leitz) since the very early days of animation. To mark the anniversary of the film studios, Disney and Leica are now unveiling their exclusive new collaboration – a special, limited edition Leica Q2 | Disney "100 Years of Wonder".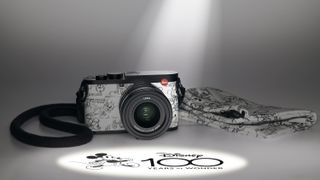 Disney dramatically changed the techniques of animated filmmaking thanks to the innovative Leica technology of the time. This had such a lasting effect that the term "Leica Reel" was coined during this period, and came to define animated stills that are run on 35mm film projections. Through this advanced process, the preliminary artwork is then aligned with a soundtrack, using combined techniques to get a very precise sense of pace of a sequence.
To honor this unique heritage, the special design applied to this limited edition Leica Q2 dates back to a model sheet created in 1937 by one of Walt Disney Studio's noted animators, Don Towsley. In addition, a Mickey Mouse print adorns the camera's top plate. The special edition also includes a protective dust bag with matching original Disney graphics and a special rope strap.
The Leica Q2 | Disney "100 Years of Wonder" is also adorned with a very special material, reminiscent of the tracing paper on which Disney's creators penciled scenes and characters, giving the camera a sophisticated feel and making it even more interesting for amateur collectors.
The special edition is limited to 500 sets worldwide and will be available globally at Leica Stores, the Leica Online Store, and authorized dealers starting in April, with a recommended retail price of $5,995 / £5,400 / AU$9,990).
If this article has been of interest, why not take a look at our Leica Q2 review or see what we think are the best Leica cameras. If you love Leica but haven't got the deep pockets, you might want to take a look at our best Leica alternatives.