A new film sets out to show the creative process of renown wildlife photographer David Yarrow. Best known for his stunning, black and white portraits of the animal kingdom the short documentary was filmed in November 2018 on an expedition to the island of South Georgia in the southern Atlantic Ocean.
Produced by Abraham Joffe ACS and the team behind Netflix's acclaimed series 'Tales by Light', film shows one of the world's most remote locations documented the natural spectacles on show. This land of peaked mountain ranges and unspoiled beaches is strewn with fur seal colonies, battling elephant seals and hundreds of thousands of king penguins.
The film shows David's process of curating that one shot which transcends the others – the image at the top of the page of the marching penguins that is simply called "The Breakfast Club".
Will Bolsover, founder and CEO of Natural World Safaris, personally escorted David and the Untitled Filmworks team into this remote region, using his and his team's expertise to chart this intensive expedition onboard explorer yacht the Hanse Explorer.
David's image '78 Degrees North' captured on expedition with Natural World Safaris in Svalbard, recently sold for £81,250. He works exclusively with Natural World Safaris as a travel partner recognising their expertise and professionalism.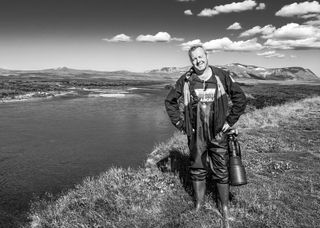 'David was there with a big challenge, to capture singular frames that would somehow do justice to what we were witnessing,' says Joffe. 'In some ways, our task as filmmakers seemed less daunting. As the medium of film is almost always a visual assembly, we could gather numerous shots to bring the story of David's creative process to life. What I appreciated most about filming David, was his willingness to be vulnerable. As an artist, he is his harshest critic, very willing to accept when he hasn't managed to get the job done. This self depreciation, paired with enormous drive for perfection, I would argue are two of his most powerful attributes as a world-class creative.'
Natural World Safaris specialises in the ultimate wildlife encounters on the most off-the-beaten track routes. From its series of specialist photographic safaris, Aperture, led by photographers including David, to explorer yacht itineraries, it responds to an increasing desire for travel which pushes boundaries.
Read more:
David Yarrow interview: A tale of two Kenyas
10 ultimate locations for wildlife photographers
Photography courses and holidays: how to choose the right one for you