A design for a Lego film camera, based on the iconic Olympus OM-1, has been submitted to the Lego Ideas group – the official Lego community where prospective designers suggest product ideas to the company.
If a design submitted to the Lego Ideas group receives 10,000 supporters, the manufacturer will consider putting it into production. Which means that, if this Lego version of the Olympus OM-1 – one of the best film cameras ever made – garners enough response, it could make it onto store shelves.
"I've made a Lego ideas submission based on an Olympus OM-1 (to avoid licensing hassles I've called it a generic film camera) and I need your support," wrote the designer, David Hansel, on Facebook's Olympus OM-D User Group.
"If I reach 10,000 supporters in the timeframe, the Lego company will consider making this as a product. Takes a few minutes to create an account, then once you've hit support, done! Already had several hundred supporters in just the first few days so it could happen with your help!"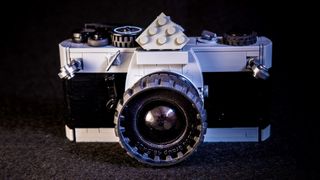 As Hansel notes, the fact that the set is based on an actual Olympus camera design could potentially cause licensing issues. However, history has shown that this would be far from insurmountable.
There are dozens of officially licensed Lego products that started as fan submissions to Lego Ideas, including sets based on The Beatles' Yellow Submarine, The Big Bang Theory, Disney's WALL•E, Doctor Who and numerous NASA spacecraft.
So, provided the idea finds enough support from the public, there's every reason to believe that it could become a a fully fledged product. And with the OM-1's digital successor, the Olympus OM-D E-M1 Mark III, having been released this year, there's no better time.
To view and vote for the idea, visit the Film Camera product idea at the Lego Ideas website. And make sure to check out David Hansel Lego Creations to see the designer's other great ideas!
Read more:
The Nikon Z9 is here – in paper form!
The best Olympus camera in 2020: for Instagrammers, enthusiasts and pros
The best film cameras in 2020: recapture the magic of film photography