The 2020 CP+ exhibition was cancelled, so Pentax has released a video showing off three new Pentax lenses, but also revealing more about the new 'flagship' Pentax APS-C DSLR we first reported in September 2019.
In the video, its referred to only as the new Pentax APS-C 'flagship', so we don't even know what it's going to be called yet. Other things not yet revealed are the resolution of the sensor, the continuous shooting speed or the video capabilities.
Pentax has stood by its 24-megapixel APS-C sensor in numerous models now, so it's possible we'll see it appearing again here. What we do know is that Pentax is concentrating heavily on the user experience and physical camera design.
A bigger, better viewfinder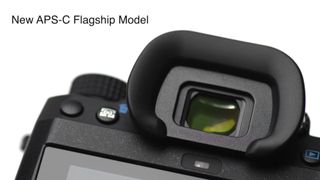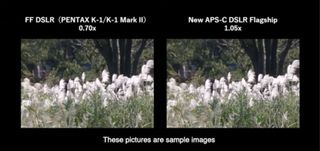 Pentax wants users of its new APS-C DSLR to have the same viewfinder experience as full frame camera users.
Typically, APS-C DSLRs have the same magnification as full frame models, but the smaller sensor means the viewfinder image is correspondingly smaller. Pentax's APS-C camera viewfinders have always offered higher magnifications than most, but in the new camera Pentax is aiming for a 1.05x magnification to give a viewfinder size and angle of view comparable to that of the full frame Pentax K-1 II.
The new camera will have an eye sensor just below the viewfinder eyepiece that will dim the main display on the back when you put the camera to your eye. The eyepiece also protrudes 3mm further than previous models in order to reduce or prevent contact between your nose the the LCD. This might hint at a touchscreen display, but Pentax has said nothing to confirm this.
Exterior design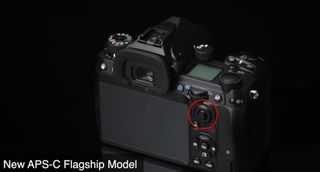 The rear screen is a fixed, non-tilting, non-articulating design. The pentaprism on the top of the new camera has a sharper profile designed to echo the styling of classic Pentax film SLRs and the focus point lever on the back has been modified since the initial design to improve the 'finger hold'.
There will also be a new, custom-made battery grip with vertical controls for extended vertical shooting, and Pentax has said that the new camera will offer improved AF, improved tracking performance and an improved drive system.
Beyond that, we don't have any further information to add to our speculation when we published our original Pentax DSLR story. Pentax does seem hopeful, however, that the new 'flagship' APS-C DSLR will still arrive in 2020, despite coronavirus and any associated supply issues.
Read more:
• These are the best Pentax cameras today
• The best Pentax lenses right now
• The best DSLRs to buy