South African visual storyteller Lee-Ann Olwage was crowned the winner of the professional creative category at the Sony World Photo Awards 2023 for her series, The Right to Play. In this project, she explores the life-changing power education has on the future of young girls when given an opportunity to learn and dream.
Working with Kekanya's Dream, a non-profit organization set up by educator and activist Dr. Kakenya Ntaiya. Olwange set out to capture what can happen when the traditional roles of women as wives and mothers, many of whom would undergo female genital mutilation (FGM) are set aside to continue education beyond primary school.
• Check out the best Sony cameras from the latest Sony A7R V to the more compact Sony ZV-1
Giving power to the girls she photographed, Olwage allowed them to choose how they posed ranging from standing on a chair to running around a classroom. Using flowers she pinched from her neighbor's garden, she layered them over the printed images to create a collage before photographing them again to create the final pieces. The flowers are a nod to traditional arranged marriages and a life these girls are hoping to escape.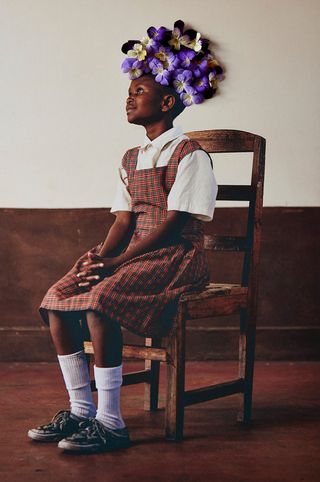 Speaking to Olwage at the SWPA 2023 exhibition Olwage tells me the photos were featured in the Italian edition of the fashion magazine Vogue "which was a big deal for all of us." She continued, "the most important thing is that these young people inspire each other. Sisters and other friends are seeing these images in magazines and galleries like this [Somerset House, London] and showing what can happen when given an education and opportunity to dream"
Blown away "by the tenacity and strength of the women and girls [in this project], I'm constantly reminded of how important safe spaces are for these women" Olwage explains, and how lucky she is to come from a privileged community where going to school was almost taken for granted.
"I remember not even wanting to go to school some days, it's not something you ever think about but for many women and girls all over the world it's not even an option so working with these girls was a phenomenal experience"
It is estimated that worldwide around 129 million girls leave education to marry and have children and only 49% of countries have an equal number of boys and girls in primary schools with the gap widening at secondary school.
While young girls still face traditional cultural practices such as FGM, Olwage will continue to act as a voice for these girls through her powerful, thought-provoking imagery. As a member of the Native, Women Photograph and African Women in Photography, her long-term projects use photography as a way of engaging wider communities and allowing her subjects to engage with how they are represented.
If you enjoyed this article, you can check out the full list of winners unveiled at the Sony World Photography Awards 2023