Tether Tools has built up a great reputation amongst pro photographers offering a range of cables and contraptions that take out all the stress of tethering your camera to a laptop. You can barely go into a professional studio without seeing the bright orange wires that are the Tether Tools trademark.
But now Tether Tools are offering to cut the wires, and let you shoot cable free with the launch of the Air Direct. Originally shown last year, the Tether Tools Air Direct accessory connects your camera to your laptop over its own wifi network - allowing you to upload your RAW and JPEG files direct to your computer as you shoot them.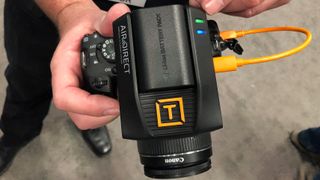 The dual-antenna 802.11AC Wi-Fi connection has operating distance of up to 60m (200 feet). There is a choice of either 2.4GHz or 5GHz bandwidth. RAW files can be transmitted to your laptop in as little as seven seconds, with JPEGs taking as little as one second.
It is not Tether Tools first wireless device, but the big advantage of the Air Direct is that it can be used with your choice of tethering software, including pro favorites Lightroom and Capture One Pro. Furthermore, Air Direct can be used with a wide choice of compatible cameras from Canon, Nikon, Fujifilm, Phase One, Sony, Olympus, Panasonic and Hasselblad.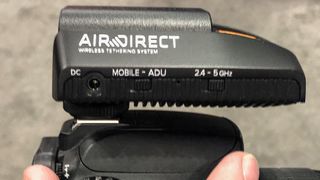 The unit has its own LP-E6 rechargeable battery, so doesn't draw power from the camera - giving a running time of between three and five hours. Set up is made easy, as the Air Direct connects to your camera's USB port (using a short supplied orange cable), and can be attached to your hotshoe, or to the optional Arca-Swiss-compatible L-bracket, or strapped to a tripod leg.
Although the Air Direct has immediate appeal to the studio photographer, the ability to send an image to a computer at speed and without cables is also of use for professionals working on a location, that, say want to see the images they are shooting on a bigger screen.
The Air Direct retails for $330/£358.
Read more:
Best cameras for professionals