This spring's virtual Photography and Video Show is already turning out to be one the best yet, even if we don't get to be at the NEC in person. We've spent a few hours virtually exploring the Show and a highlight for Canon EOS R5 and EOS R6 users (or anybody who shoots with a Canon camera for that matter) has been our chat with David Parry, the product specialist at Canon.
Dave was kind enough to spend some time talking to us about the exciting new (and some not-so-new, but often overlooked) features of advanced Canon cameras, which he says can help photographers capture better photos and video.
Here is a round up of some quick and easy ways you can get the most out of the already stunning new Canon products, many of which can be back-dated and applied to older enthusiast and pro-level EOS cameras.
• Get your free ticket to The Photography Show virtual event
1: Adjust your dioptre!
'It's amazing how many people forget to do this!" laughs Parry. This simple, but so often overlooked step can make the difference between a sharp shot and one which just lacks critical focus. Almost all DSLRs and mirrorless cameras offer the ability to adjust the position of the viewfinder dioptre, to tune the view of the scene to the photographer's own eyes. Just as wearing the correct glasses is critical to judge when things are in focus, it is essential that what you're seeing through the viewfinder is accurate. After all, what is point of buying super sharp lenses if you can get the focus perfect?
2: Always set the Date and Time
Again this one which we all probably know about, but one which we can get a little lazy about (we're certainly guilty of this!). Setting the date and timezone of your camera, before you start shooting, is essential for archiving purposes. Yes we know you just want to get your camera out of the box and start shooting, we do too, but as Dave points out, if you intend to organise your files in Lightroom or Digital Photo Professional (DPP) you're going to want this information stored within your images.
3: Copyright info
If you're not a professional photographer or videographer you might think this doesn't apply to you, but as experts in the field of publishing we can attest that David's advice here is spot on. Always set the copyright info of your files. This gets embedded in the exif data of your images and so, as you send out your images to magazines and (more critically) to online photo sharing sites, you always have proof the original work is yours. Trusted magazines will never pass your work to others, but social sites often strip exif data from images when you upload, so make sure you have a copy of all files which are clearly labelled as your own!
4: Turn off shutter release without card
We've been stung with this before and it's never pretty. Parry passionately encourages us to all turn off the shutter release without card function on out EOS cameras, once we're done experimenting with it straight out of the box. This will prevent us from accidentally heading out on a shoot without a card in the camera and shooting all of our work into digital oblivion. Do it now!
5: Adjust viewfinder performance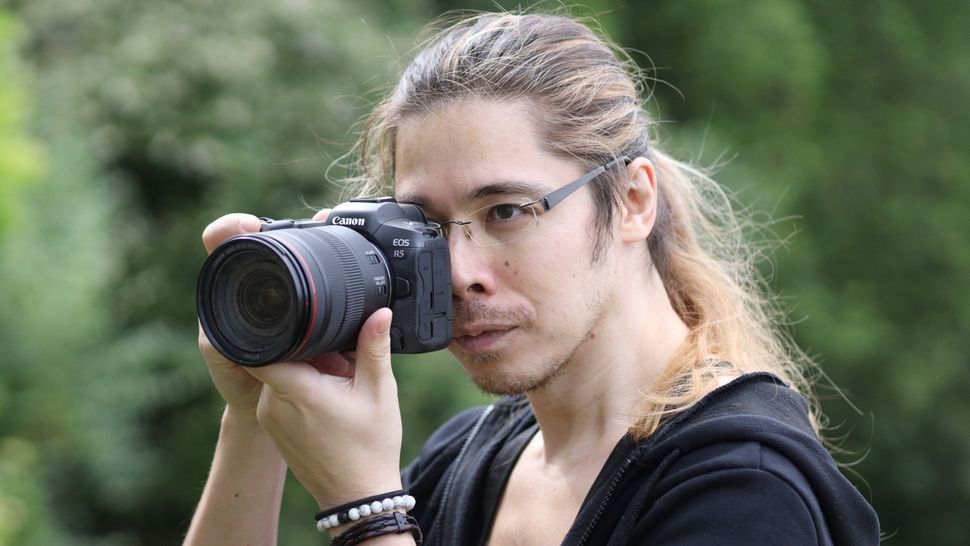 The EOS R5 and R6 have spectacular electronic viewfinders (EVFs) and a neat feature is the ability to adjust the refresh rate. If you are a sports or wildlife shooter than leave this set to a high value, but if you shoot mainly landscapes this is an unnecessary drain on battery life. If you're out all day on a shoot this can really add up to a battery saving.
6: Viewfinder review
"A great feature of mirrorless cameras is the ability to review images in the electronic viewfinder" says Parry. However he also advises that we turn this off on fast paced shoots as it can really slow you down.
7: Magnified view from point of focus
Select the option for your camera to magnify your image from the point of focus, at the review stage. If you've shot a portrait, with the focus point on the subject's eyes, then this will automatically zoom the shot to that area, so you can check critical focus on the fly. A great insider tip.
8: Auto rotate
Parry suggests that we should turn off auto rotate for in-camera review, as this prevents unwanted rotation of the image as you move the camera, but to choose the option on the EOS R5 and R6 for portrait orientation images to be automatically rotated on your computer.
9: Use CRAW
While it might sound like the name of a comic book villain when you say is as "Craw", C-RAW is a fantastic file format that has been around for a little while, but is underused by pros. "If you only shoot exposures that you might need to adjust by only a stop (1EV) either side, then CRAW is offers big file size savings" says David. "If you shoot interiors, where it's very bright outside the window and dark inside then you should stick to RAW, but CRAWs offer up to a 50% reduction in file size, meaning where you can only shoot 250 full size RAWs you can shoot over 1000 CRAWs."
10: Create a custom WB
Although White Balance (WB) is nothing new, Dave highlights the power of taking a custom WB reading for complex lighting. You can do this with a simple piece of white paper, and immediately create a bespoke colour theme for your shooting environment. Alternatively use the Kelvin adjustments to set a specific colour temperature value.
David also draws attention to a wonderful feature called AWB White Priority, which automatically neutralizes strong colour casts but retains a little ambient warmth. Parry advises this for weddings as an example.
11- Create Picture Styles
Just like film photographers used to choose a film based on the look and feel they wanted to add to a scene, Canon Picture Styles can tailor the colour balance and tonality of a shot. David highlights some of the more recent ones, including the "Fine Detail" Style, which adds a little extra sharpness and bite to a shot. For even greater flexibility create your own in Canon's free Picture Style Editor.
12- Adjust joystick sensitivity
Here's one we admit we'd probably have overlooked if Dave hadn't pointed it out (yes we need to read our camera manuals a bit more thoroughly) and it's something which could really make a speed difference. Adjust the sensitivity of the joystick on the back of your EOS R5 or R6. This is already a very welcome control feature of these cameras, so make it work for you even more by changing the speed at which it scrolls through parameters. This avoids it skipping merrily past the AF point you want to select for example, causing you to miss a shot. Choose a speed based on your needs. Duly noted Dave!
13: Select initial AF point in AF tracking
With this technique you tell your camera which AF point you want it to start tracking your subject from. This means, with predictable action at least, you can compose your shot knowing which direction the camera will track the subject as it moves across the frame and saves a couple of precious seconds, while ensuring your image will be focussed on the correct area, frame after frame. This works well even if an animal is camouflaged and makes the most of the new learning technology Canon has implemented, says David.
14: Set AF Methods
As great as having maximum control over AF performance might be there are times when you don't want all of these modes active advises Parry. "It can be easy to go on the wrong one - deselect ones you don't often use eg. face tracking as this speeds up camera work and minimizes mistakes" he explains. Not all of the options are de-selectable, but you have a great choice to experiment with turning on and off.
15: Don't use Spot AF all the time
While Spot AF has its uses, David points out that it doesn't necessarily always result in greater accuracy when focussing complex scenes. "Maybe if you're shooting with a long lens and your subject is just visible through some branches, then maybe Spot AF could find it, but otherwise [there are better options]". If you have a wider scene, there is a good chance that another object might obscure your subject, in which case Spot AF will simply not cover enough of the frame to be accurate.
16: Make the most of the control ring
One of the best aspects of the EOS R system is the wonderful range of RF lenses, which offer superb image quality and speed. However, when discussing camera control customization, David draws attention to how often the control ring, which features on many RF optics, is underused. You can assign a huge number of functions to this handy ring, which often sits just in-front of, or just behind the focus ring. David now prefers to assign exposure compensation to this ring, or even the AF modes discussed above - the possibilities are endless! Give it a try and see how much it can speed up your camera work, in the field.
17: Use the DOF preview button - it's massive on the R5/6!
We don't know about you but we were aghast when it seemed camera manufacturers might be letting the DOF preview button become a thing of the past. Yes it's possible to see depth-of-field previewed in real time on many cameras these days, and focus peaking is a great feature (more on that later) but we love how handy it is to stop down the aperture while looking through the viewfinder.
Luckily, on the EOS R5 and R6 it's very much a thing and the button itself is huge! David mentions how on older DSLR cameras like the EOS 5D Mark IV is was easily obscured by large lenses, but here it's easy to reach and operate, so make the most of it and see better focus results today.
18: Customize Eye AF
Eye AF is a headline feature of the EOS R5 and R6 and is very effective at tracking the eye of the subject, be it human or animal. However you can toggle between this and regular AF mode using the autofocus buttons on the back of the camera (top right). It's a handy trick if you want to quickly activate Eye AF on the fly.
19: Orientation linked to AF point
We don't know what this hasn't been a feature in more cameras for longer - set up your camera so that when you rotate the body between landscape and portrait formats, the active AF point automatically jumps to the equivalent spot in the reframed composition. If you've focussed on the subject's face and flip to the alternate orientation, you don't have to move the AF point back to the same area manually. Good to know.
20: Turn off continuous AF
Continuous AF is a great feature but is unhelpful when you don't need it and can eat up battery life unnecessarily. It's easy to swap back if you need it but why waste power if your subject is static. "If you put the camera on a table and the front of the lens rotates during focussing, the camera will actually 'walk' across the surface in continuous AF mode!" David laughs. We definitely won't be trying to get our camera to do that at the first opportunity...
21: AF cases
As you may have been able to tell, the Canon EOS R5 and R6 have tremendous AF systems, with customization for every situation you could think of. They really are revolutionary cameras. Included in this bracket are the AF cases which adjust AF sensitivity based on the predetermined situation. "Have a play" encourages David, "Start with Case 1, which is a versatile multi purpose case. Auto also works amazingly well too".
22: Manual focus
As previously mentioned, these cameras have a good deal of AF tech, including manual focus aids, to help confirm that your subject is perfectly in focus. Focus peaking, focus magnification and the focus guide all help focus confidence - the latter being imported from the world of pro video.
23: Shutter mode
There are a diverse range of shutter mode options in the EOS R5 and EOS R6 cameras. There is often a little confusion amongst new users about what to use when though, so David helped clear things up. "The Mechanical shutter gives a nicer bokeh. The Electronic shutter [provides] silent shooting, faster shutter speed and faster Frames per Second, but it uses a rolling shutter, so you're still going to see some distortion. Meanwhile the Electronic 1st curtain shutter offers less vibration and reduced lag".
Looking for a great deal on the Canon EOS R5 and R6? Why not check out the exclusive deals we have at The Photography Show shop!
Read more
TPS 2021 – 5 quick questions with pro photographer Brooke Shaden
Watch LIVE demos from The Photography Show right here – Canon, Sony, Nikon and more!
This is everything you should see at The Photography Show virtual event