360 cameras put you at the centre of the universe, which is great for the ego (and hence social media) but brings very exciting photographic possibilities too – especially with the announcement of the Insta360 ONE X. Watch the Insta360 ONE X video.
360 cameras like this one capture a spherical view of the world via two 180+ degree lenses on opposite sides of the camera's body. The two hemispheres they capture are stitched automatically and seamlessly inside the camera to produce 360 video or still images.
What the ONE X does is raise the game considerably for a relatively low-cost consumer camera. For a start, it can capture video at 5.7k resolution at 30fps. (That sounds a lot, but remember this is spread over the inside of a virtual sphere, so it doesn't go as far as you think.)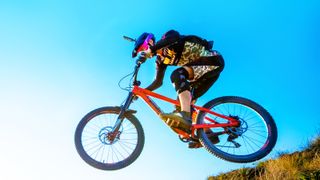 It also has new high frame rate shooting modes for capturing slow motion, including a 4K 50fps mode (2x slow motion) and a 3K 100fps mode (4x slow motion).
Or, if you prefer stills to video, the ONE X can capture 18 megapixel stills for interactive display on suitable platforms or for editing into 'flat' panoramas in 360-compatible photo editing apps.
The other big story with the ONE X is its "gimbal level" image stabilization. This is achieved using the company's FlowState algorithm, which analyses movement in all directions to produce a stabilisation effect which Insta360 says has never before been possible.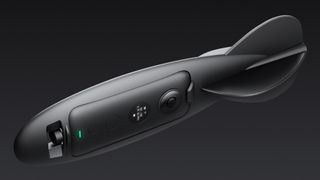 Shoot first, point later
We can't take credit for this brilliantly snappy slogan as it's one of Insta360's, but it does sum up the potential of 360 imaging perfectly.
You don't have to worry where the Insta360 is pointing when you capture your video or still because it's pointing everywhere at once.
You then have a choice of sharing the full VR experience with others via any platform that supports VR content or, more interestingly, you can edit it yourself via the companion smartphone app to produce 'flat' video or stills where you have complete control over the camera direction and can pan to follow the action in the editing stage rather than having to do it 'live' with the camera.
With the ONE X's new TimeShift feature it's even possible to mix frame rates within the same clip, swapping to slow motion or fast motion at key points in the video.
You can connect the ONE X via Wi-Fi for previewing and controlling shoots and transferring footage, or you can hook it up via Lightning, USB Type-C or Micro-USB cable.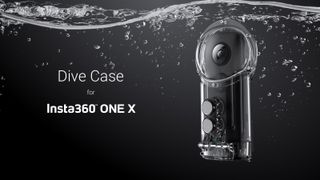 There are optional extras too, including a customized 10ft selfie stick, and the app can automatically remove the camera support from your captures, making it look as if the camera is 'floating' in the air. There's an Insta360 Drifter 'camera dart' for airborne shots and two rugged cases: the Ventura case is for use above water, with splash protection and waterproofing down to 5m, while the Dive case is for underwater 360 shooting down to a depth of 30m.
The Insta360 ONE X is available now priced $399.95 (about £300) from dealers worldwide and the Insta360.com website.
READ MORE:
How to take 360-degree videos and photos