With inflation and household bills spiralling upwards, this is a good time to see if you can save on your monthly call costs.This is still one of the best SIM only deals we have ever seen for UK mobile phone users this year. British mobile phone network Three has always offered decent deals on its mobile phone contracts – and particularly if you are after lots of data. And
This tempting SIM only tariff allows you to get connected for just £12 a month for 100GB of data usage, unlimited text messages, AND unlimited 4G data. That is a perfect deal for anyone who likes to share lots of images from their camera phone.
Doesn't matter whether you natter away the hours, type out text messages like there's no tomorrow, or stream box sets on your commute every day – this 12-month SIM-only deal has got you completely covered. Furthermore, you can use your data allowance for a Personal Hotspot - so you can connect your laptop to your phone whenever there is no available wifi.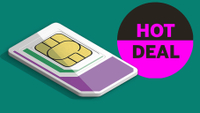 100GB Three SIM-only deal
100GB mobile data | Unlimited calls | Unlimited texts |
£12 a month
This is easily one of the best SIM-only deals around at the moment in the UK. You can chat to your heart's content, text until your fingers go numb, or keep downloading those Netflix series until your phone's memory bursts.
UK deal
• The best SIM only deals right now
What's more you can use your data and calls in 71 countries around the world for a daily charge of £2 in Europe, and £5 worldwide - and that includes places like United States, Australia, Ireland, Hong Kong, Spain and France. So you can post all your photographs to Instagram without worrying about huge costs as you tease everyone back home about your latest trip.
If you don't need quite as much data, you can save £2 a month by taking the alternative offer which gets you 30GB of data for £10/m.
Power users can also get unlimited data for a highly-attractive price of £16 a month - with no need to worry about how much you are downloading or sending from your phone.
• The best camera phone
• Best budget camera phone
• Best lenses for iPhones and Android camera phones
• The best iPhone tripods
• The best gimbals for your iPhone, GoPro and camera
• The best phone cases to protect your camera phone