The Samsung Galaxy S11 looks set to contain a raft of new technological advancements. While the 108MP image sensor was already known, the latest news points to a 20:9 image ratio indicating a taller screen – one that may feature a new display technology, SAMOLED.
That's according to a teardown of the source code for the latest One UI 2.0 beta, as well as a freshly filed trademark – both of which point towards new innovations, likely to make their debut in the Samsung Galaxy S11, anticipated to be one of the best camera phones.
XDA Developers dove deep into the code of the latest Samsung Galaxy S10 Camera App, from the most recent One UI 2.0 beta. The code revealed support has been added for 108MP output resolution – something that points squarely at the Samsung Isocell sensor, which recently debuted in the Xiaomi Mi Note 10.
"There's nothing in the code confirming that this output resolution is specifically for the upcoming Galaxy S11," wrote the site. "All we can say is that at least one of the upcoming Galaxy smartphones from Samsung will support it. We will likely know what phone will be using this sensor in early 2020 as more information leaks."
That said, all rumors have pointed towards the S11 being the first Samsung to feature the sensor, with an expected launch window of February 2020. Which makes the timeliness of this support being added to the camera app quite convenient indeed.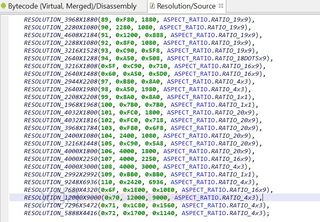 "In the past, Samsung hasn't added support for a resolution or sensor unless they were actively working on shipping them in a future Samsung device," continued XDA Developers. "This is because the engineering and cost of development for software just aren't worth it as a testbed for possible hardware."
In short, this isn't a speculative bit of testing – this is groundwork being laid for a phone with a 108MP sensor that's coming soon. Probably as soon as February 2020.
Further analysis of the code, this time by trusted tipster Ice universe, revealed that images not only possessed 108MP resolution – they also featured an aspect ratio of 20:9, giving credence to rumors that the Samsung Galaxy S11 will have a taller screen (the S10 has a 19:9 ratio).
Speaking of the screen, leak site LetsGoDigital published details of a new trademark by Samsung for a new type of display: SAMOLED. Exactly what this new tech entails is unknown but, given that there's very likely a new (S11) phone with a new (108MP) resolution and new (20:9) screen ratio, it seems like a good domino to add to the S11 line.
"So far, Samsung has always put a word for 'AMOLED' to indicate that it is about different, better OLED technology," wrote the website. "Think of 'Super AMOLED' and 'Dynamic AMOLED'. This time it is only one letter that is put before it. Does this mean that a major change is coming? Will SAMOLED soon become the new standard and will it replace AMOLED?"
We suggest popping February 2020 in your calendar, for answers to these questions and more…
Read more:
The best camera phone in 2019: which is the best smartphone for photography?
Samsung Galaxy S11 to feature Samsung's 108MP sensor, 6K video, 10x optical zoom
Samsung Galaxy S10+ review