Sure as the sun will rise each day, the new Pixel phones from Google are going to leak. This is a tradition that has gone back for several generations of Pixel, with Google somehow managing to spring new leaks from all sorts of places – this time it is renders of its flagship phone for 2023, the Google Pixel 8 Pro.
The latest leaks come from the well-known and well-informed leaker OnLeaks, who historically has a very accurate track record with finding the hottest tips on the latest devices, so we can place our faith in them being authentic. The Google Pixel 7 Pro is one of the best camera phones of the last year (if not the best), so it is exciting to get a glimpse of what Google might be doing with its next flagship.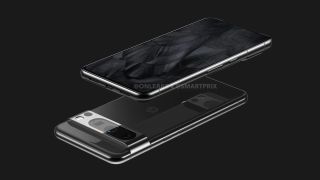 The leaked renders show the new camera layout for the Pixel 8 Pro 8. The main sensors don't seem to differ much from the 7 Pro, with the main camera lens and wide-angle lens being visible next to the more square-shaped periscope telephoto lens. Instead of the telephoto lens being in its own segregated island, however, on the 8 Pro all three lenses look like they will harmoniously share the same cutout on the aluminum frame.
Most interestingly, below the flash is another small dark cutout. What this might be used for is unclear, but we would hazard a guess at a depth sensor for more accurate AI effects like portrait and video blur, a specialized macro lens, or possibly a shorter or longer telephoto lens like the one featured on the Samsung Galaxy S23 Ultra.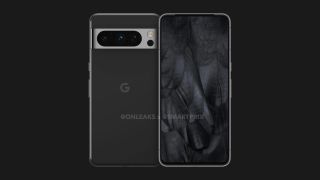 Apart from the updated cameras, the Pixel 8 Pro looks largely similar to the previous model, although with a couple of minor design changes. The corners of the device look much more rounded, and the screen might be set to shrink slightly to a more manageable 6.5 inches, which is still a large screen but will give those with smaller hands fewer issues.
The screen also appears to be flat; the Pixel 7 Pro has a screen with slightly curved edges, which were already reduced from the much more severely curved Pixel 6 Pro. The curved screen was always a little divisive, as it distorts the edges of images and makes it harder to fit cases and screen protectors, so for many this would be a welcome change.
Internally, it is a certainty that Pixel 8 Pro will feature Google's Tensor 3 processor, which is rumored to use a 3nm design, which would seriously improve its efficiency,– an area where Android phones have always struggled to maintain parity with Apple's more tightly nit iPhones. Otherwise, we don't know much – but with Google's track record, expect some new AI tricks from its new processor.
Read More:
• Best camera phones
• Best budget camera phones
• Best phones for video recording and vlogging