Insta360 is no stranger to VR cams, making some of the best 360 cameras around, but the Evo is its most ambitious yet, combining both 3D 180-degree and 2D 360-degree filming for an all-in-one package – it can take stills and shoot video, and comes with a short tripod and grip too. Along with the Vuze XR, it's one of a new breed of portable cams that can do both 180-degree and 360-degree shooting.
When 'closed', the Insta360 Evo has its two cameras pointing in different directions, which means its able to catch entire photo or video spheres. Open it out, and the dual cameras face the same way, allowing you to take photos and videos with a 180-degree half sphere perspective – which should look vaguely 3D when viewed in a VR headset or with an optional iPhone X 3D display cover.
As with previous cameras in the Insta360 range, you get access to some very competent mobile and desktop apps to play around with as well, which can take care of all the necessary stitching and rendering tasks. For those looking for a flexible but easy-to-use VR shooting option, it's got a lot of appeal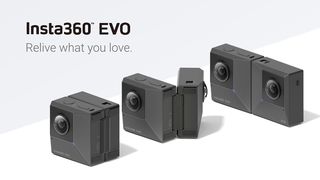 Insta360 Evo specifications
Photos get snapped at 18MP (6,080 x 3,040 pixels) by the Insta360 Evo, with video recording choices set at 5.7K (30fps), 4K (50 fps or 30 fps) or 3K (100 fps slow-mo). Remember those pixels get stretched around a sphere, so aren't quite as sharp as you might expect. The video bit rate can hit up to 100 Mb/sec.
There's a 1,200mAh battery here, which Insta360 says will last for a little over an hour – while we didn't do any scientific testing, it did seem to meet that claim. Recharging and data transfer is handled via the slightly older microUSB connection standard (you can also use the phone app to transfer files).
All your content is stored on a microSD card that slots into the side of the camera but which is left exposed. The Insta360 Evo isn't waterproof either, so despite its action camera-style looks, it's not a good idea to take this anywhere near water, snow or dirt while you're filming your VR masterpieces.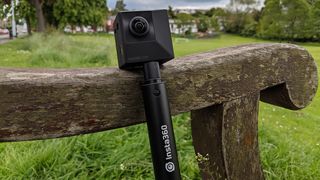 Build and handling
An uglier GoPro might be one way of describing the look of the Insta360 Evo, but you're here for the video quality not the aesthetic appeal, right? Its compact dimensions (in either mode) and the tripod mount make it an option for fixing to a helmet or a filming rig, which isn't true of every 360-degree VR camera we've seen.
It might be chunky, but the Insta360 Evo feels solid and well-built. The two cameras swing out and back together again courtesy of two rather rudimentary metal locks – we would have liked to see something a bit more sophisticated, but they do the job, and feel secure when they're locked in place.
The buttons on top of the device aren't the most intuitive we've ever used – the photo and video indicator icons are absolutely tiny – but after a few minutes with the Insta360 Evo you'll get used to them.
When weighed up against its most obvious competitor, the Vuze XR, there's not much to choose between them: the Vuze XR is a more streamlined and stylish device and comes with a fixed grip, but the compact dimensions and optional attachments of the Insta360 Evo give you more flexibility when it comes to filming.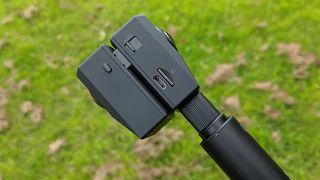 Performance
In our time with the Insta360 Evo we ended up being very impressed with what it produced, whatever the mode. Both photos and videos came out detailed and acceptably sharp, though of course the half-sphere content looks better than the full-sphere content because of the extra pixels.
We did notice one or two stitching problems in certain shots, but by and large the Insta360 Evo creates VR video you're going to be happy with. The companion mobile app deserves a special mention as it's a breeze to use and includes a ton of features and effects for actually editing clips on the go (though it's easier on the desktop editors Insta360 also makes available for free).
The camera does struggle with particularly low light or fast movement, but then that's par for the course for a camera at this level and price point. The aim is to get VR filmmaking into the hands of everyone who wants to try it, not to produce professional-level Hollywood clips. The on-board 6-axis video stabilisation really helps, we found, but it can't perform miracles.
A certain level of VR expertise helps with framing shots and ensuring good results, we have quickly discovered, but the Insta360 Evo is forgiving enough to work for beginners as well – if you're just starting out though, you might need a little longer to make the most of everything that the camera has to offer.
When it comes to viewing your footage in immersive 3D, you can use your mobile app first of all—tapping and dragging around with your finger to peer in different directions. You can also upload footage straight to YouTube or Facebook, which recognise 3D video and will convert it for you (so you can click and drag to change the viewpoint). For more detailed edits and renderings, the Insta360 desktop studio software is available.
The footage can be viewed in full 3D in just about any VR headset on the market, if you post it to YouTube or Facebook. We tried viewing our clips in a Google Daydream View headset, and found the video sharp and detailed: it's not the equivalent of watching a 4K film at home, and artefacts are visible (especially at faster speeds), but the quality holds up well against other YouTube VR content.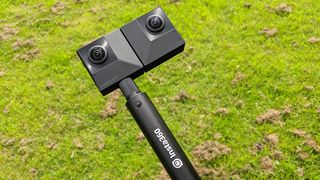 Verdict
Both the Insta360 Evo and the other new 180/360 camera on the block, the Vuze XR, have impressed us: the Vuze XR is maybe a little easier to use and packaged in a way that's more appealing to the casual first-timer, but the Insta360 Evo wins in terms of the accompanying apps and the compact size (which means it can fit more places).
In terms of the end results, the Insta360 Evo produces up to 5.7k video footage that looks great and feels immersive – certainly if you're filming at a reasonable pace and with a reasonable amount of light available. We're not talking GoPro levels of quality here but the photos and videos stand up.
Despite one or two imperfections, we'd wholeheartedly recommend the Insta360 Evo for anyone interested in shooting VR footage in 180-degrees or 360-degrees. The hardware is solid and reliable, the results are good, and the software is great.
Read more:
• The best 360 cameras: spherical VR video made easy!
• How to take 360-degree videos and photos
• 10 of the best 360° videos ever filmed