Parrot, the company behind drones as we know them today, has just announced its latest model to the world, the Anafi Ai. Coming on 30 June 30th 2021, the announcement came exactly a year after their previous model, the professionally-skewed Anafi USA, and continues the theme of enterprise-friendly features, the most interesting of which is the ability to fly BVLOS (Beyond Visual Line Of Sight) using 4G cellular coverage.
Rules are still being looked at the world over but the applications of BVLOS for Enterprise are very clear. Using a 4G radio it's possible to fly around buildings and in environments with a lot of radio interference without losing connection. The system works with any SIM and meets or exceeds many industries cryptographic requirements, including unique identification for the drone and operator's device (a potential GDPR issue in Europe).
The Anafi Ai also brings a new camera with 14-stops of exposure and HDR10 video. There is a 48-megapixel sensor on the main camera (Henri Seydoux didn't specifically mention whether this meant Quad Bayer but the specs rather suggest it, nevertheless 4K 60fps is on offer).
Operating for up to 32 minutes and at 34mph it should have the potential to pick up a good deal of footage. ISO is 50 to 6,400.
Parrot advertises the system as offering 6x digital zoom, so long as you can accept a switch to 1080p, with depth of field of 4.5m to infinity. This seems to suit their surveying and first responder audience though it'll be interesting to test for more photographic purposes.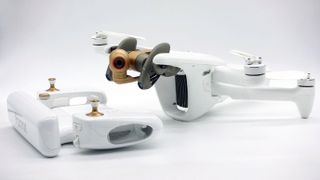 Matching the glossy white is Parrot's latest SkyController 4, which is 238 x 147 x 5mm but extends to 315mm if you want to use it with an 8" tablet. It charges the device while you fly from its 3,350 mAh battery and is IP5X dust resistant itself.
There had been a good deal of discussion about whether Parrot would add collision sensors, and it seems they have, and in an entirely unique way; there are two sensors either side of the main camera mounted on a vertically mobile support which can act "like the eyes of animals" and build a 3D image for autonomous flight. They keep moving, just as your head turns, to build up and maintain an image of the environment at 30fps. They have 311˚ of rotation, while the drone is also bolstered by at least all the usual sat nav (GPS, Glonass, Galileo), as well as dual inertial units. It can also use its AI trajectory system for indoor flight by looking around itself rather than a fixed top mounded sensor.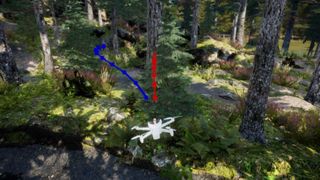 Weighing 898g this is a heavy drone by Parrot's standards, but falls into the same regulation tier as the Anafi while bringing more features. Mappers will clearly appreciate photogrammetry not only at the higher resolution but 1fps, making it twice as fast as any competition, even before the advantages of Pix4D integration.
Less common operations aren't ignored either, however, thanks to Parrot's AIR SDK. This is a feature Seydoux emphasized, since it will allow Python and C coders access to all the existing Autopilot features which in turns means they can develop their own features, including recognising structures to inspect, like SkyVisor's autonomous flights around windmills
As well as Air SDK, Parrot have Ground SDK; allowing the development of mobile apps for Parrot drones, OpenFlight; the source code of the FreeFlight app, and Sphinx; a simulation environment in Unreal. Whether this amounts to Parrot putting its future into the hands of another community's enthusiasm is another matter – that they have done so is incredibly exciting.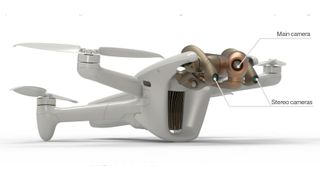 The French firm Parrot was originally known for Bluetooth equipment. Then they exploded onto the tech scene in 2010 with their AR.Drone, showing it at the International Consumer Electronics Show in Las Vegas. The hull was built of EPP foam and the carbon fibre arms were a not inconsiderable 57cm (22 inches) across so you'd certainly see it approaching you in a hotel corridor. Once you'd overcome the shock, what was really amazing (especially in 2010) was that the drone was being piloted via an iPhone app: FreeFlight. Apple had not long relented and allowed 3rd party apps of any kind!
Since then, Parrot have not rushed new drones to the market with the same frequency as other manufacturers, but have kept pace with the industry via their Bebop and Anafi series, as well as innovative devices like their Disco flying wing. At the same time the firm has also built effective partnerships or made partial acquisitions of brands in commercial mapping and data acquisition, like DroneSense, Pix4D and SPH Engineering. That has given them a slightly different offering that has seen their equipment used by services as diverse as American emergency services and the British Royal Air Force.
It's clear this history has informed their latest design, while their corporate acquisitions have steadily given the firm a bias toward the enterprise end of the market. The gimbal-mounted sensors are something we've not seen before, but despite the moving parts the system is still waterproof.
Parrot have not announced when the Anafi Ai will go on sale, or for how much, but it is certainly worth a look when it arrives.
Read more:
Best drones
Best drones for beginners
Best drones for kids
Best indoor drones
Best underwater drones