Remember, back in 2018, when Canon told us that the RF mount was going to make impossible lenses possible? Well, if you didn't believe it before, you'd better believe it now: behold the Canon RF 24-105mm f/2.8L IS USM Z, the trinity lens to end all trinity lenses.
This "trinity buster" was announced along with two other optics – the similarly unreal Canon RF 200-800mm f/6.3-9 IS USM super telephoto and the ultra-cheap ultra-wide Canon RF-S 10-18mm f/4.5-6.3 IS STM – with Canon putting the rest of the camera industry on notice when it comes to lens development.
Far from just upgrading a DSLR lens to a mirrorless mount, or adding a bit more bokeh to a portrait lens, what Canon has done here is achieved something hitherto believed optically impossible – increasing the range of a 24-70mm trinity lens by 50% while still retaining the f/2.8 aperture and optical performance. It's truly incredible, and something that has never been done before.
The RF 24-105mm f/2.8L Z boasts more firsts – starting with that "Z", which signifies that this is a Power Zoom lens. By adding one of the two new modules, the PZ-E2 (with USB-C input) and the PZ-E2B (with an additional 20-pin connector), the 24-105mm f/2.8 becomes a motorized zoom lens that can be controlled locally or remotely.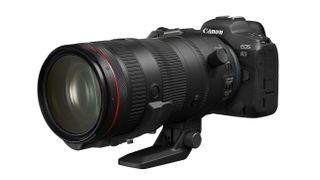 And why would this lens need a Power Zoom function? Because of another first: this being the first of a series of hybrid RF lenses that bridge Canon's Cinema EOS optics (traditionally bigger and more expensive), EOS R optics (smaller, lighter, photo-centric and missing video features) and broadcast optics (designed for the unique requirements of broadcast production).
As such, the RF 24-105mm f/2.8L Z (and those that follow it) is an electronic parfocal lens that features minimal focus breathing, a dedicated stepless aperture ring (that only works in video mode, currently at least), servo control, remote control and Virtual System compatibility. Interestingly, though, unlike Canon's cine lenses, this still measures aperture in f-stops rather than T-stops (which measure the true transmission of light).
The lens possesses 5 stops of optical stabilization, offering up to 8 stops when painted with a camera featuring in-body image stabilization. Its optical formula features four ultra low-dispersion elements and three aspherical elements, with Dual Nano USM motors to push them around, and Air Sphere, Super Spectra and fluorine coatings – all of which, Canon told me, produces optical performance on par with the Canon RF 24-70mm f/2.8L and far in excess of the Canon RF 24-105mm f/4L.
As you might expect, this isn't a small lens – though at 88.5 x 199mm in size and 1,330g in weight, it's a lot more compact than you might have imagined. The price, however, is probably in line with what you'd expect of such a formidable lens, clocking in at $2,999 / £3,439 / AU$5,399.
Check out our hands-on Canon RF 24-105mm f/2.8L IS USM Z review to see what we thought (spoiler alert: we liked it a lot).
The 200-800mm seems destined to join the ranks of the best Canon RF lenses. Take a look at the best Canon Black Friday deals to see what's on offer, or check out the best Black Friday camera deals from all the brands.