Skylum is keen to tap into a whole new market of photographers who just want great-looking pictures without time-consuming technicalities and manual adjustments.
• Read our Luminar AI review
It still has regular photo enhancing and effects tools for those who need them, but uses the power of machine learning and artificial intelligence to identify the objects and scenes in your photos, and suggests 'templates' for editing looks that will work particularly well for those subjects.
All the adjustments are carried out automatically, but you can also change them yourself or create effects (templates) of your own.
Skylum is pitching Luminar AI as a whole new product and not simply an update to Luminar 4. It says that Luminar 4 will continue to be supported, but no longer developed.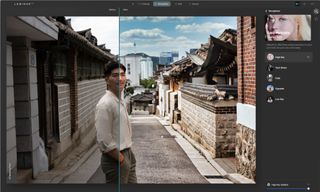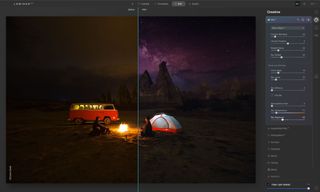 What's special about Luminar AI?
Luminar AI builds on the AI technologies in Luminar 4, and builds on the impressive Sky Replacement tool (now Sky AI), Augmented Sky tool and portrait enhancement features we've already seen to put AI at the heart of the software.
Portrait enhancement now uses both BodyAI and FaceAI to "gently sculpt and refine a portrait". The software can automatically detect, isolate and enhance individual features with IrisAI, for example, and SkinAI.
Landscape photographers now have AtmosphereAI and Sky Enhancer tools, and SkyAI can substitute an existing sky with a new one.
Did you miss the golden hour? Well now you can create a Golden Hour effect later, and even add Sunrays.
Other AI tools include StructureAI for increasing detail and definition only in areas that will be improved by it, CompositionAI for automatic image straightening and cropping and AccentAI for automatic image enhancements.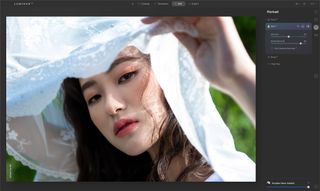 Where to get Luminar AI
You can buy Luminar AI direct from the Skylum website. The price for new users is $69/£69 and with upgrade pricing for previous Luminar users. We are not aware of any trial version, but Skylum is offering a "30-day money back guarantee".
Read more:
• Best photo editing software
• Best photo editing laptops
• Best monitors for photo editing