Fujifilm's family of instant cameras has a new member, with the launch of the Instax Square SQ1. As the name suggest, this model uses the Instax Square instant film format - which provides a larger image than the most popular Instax Mini film pack – providing an image area that measures 62x62mm.
The camera is being introduced with two new Instax Square film types - a Monochrome pack, and a Rainbow pack that provides color images with a dark-colored border.
The new Instax SQ1 is a back-to-basics version of the existing analogue-only Instax Square camera, the SQ6. The SQ1 offers a mechanical selfie-shooting mode, that offers close-up macro shooting which is set up for shooting pictures of yourself from arms length. There are just two focusing ranges available with the SQ1 - in contrast to the three found on the SQ6, and there is no motorized control.
The camera is designed to be simplicity itself. To get started you put in the two supplied CR6 batteries, and put in the film pack, and shoot a picture to prime the film back by ejecting the dark slide.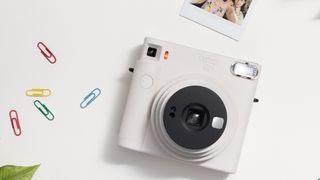 Like the recently introduced Fujifilm Instax Mini 11, this model has automatic exposure, where the shutter speed is adjusted when using the flash to ensure that background ambiently-lit background does not appear to dark. The shutter speed range stretches from a full 1.6 seconds down to 1/400sec.
Other than pressing the shutter, the only thing you need to do is to extend the lens to one of the two focusing zones. Choose the Selfie setting for subjects that are between 30-50cm (12-20 inches) from the camera – and using the conveniently-placed mirror on the front of the lens if trying to frame up pictures of yourself. The 'On' mode meanwhile is used for anything that is 50cm (20in) or beyond.
A counter at the back counts down your remaining images from the 10-pack cassette of film. Each exposure is ejected through a slit in the top of the camera, and takes around 90 seconds to fully develop. The SQ1 weighs 390g, and measures 130x118x57mm.
The Instax Square SQ1 is available in three colorways: Glacier Blue, Terracotta Orange and Chalk White. It will go on sale from the end of September for a recommended retail price of $120 / £119.99. Aussies will have to wait a little longer for the SQ1 as it begins shipping early October Down Under for a price of AU$199 a pop.
New Instax Square films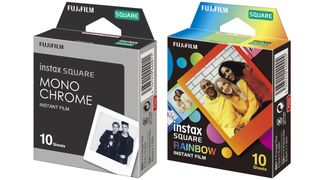 The instax SQUARE Monochrome film will cost $15 / £10.99 / AU$24.95 and instax SQUARE Rainbow film will be available for $15 / £9.99 / AU24.95. The film can be used in both the SQ1 and SQ6 analogue cameras - but also in the hybrid instant Instax SQ10 and SQ20 cameras.
Read more
Best instant cameras in 2020
Cheap instax film deals
Best digital instant cameras & hybrid cameras