If you're a fan of flash photography and you're in the market for some new goodies, then pay close attention. Hähnel has announced the launch of its new Module Speedlight Accessory Range. Designed to complement the MODUS Speedlights, this new range includes the Module 360 and 600 Clamps, the Light Effects Kit and a Softbox.
The 360 and 600 clamps are built for the Modus 360RT and the Modus 600RT speedlight respectively, but they're also compatible with the majority of speedlights currently available on the market. While many accessory attachments utilize velcro, these clamps have a powerful magnetic system that allow accessories to be attached in seconds. These magnetic clamps are designed to be highly reliable and easy to use.
• Read more: Best flashgun
Meanwhile the Light Effects Kit has a range of accessories to help take your flash photography to the next level. Included in the kit is a filter adaptor, a bounce card for softening light before it hits your subject and a honeycomb filter that helps to direct your light in a tight beam. There are also six color gel filters, including Green, CTB, 1/2 CTB, CTO, 1/2 CTO and 1/4 CTO.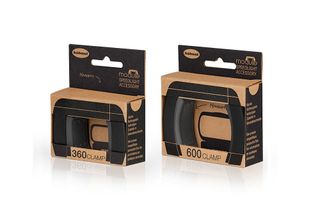 Last but not least, Hähnel is also launching the Module Softbox, which attaches securely to your speedlight to provide diffused light. Hähnel has designed the softbox to enable photographers to control the amount of light needed and create soft shadows. Lightweight and able to be folded down flat, this softbox looks perfect for travelling.
If you're interested in purchasing a product from the Module Speedlight Accessory range, you can pick up either of the Module Clamps for £9.99, the Module Light Effects Kit for £44.99 and the Module Softbox for £39.99. However, you'll have to wait for late September/ early October for these products to become available.
Read more
• Best flash diffusers, softboxes and modifiers for your speedlight
• 50 best camera accessories, gadgets and gifts for photographers in 2019
• Best flash triggers: wireless control for off-camera flashguns