The number of GoPro subscribers has surpassed 750,000, the company recently revealed in its annual report.
761,000 users became GoPro subscribers or renewed their subscriptions in 2020 – up 145% on the previous year.
• Read more: Best GoPro cameras
"GoPro's shift to a more subscription-centric consumer-direct model is resulting in a simpler, more profitable business with materially better cash generation," said Nicholas Woodman, GoPro's founder and CEO.
GoPro initially launched the GoPro Plus subscription for cloud storage of photos for $4.99 / £4.99 / AU$6.99 per month in 2016. Users were limited to 62,500 photos or 35 hours of video (or a combination of the two).
The current GoPro subscription is better value. It's $49.99 / £49.99 / AU$69.99 per year (or $4.17 / £4.17 / AU$5.83 per month), and includes unlimited storage, full camera replacement, and up to 50% off gear at GoPro.com. That's a pretty good deal for anyone using their GoPro regularly (there are other fantastic GoPro deals to be found at the moment too).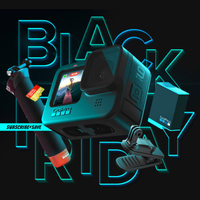 GoPro Hero9 Black + extras + GoPro VIP: $449.98 $349.98
Save $100 This gets you the camera for $100 less than other stores, by buying direct from GoPro, along with a free spare battery and microSD card! The "catch" is that you get a free trial to GoPro's VIP subscription service, which gets you unlimited cloud storage, discounts on accessories, and a camera replacement service. You can cancel this add-on in the second year (which otherwise costs $60).

However, GoPro is pricing the GoPro Hero 9 Black camera with a one-year subscription lower than buying the camera without the subscription, effectively offering a subsidy for those who subscribe for a year. Meanwhile, the older GoPro Hero 8 Black is the same price, with or without the subscription.
Subsequently, some may find these GoPro subscription figures misleading, as it's not a true gauge of how many people are paying for it. In fact, the increase in the number of GoPro subscribers has not resulted in increased revenue for the company, with a 25% decrease over the year.
However, could this show GoPro's vision for the future? Giving a discount to customers to sign up for a service they're getting for free for a year might seem like it's throwing revenue away. But as GoPro has long had problems generating predictable and recurring revenue, signing customers up to a (currently free) cloud service may be a way to start building recurring revenue. It also begins building a direct relationship with consumers.
Read more
Best cloud storage
Best actions cameras
Best budget action cameras
Best 360 cameras
Best YouTube cameras