Ever since Google launched the original Pixel and Pixel XL back in 2016, each Pixel generation has arguably been the benchmark for camera phone image quality. Google's image processing is incredibly powerful with advances such as HDR+ and Night Sight, yet rarely does an image from a Pixel look over-processed - something that can't be said of photos from some rival cameraphones.
However, over the past couple of years, manufactures such as Huawei and Samsung have really moved the game on in terms of camera hardware, with multiple rear-facing cameras that left the Pixel 3 looking rather out-gunned.
The Google Pixel 4 claws back some of this lost ground, largely due to it being the first Pixel phone to sport more than a single rear-facing camera, however this is starting too look like a case of too little, too late.
Here's what the Pixel 4 offers in new camera tech:
Dual rear-facing cameras
The biggest change with Pixel 4 is the move from one to two rear cameras. The 12.2MP f/1.7 primary, wide-angle camera lines up alongside a new 16MP telephoto module offering 2x optical zoom. It doesn't sound like much next to the multi-camera setups offered by the Galaxy S10 and Note 10, Huawei P30 Pro, and iPhone 11 Pro, but even a 2x telephoto camera is a welcome addition, especially for portrait shots.
Even with an advanced software portrait mode and associated fake bokeh, a wide-angle lens simply isn't a flattering way to shoot portraiture, as it makes a close subject appear slightly bulbous. A telephoto lens by contrast keeps a face looking flatter, while also producing a 'natural' shallow depth of field with less need for software bokeh-faking trickery. The Pixel 4's new telephoto camera will also be beneficial when shooting macro close-ups, as you won't need to stick the phone right in front of your subject, therefore blocking light.
Google claims its Super Res Zoom (fancy digital zoom) can be used in conjunction with both the wide and telephoto cameras, enabling even more zoom reach than 2x. Our initial experience with Super Res Zoom on the Pixel 3 was disappointing, with the feature giving results little better than conventional digital zoom, so we remain to be convinced by the Pixel 4's Super Res Zoom effectiveness.
Of course it's still disappointing that you only get 2x optical zoom when when a phone such as the Huawei P30 Pro has offered 5x optical zoom for many months, and the lack of an ultra-wide camera is also a glaring commission when compared to the competition. However, if you had to choose between a telephoto and a wide-angle camera, we'd pick the telephoto every time, as it's more useful for everyday shooting.
Live HDR+
Google's HDR+ feature automatically captures up to 9 separate exposures of a scene and blends them into a single composite image with higher dynamic range and reduced image noise. It's a feature that works amazingly well, though again, other phone manufacturers now have equally impressive auto HDR algorithms.
Live HDR+ sets the Pixel 4 apart by giving you an approximation of the final HDR effect while you're composing the image. The feature uses machine learning to give a 'what you see is what you'll get' image preview of the HDR effect, so there should be fewer surprises when you view the captured shot.
Dual exposure controls
Following on from the new Live HDR+ feature, you can also manually control the HDR+ effect though dual on-screen sliders on the Pixel 4. One controls brightness, the other shadows. Simply tweak each one to fine-tune the amount of shadow and highlight detail. It looks like a handy feature if you want to ensure every scrap of highlight information is retained, or alternatively you can now deliberately allow some highlights to blow out if you'd rather retain more lighting ambience.
Improved white balance accuracy
A subtle improvement, this, but in the Pixel 4's reveal Google was keen to promote advances to the camera's auto white balance. Apparently it uses a more accurate learning based algorithm, which is better able to distinguish subject from environment and preserve natural skin tones while maintaining any ambient lighting hues.
Improved portrait mode
In addition to that telephoto camera that's a welcome benefit for portraiture, Google has also advanced its software portrait mode. Claims of 'SLR bokeh' were made at the Pixel 4's reveal, with machine learning being used to compute depth. This is said to be more accurate now thanks to the telephoto camera. Google also says its made progress with separating tricky subjects from backgrounds, like hairy animals, for example.
Improved Night Sight mode
Google continues to improve the Pixel camera's low light capabilities, and the Pixel 4's Night Sight mode is said to be better than ever. Dynamic range is improved, giving greater dynamic range in high contrast night scenes. Google acknowledged that more can still be done in terms of retaining the brightest highlights and darkest shadows, but it is working on further improving Night Sight in future software updates. You can also use the dual exposure sliders in Night Sight mode in order to control the balance of shadow/highlight retention.
Better screen
Sure, this isn't a camera improvement, but the Pixel 4's 5.7-inch, 1080 x 2280-pixel, 19:9 OLED display has been awarded the highest ever A+ grade from DisplayMate for colour accuracy and image contrast. DisplayMate described the screen as 'visually indistinguishable from perfect', with its 90hz refresh rate further enhancing the viewing experience.
Clearly Google has learnt its lesson from the Pixel 2 XL's blue screen debacle.
That's it??
In short, yes. While we applaud the addition of a telephoto camera, its 2x zoom is pretty pedestrian in 2019. What's more, while an ultra-wide camera may be less important, it'd still be nice to have one.
Then there's the apparent lack of any revolution when it comes to the primary rear-facing camera, with Google's emphasis being squarely on only evolving existing features.
Add to this the phone's overall design, with the thick top and bottom screen bezels that uncannily resemble a Pixel 2 XL, plus the lack of 5G support (although the iPhone 11 is also guilty of this criticism), and it seems Google is, at best, playing it safe.
However, it's just as easy to argue that the Pixel 4's complete lack of innovation is a sign Google is getting complacent with the Pixel series, and that's dangerous in the cut-throat phone market.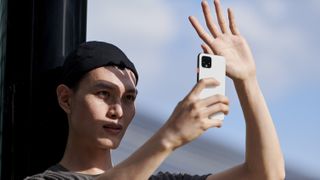 Camera phone buying guides
Best iPhone camera for photography
Best 5G phone for photographers
Mobile phone accessory guides
• The best lenses for iPhone and Android phones
• Best selfie sticks for your smartphone
• The best gimbals for your iPhone, GoPro and camera