Charlie Waite is widely regarded as one of Britain's greatest landscape photographers and is well known far beyond the UK.
He co-founded the photography travel company Light & Land, and also runs the Take A View Landscape Photographer of the Year competition, now in its 13th year, and which opens for entries on 15 January 2020.
Charlie's latest book is called Behind the Photograph, and features 62 of the finest landscape images taken over the course of his career. In notes that accompany every image, he takes the reader back in time to when the photo was shot, offering context, background and technical information.
Here, Charlie talks us through his favourite photos of the fall that feature in the book, but there is much, much more for fans of landscape photography to enjoy over the book's 134 pages.
Behind the Photograph retails for £35 ($45), but Digital Camera World readers can take advantage of an exclusive discount – order your copy before 31 December and get it for £29 ($37). Just add DCM221 before checking out.
Click here to order your copy.
Below is an extract from the book, showing six of seasonal images along with Charlie's commentary…

Pumpkins, Vermont, USA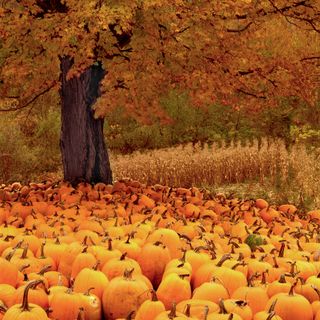 "In the fall, visitors flock to Maine, New Hampshire and Vermont to see the world's finest display of autumn colour. But it is impossible to predict precisely when the maple trees will be on fire. A local landscape photographer told us that, one year previously, the colours and light were the best in 20 years, but this year was the worst in living memory.
"There was nothing immediately appealing about this array of pumpkins at a bend in the road; but there was the tree with its deep-orange canopy, and behind were the tattered stalks of maize, upright and in orderly lines.
"Through the lens, I attempted to draw together pumpkins, leaves and corn. The key was to be low, but not so low that the tumble of pumpkins masked the base of the corn. I introduced a mild 81B amber filter to give an additional wash of warmth."

Champagne, France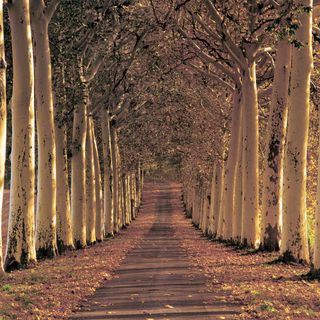 "In search of some autumn colors, I crossed the channel to Epernay, the champagne grape-growing area of France. On the third day, despite fair and unseasonably warm weather, I failed to find autumn colour and chose to head home. Feeling mildly despondent, I left for Le Havre.
"A kilometre beyond me, I noticed a double line of fine plane trees, the lower half of their trunks half-hidden by the stubbled slope of a nearby hill. After some dead ends and a chain barrier were deftly lifted out of the way, I was able to find what remains of one of the most glorious plane tree avenues I have seen.
"What is it about a tree-lined avenue that holds so much appeal? Surely it is the uncertainty and mystery of what lies beyond. This avenue near Epernay needed light to introduce a sparkle and to enliven the trees with some speckled highlights. That afternoon there seemed little prospect of light, but I still set up the tripod."

Harris Pool, Scotland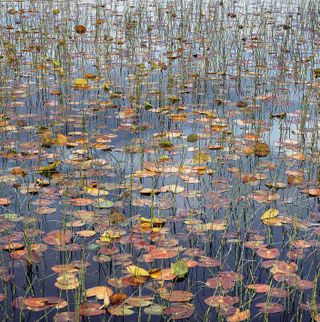 "I have long had a passion for reeds in any form – but for some reason, I always prefer them as they near the end of their lives. But in this truly magical pool, with so much beauty hidden from view, there lay not simply a pool of reeds but a multitude of water lilies which had already turned to rich ambers, lively yellows and smoky magentas.
"There were moments when the lightest of breezes arose and quite literally demolished the entire scene, but thankfully there was just enough protection from nearby hills to keep the wind from spoiling the pool's serenity.
"I chose to stop fussing and get on with it, and am glad that I did – the breeze soon returned and this pool of beauty collapsed and fell apart."

Stonehenge, England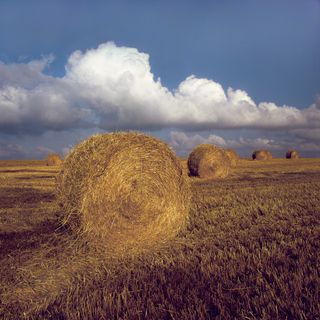 "When I came across these five-foot-high bales, I was disappointed. The sky was a weak, dreary, monotonous blue. But from the angle at which I stood, I thought the farmer must have seen me coming. The bales before me were positioned like a perfectly laid table.
"Of the 11 Swiss-roll bales, two sets seemed inseparable from one another. I looked across to the west and saw a formation of cloud that made me laugh out loud. It was beyond belief that such an arrangement of building cumulus cloud could echo so precisely the giant bales beneath, even though the clouds were some distance away.
"The wind delivered the clouds before they disintegrated, the ensemble came together and it all seemed perfect. Sadly, it was not – through my viewfinder I could see my tripod's shadow. Any movement would have altered the balance of the image, but I didn't compromise – I made my image from exactly this point."

Towards Ostend, Belgium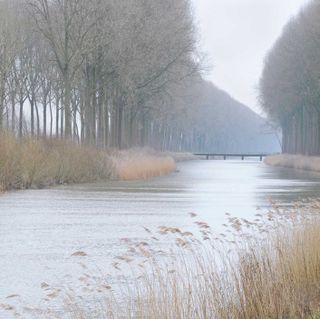 "If the viewer, using their own personal criteria for judgement, distrusts the colour rendition in a landscape photograph, then perhaps in some way the relationship between viewer and image is adversely affected.
"I remember waking early that morning and feeling that the light would be flat with a low contrast – not what I was hoping for. I was seeking strong, autumnal directional light that would work well for water and 'edge of canal bank' reflections. On arriving at the bank, however, I found that the opposite was the case.
"Despite the narrow colour palette, I felt unsure as to whether something so fundamentally subdued would work, but I decided to loosen my fairly deeply embedded parameters and proceed. I am glad that I held fast to my conviction, shaky though it was at the time."

Montagne St Victoire, France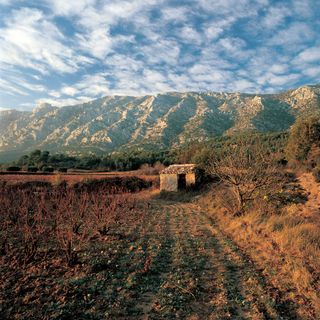 "I have always had a fixation with small sheds. I am not ashamed of this – there must be a psychological reason for such fondness.
"I was staying in the handsome city of Aix-en-Provence in southern France. The viticulturist whose land lay along the lower slopes of Montagne Sainte-Victoire had long since harvested his crop, and the vines, with just a few ragged leaves, were stripped of grapes.
"But I had seen a shed! The dusting of orange light on its chunky stone was a gift, as was a dark doorway that provided a point of deep black, which to a certain extent images need somewhere – although they should not take up too much of the surface.
"There was a delightful, though perhaps tenuous, relationship between the mountain, the tiled roof and the rumpled soil. The final player was the cirrocumulus sky, each puff much more entertaining than a carpet of infinite blue."

Buy a copy of Charlie Waite's Behind the Photograph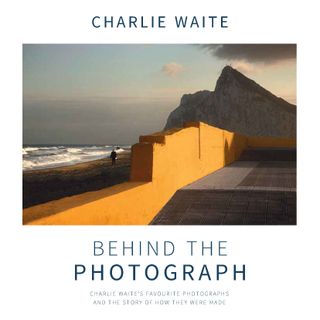 Behind the Photograph retails for £35 ($45). Click here to order your copy.
Read more:
• Charlie Waite's 25 top locations for landscape photography