In a recent interview, an executive from Fujifilm France suggested that there might be no more releases in the Fujifilm X-E range of cameras as the market potential is not there for what he classes as entry-level cameras – which includes the Fujifilm X-E4 and the Fujifilm X-T200.
Now this is just my subjective experience, but I have just sold my X-E4 (as I finally had my Fujifilm X100V delivered after a 5-month wait) – and second-hand via eBay, the X-E4 sold for more money than I paid for it when brand new.
The exec in question is Franck Bernard, director of the Imaging Division at Fujifilm France, who gave an interview to Phototrend on a range of all things Fujifilm. But this one quote really jumped out at me:
"If we have decided to stop entry-level products such as X-T200 or X-E4, it is because it is not promising as a market".
Fujifilm cameras could not be hotter right now, as the aforementioned 5-6 month waiting list for the X100V demonstrates. While I am sure Fujifilm would love there to be this level of sensation around its flagship Fujifilm X-H2S, the cameras that actually seem to be capturing the hearts and minds of photographers are Fujifilm's vintage film era-inspired range.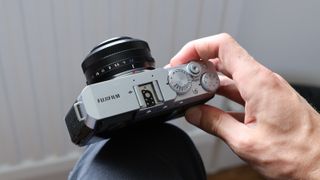 In the same interview, it is revealed that the Fujifilm X-T5 currently sits atop the company's bestseller list.
Now, I have no access to Fujifilm's sales data – and judging by how fast Fujifilm removed the X-E4 from shelves, it looks like it might have been a bit of a sales numbers disaster.
But as a media outlet, we keep an eye on Google's trending topics so we can keep up with the happenings of the camera world – and one of the most frequent terms we see popping into the list is the Fujifilm X-E4, suggesting it might not be too early to give up on affordable little rangefinders just yet.
And as my experience shows, there are still plenty of people willing to pay over the odds. On a personal note, despite a few little flaws, I am a very passionate fan of the X-E4 and it has served me very well over the past year as my go-to travel camera – and I, for one, would be very sad not to see a successor.
For more, check out our top picks for the best Fujifilm camera as well as our choices for the best Fujifilm lenses.