Western Digital has announced its revolutionary ArmorLock security platform, which rejects passwords in favor of the biometric security provided by your smartphone – and this technology debuts in the new G-Technology ArmorLock encrypted NVMe SSD drive.
As the recent Canon data breach confirms, everybody's data is constantly under threat in today's world. From photographers and videographers handling sensitive files for clients, to the attacks faced by the entertainment industry, financial sector, military and anyone else with privileged information, even the best portable hard drives have one common complaint: security.
Passwords are a fallible system, particularly if multiple drives are accessed by multiple users – often leading to situations where complex spreadsheets have to be managed, or passwords are even attached to the drive itself with a Post-It note (something that's troublingly common in the world of video production).
And while the best portable SSDs provide blistering speed, their performance can be impacted by as much as 60% if you rely on software encryption to secure your data. This also runs the risk of overheating, which on a good day simply slows down data transfer, but on a bad day unmounts the drive and even damages data.
Western Digital's ArmorLock system eschews passwords completely, and relies instead on the brilliant biometric security that everyone already has in their pockets: the smartphone.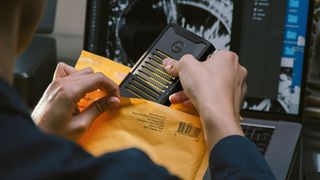 Fingerprint sensors and facial recognition make your phone the ultimate key to protect and access your data. Using the ArmorLock app (available now for iOS and coming soon for Android) enables you to securely pair and handshake with your drive – as well as manage multiple drives and users, share user IDs locally or remotely, securely erase and self-format, and even use the phone's GPS functions to track the last time and location that drives were accessed.
The technology debuts in the G-Technology ArmorLock encrypted NVMe SSD, employing key management based on the NIST P-256 ECC standard, 256-Bit AES-XTS protection, boasting up to 1,000MB/s read and write speeds, a heat-dispersing aluminum core to prevent overheating and sustain high speeds, as well as IP67-rated dust and water resistance, drop proofing to 3 meters and crush proofing to 1,000 pounds.
The G-Technology ArmorLock encrypted NVMe SSD is currently available in a 2TB capacity for $599.99/$559.99. Western Digital has said that it will roll out ArmorLock to its other product families "relatively soon", including the WD and SanDisk lines.
• Pre-order G-Technology ArmorLock encrypted NVMe 2TB SSD at Adorama
• Pre-order G-Technology ArmorLock encrypted NVMe 2TB SSD at B&H
• Pre-order G-Technology ArmorLock encrypted NVMe 2TB SSD at Amazon UK
Read more:
The best portable hard drives for photographers
Best external hard drives: desktop drives for extra storage and backing up
The best portable SSDs in 2020
The best NAS drive: store ALL your images, and access them from anywhere