While the basketball world is still reeling from LeBron James breaking the all-time NBA scoring record, another high-flying hooper has set a new world record with a skywalking dunk.
Piotr "Grabo" Grabowski is a professional dunker from Poland who won the FIBA 3x3 World Cup dunk contest in 2022 – and now he has set a Guinness World Record for the Highest Between the Legs Slam Dunk, which was captured in a photo by the brand new phone from Honor using AI.
• The best camera phones now rival traditional cameras in terms of technology
The record was set in London, England, on January 20 – though it was kept quiet to publicise the launch of the upcoming Honor Magic5 Pro, which will be revealed at the Mobile World Congress 2023 on February 27.
Not only was the phone used to capture the dunk, but a new AI mode was employed to take a 50MP photograph "showing the best moment of sport movement", according to Honor. The phone was also used to capture the behind the scenes shot above.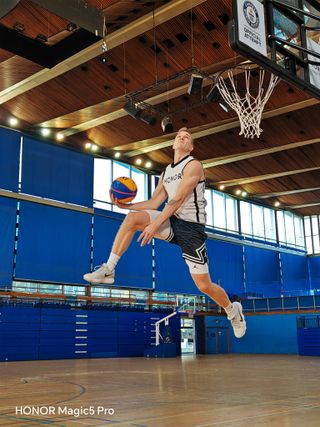 The company has yet to reveal anything more about what this artificial intelligence actually entails, so it will be interesting to see how it determined (or even predetermined) what the optimum frame would be.
"The record-breaking moment was organised by global technology brand HONOR in a bid to show what their new flagship device, Honor Magic5 Pro, can do," said Guinness.
"The new smartphone was used to automatically capture the momentous slam dunk using its AI technology."
As for the dunk itself, the 6-foot Grabo had the hoop raised to 10 feet 5 inches – 5 inches higher than the height of a regulation NBA hoop. He then set the record by driving to the hoop and passing the ball between his legs – replicating the famous 'East Bay Funk' made famous by JR Rider in the 1994 NBA Dunk contest, which was actually debuted in the contest 10 years earlier by Orlando Woolridge.
Can Honor's AI replace professional sports photographers in determining the money shot during a high-flying game? We look forward to finding out at MWC. And you can see more of Grabo's gravity defying dunks below:
If you enjoyed this article, you might be interested in reading more about the best cameras for sports photography, the best Android phones, or you can also check out our review of this phone's predecessor, the Honor Magic4 Pro.