Elgato has just unveiled a first-of-its-kind teleprompter designed to revolutionize video production for content creators. Demand for teleprompters is on the increase due to the growing number of people who now live-stream content, record podcasts, upload educational material, deliver training online, and more! By 2030 it's expected the global teleprompter market will be worth $1.48 billion and devices such as the Elgato Prompter are the main reason.
Unlike the best teleprompters of the past, the Elgato prompter attaches directly to cameras or webcams, enabling creators to maintain eye contact with their audience. It's powered by a computer and comes with Elgato's free Camera Hub software which can be used to display video scripts or stream chat effortlessly. With a built-in 9-inch screen it eliminates the need for an external smartphone or tablet – as used in some DIY alternatives – and it can even be used with applications such as Zoom.
• Check out the best cameras for streaming on Twitch, YouTube, and Facebook Live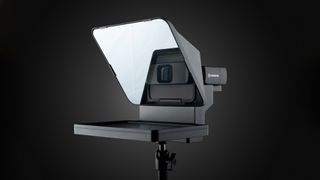 This innovative product offers unprecedented compatibility and Stream Deck support which is set to redefine online communication. Twitch streamers can now interact with their chat while maintaining eye contact with the camera. YouTubers recording for an edit still benefit from staying on script which reduces the need for reshooting and editing. It can also be used just like you would an external monitor by dragging and dropping your monitor display onto its screen so if you're live streaming with someone you can see them at the same time.
Using the Camera Hub software (which is available for both PC and Mac) users can customize the prompter's display by personalizing text and the addition of the Stream Deck pluigin means creators can control the prompter with a keyboard shortcut, dial turns or even foot taps!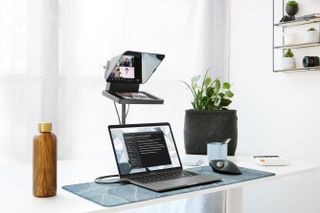 Jeff Stegner, Product Manager at Elgato, said, "We built Prompter to be the true all-in-one solution for content creators. For years, consumer teleprompters offered only half the equation, requiring an additional smartphone or tablet. Meanwhile, studio devices with a built-in display were too expensive for most creators. Prompter is the best of both worlds." It is much cheaper than the classic Autocue (a trade name), but uses the same principle for the kind of shooting most common today.
What sets the Prompter apart is its unrivaled compatibility, working seamlessly with hundreds of webcams, cameras, and smartphones including the Sony ZV-1 and the Insta 360 Link. While all DSLR and mirrorless cameras will work with the Elgato Prompter, it won't work with cameras that have a ¼-inch mount or fields of view wider than 20mm, so it's best to check the prompter compatibility before investing.
Elgato is taking preorders on the prompter now and expects to ship in December, with prices starting at $279.99/£279.99/AU$440.28.