Magnum's latest Square Print Sale brings together imagery representing the things we take solace in, and the ways we make our getaway – the perfect antidote to being confined at home or having been unable to travel for long periods due to Covid-19 restrictions.
'Way for Escape' features over 90 images from some of the iconic agency's most high-profile photographers, including Christopher Anderson, Eve Arnold, Werner Bischof, Cristina De Middel, Carolyn Drake, Elliott Erwitt, Harry Gruyaert, David Hurn, Steve McCurry, Susan Meiselas, Martin Parr, Alec Soth and W Eugene Smith.
Magnum Square Prints are printed on 6 x 6in (15.24 x 15.24cm) archival paper; image size is 5.5in (14cm) on the longest side. The images will not be cropped but will have white borders instead.
The sale runs for just seven days so act soon if you want to own a museum-quality print from some of the biggest names in photography for just $100.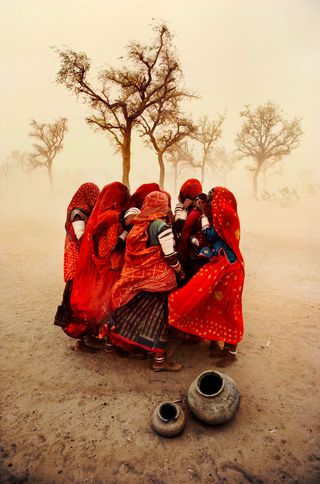 Magnum Photos was founded in Paris in 1947 and holds regular Square Print Sales every year. The images in each sale are always different, and will not be available outside the sale window.
"For many Magnum photographers, a project offered a chance to break free from the day-to-day: to drop everything in order to go in pursuit of a story," says the agency.
"This theme, Way for Escape, shares stories of travelling in search of an external subject, or finding answers which lie within."Click here to browse the full selection of the prints available in the 'Way for Escape' sale.
• Read more: Best cameras for street photography
Own a limited edition Magnum Square Print for $100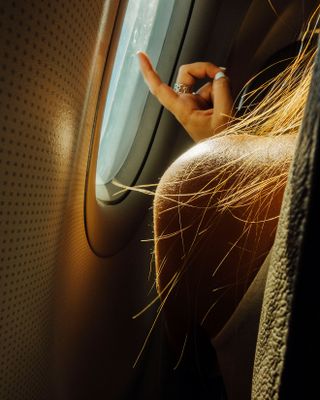 "I made this photograph on a flight over the Mediterranean Sea," says Christopher Anderson. "It was summer. Everyone had the 'holiday' tan. I guess we were all escaping something.
"Many of my pictures are of moments 'found' while going about my daily life. This image found me.
"Buckled in my seat, I didn't have much choice of subject matter or angle or composition: it was just there. I photographed it in an attempt to ensure the instant would not escape."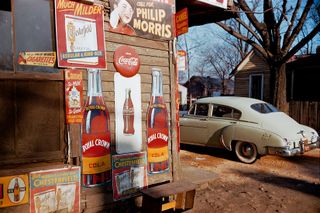 "1954 – Werner Bischof was able to embark on his major tour of the American South," notes the Estate of Werner Bischof.
"His wife Rosellina, who was travelling with him, noted: 'It's the beginning of February and we are ready: tomorrow morning we leave New York fully laden and full of plans.
"Werner has a movie camera and a tape recorder with him. It's going to be a fantastic trip! We'll learn Spanish in the car, and can't wait to reach the Mexican border."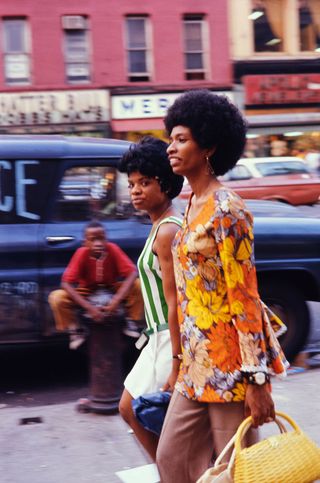 "In 1972, Bobby Womack composed the elegiac 'Across 110th Street', the theme song for the blaxploitation film of the same name. Within weeks, the film was banned in the Republic of South Africa," according to the Estate of Ernest Cole.
"Around the same time, Ernest Cole was developing a body of street photographs that concentrated upon the 'cultural revolutionary moment' in New York City.
"In 1972, the South African photographer Alf Kumalo visited the United States and stayed with his friend Ernest for many weeks teaching photography with him in Harlem.
"While visiting Sweden, periodically, between 1968 and 1972, Cole had become interested in film-making. This was perhaps due to the influence of his mentor, Rune Hassner, the Swedish photographer and film director.
"The extraordinary element of Cole's photography is that, rather than 'choreographing movement', in the style of film critic Andre Bazin's explanation of mise-en-scene, he is 'stealing momentum', in real time, on the street.
"Sometimes the best way to escape is by stepping outside. As Bobby Womack sang in 1972: 'You can find it all in the street, yes you can, oh look around you, look around you, look around you.'"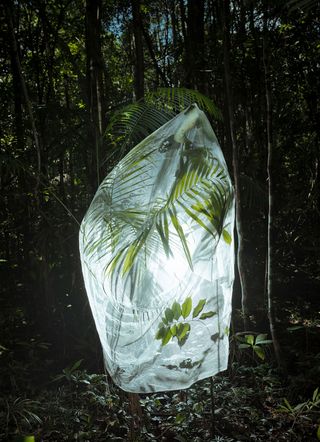 "Buy a map, get a car and run away," says Cristina De Middel. "Throw away the map after you realise you can use the car navigator. Stop driving after you realise a satellite is sending your coordinates to a database that will predict your need to stop after three hours to fill the tank.
"Start receiving advertisements about nearby tourist attractions and sodas to calm your thirst. Get out of the car and start walking while you understand that your glorious breakaway is just a performance to fool yourself into believing that you still control your life.
"After thousands of years of mythology and philosophy, it turns out that destiny and fate were just a database, and the only real escape is not based on distance (physical or emotional) but in randomness, chaos and oblivion.
"Now, start believing that these things actually exist and start trying to control them. Go back to the beginning of this text and start over again."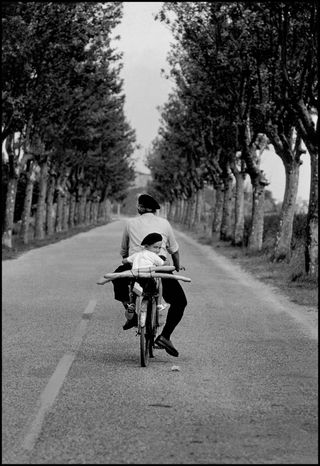 "Photography is really very simple," says Elliott Erwitt. "The only important thing is to keep shooting. Commercial or fine art, it doesn't matter. Nothing happens when you sit at home."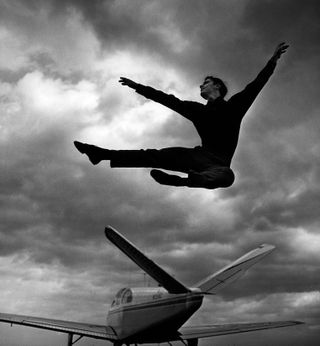 "In November 1961, Halsman and Edward Villella took a drive from New York City to Teterboro Airport," says Oliver Halsman Rosenberg, from the Estate of Philippe Halsman.
"Villella had become the principal dancer of George Balanchine's New York City Ballet one year earlier, and Halsman was photographing him for the Saturday Evening Post.
"Villella had a reputation as a superb jumper, and Halsman, whose Jump Book had come out a few years earlier, had the idea of having Villella leap over an airplane.
"Villella was able to position his body so that it perfectly echoed the shape of the plane as he soared above it, escaping gravity in the most elegant way."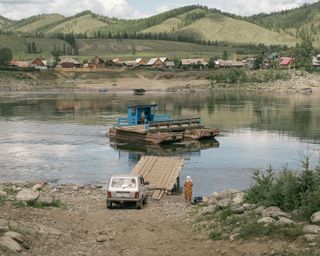 "For time immemorial, people have sought protection and freedom on the banks of the Yenisei River and in the adjacent wild taiga," says Nanna Heitmann.
"For a long time, the banks of the Yenisei have been pervaded by nomadic people.
"The Russians, coming from the west, chased by their greed for valuable fur, did not reach the river until 1607.
"Criminals, escaped serfs, apostates or simply adventurers, joined together in wild rider associations and expanded ever deeper into the vast wild forest. The life of the settlers in Siberia was free and self-determined.
"Another community to occupy the lonely banks of the Yenisei River were the Old Believers. A small ferry boat is the only connection to Erzhey, the village of Old Believers.
"This group turned against the reforms of the Patriarch Nikon, who revised the texts and rites of Russian Orthodox worship in 1652.
"Many of them had to flee to the most remote areas of Russia: first from the Tsar, later from the Soviets.
"Along the upper reaches of the small Yenisei, there are many small villages of Old Believers, which try to live self-sufficiently, and maintain the old liturgical and ritual practices of the Russian Church."
The sale is on for only seven days – so act now!
This is just a flavor of the prints available in the 'Way for Escape' sale. To browse the full selection, and make a purchase, go to: www.magnumphotos.com/shop
Magnum Square Prints are printed on 6 x 6in (15.24 x 15.24cm) archival paper; image size is 5.5in (14cm) on the longest side. The images will not be cropped but will have white borders instead.
Read more
The best lens for street photography
The ultimate guide to street photography
The best coffee-table books on photography