DJI has just announced the successor its DJI Osmo Pocket – which will simply be called the DJI Pocket 2. The new model brings a number of improvements this stabilized action camera – most notably with a larger sensor, a wider lens, and a new range of accessories.
Launched at the end of 2018, the DJI Osmo Pocket was one of the most innovative cameras we have seen this decade – building a camera into a miniature motorized gimbal, to create an action camera that produced ultra-smooth video footage. No need to set up a separate gimbal stabilizer with your phone or GoPro, this had everything you need straight out of the box (although there are lots of Osmo Pocket accessories available).
DJI has been teasing the arrival of the DJI Pocket 2 for the last few days – and some images leaked ahead of the launched. With rival manufacturers now selling me-too products - such as the Benro Snoppa VMate and Feiyu Pocket – where does the new DJI Pocket 2 take us next?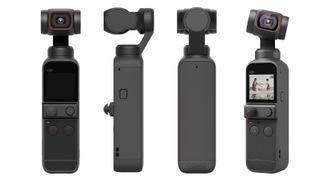 1. A new sensor
The original DJI Osmo Pocket has a 1/2.3inch 12-megapixel sensor, which can shoot 4K at 60fps. The new Pocket 2 gets a big leap in sensor size with a 1/1.7inch chip that has a native 16 megapixel resolution – but which can shoot stills images that are up to 64 megapixel in size. Video is still shot at a maximum of 4K at 60fps.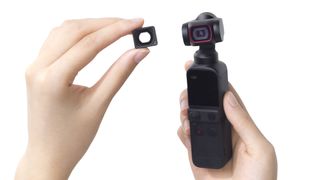 2. A new lens
The new DJI Pocket 2 gets a new ultra-wide 20mm f/1.8 lens - offering a significantly wider view than the 26mm lens that is built into the DJI Osmo Pocket. A new optional accessory is a slot-on wide-angle converter that increases the angle of view of the lens from 96° to 100°. The camera also boasts an 8x digital zoom using the 64-megapixel mode, or 4x lossless zoom in 1080p or 16-megapixel mode.
3. A new joystick control
A new joystick control is one of the most important differences from the original version of the Osmo Pocket that we spotted in the leaked images ahead of the launch. The new version, in fact, brings with it a new family of accessories including this Mini Control Stick which comes as standard with the Pocket 2. The other standard accessory is the tripod mount.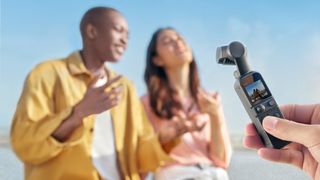 4. A new wireless microphone option
There will be two versions of the Pocket 2 - with a pro 'Creator Combo' kit that provides you with more accessories.
A key addition in the Pro kit will be a wireless microphone - that will be great for improving the sound when using the unit for vlogging or for recording interviews.
"There was nothing like the DJI Osmo Pocket on the market when we first released it in November 2018, and it immediately changed the way we capture life's special moments," said DJI President, Roger Luo.
"DJI Pocket 2 takes it even further. We listened to our customers' feedback and adapted the iconic design and form factor while raising the bar for the camera system. Pocket 2 brings an improved audio experience, as well as wider expandability. Whether you are out and about capturing everyday stories or a vlogger who requires more creative flair, the built-in intelligent features and different video templates allow anyone to create cinematic and engaging content. Everyone and anyone can shoot a video, but Pocket 2 can help you capture footage like a pro, taking your visual storytelling skills to a whole new level."
Price & availability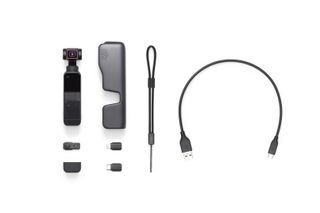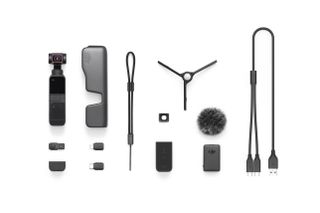 DJI Pocket 2 can be purchased in two options from 30 October. The besic DJI Pocket 2 kit includes the Mini Control Stick and 1/4in Tripod Mount for $349 / £339 / AU$599.
Alternatively you can opt for the DJI Pocket 2 Creator Combo that includes the Mini Control Stick, 1/4in Tripod Mount, Wide-Angle Lens, Wireless Microphone + Windscreen, Do-It-All Handle, and Micro Tripod for a price of $499 / £469 / AU$799.
Read more:
DJI Osmo Pocket full review
The best DJI Osmo Pocket accessories
The 10 best action cameras
The best gimbals for phones, GoPros and cameras