With film photography currently enjoying a well-deserved renaissance, snapping away countless frames suddenly poses a problem. Just how do you digitize film without paying through the nose for a decent film scanner? Even if you decide to use a professional service instead, asking for a CD of your photos on top of the standard film development costs tends to cause price to suddenly balloon.
Don't even get us started on shooting medium or large formats! If you stray beyond the standard 35mm film, then suddenly your fun hobby is going to start costing you some serious dough. However, if you want to digitize film for a fraction of the cost, then you're in luck.
• Read more: Best film scanners
Pixl-latr is a Kickstarter product that's reached its funding goal 39 times over. Based in the UK, creator Hamish Gill has produced an innovative, low-cost solution for digitizing black & white or color negatives.
With this ingeniously simple product, you can keep your negatives flat and evenly backlit while you use a digital camera (or even a camera phone!) to capture a picture that you can then store digitally.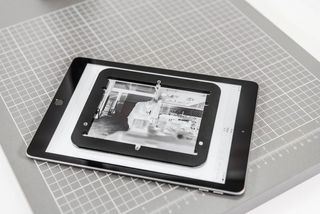 Pixl-latr can digitize 35mm, 120 (up to 6x12) and 5x4 film formats. All you need to do is place your film into the Pixl-latr, put it on its stand in front of a window or lamp and then take your shots.
You can even backlight your film negatives by using a white iPad screen as well. To help remove the possibility of pixels showing through from the tablet screen, the Pixl-latr also comes with a diffuser.
While the Kickstarter campaign is now over, if you're interested in pre-ordering a Pixl-latr for yourself, you can check out Hamish's website here. While there isn't a definitive delivery date set, it appears you'd be able to expect it around October/ November.
In the mean time, we'll be eagerly awaiting the Pixl-latr release - and so will our abundant stack of old negatives waiting for a fresh lease of life!
Read more
Best film: our picks of the best 35mm film, roll film, and sheet film for your camera
Cheap Instax film deals – great buys on print packs in an instant!
Best Lomography camera: the top Lomo cameras for analog film fans