Look really closely at this still from Zack Snyder's zombie heist thriller Army Of The Dead on Netflix and you might just see what has got many Netflix viewers hot under the collar. Dead pixels seem to appear in numerous scenes during the film, prompting many viewers to take to social media to express their disbelief.
While some viewers raged over the obvious error, others were relieved that the dead pixels were in the footage, probably cause by a faulty sensor, rather than on their screens. The general consensus, however, is that it is an obvious fault that should have been fixed in post production.
• Read more: Best video editing monitors
Though far from ruining what has been a favorably received film, the constant appearance and disappearance of the dead pixels have led a number of viewers to speculate that this was due to one faulty camera which was part of a multi-camera setup.
One website, AV Club, speculated that the issue might be more a result of the outdated equipment Snyder tends to favors (such as an old Canon 50mm f/.0.95 lens), as well as the fact that he acts as his own cinematographer. This would not explain the dead pixel issue, but it does go some way to explain some erratic camera work and editing decisions. Maybe Snyder should consider upgrading to one of the best cinema cameras.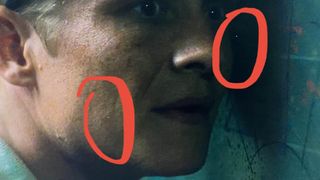 Viewers spotted up to three pixels in scenes as early as one featuring Dave Bautista's character, Scott Ward, discussing the heist with the billionaire Bly Tanaka (Hiroyuki Sanada) and another featuring safecracker Ludwig Dieter (Matthias Schweighofer).
Given that numerous viewers have commented on the fault, it is difficult to understand how it was not picked up in post production, where editors would be reviewing and scrutinizing scenes multiple times. The Twitter user who posted the marked-up still above also tweeted: "Dear @Netflix, please send me the final cut and I will fix the dead pixel in every scene for a favorable fee". Another viewer tweeted "Army Of The Dead was super fun. Even more fun when I realized that dead pixel issue wasn't my TV so I could relax a little bit."
Read more
Best 8K monitors
Best monitors for MacBook Pro
Best monitor calibrators