Photo workshops and holidays come in all shapes and sizes to suit every type of photographer. They can be as straightforward as spending a few hours getting to know the settings on your camera with a professional photographer, before returning home with more confidence over your camera's controls.
At the other extreme, it can mean spending a couple of weeks on the other side of the world hunting down rare wildlife with an award-winning professional photographer, combining a once-in-a-lifetime holiday with some advanced photographic training. The best online photography courses can be a great start, but there is nothing like face-to-face tuition.
• Directory of holidays and workshops
Whichever type of workshop you choose, you not only get professional photographic advice, but you also create time for you to progress your photography. Holidays with the family, or days out with the kids, mean that your photography is compromised. With a photographic holiday you can totally immerse yourself in your hobby – and be surrounded by people who are as passionate about photography as you. You can sleep, drink and breathe photography – and do this in almost any place that you fancy.
Some courses are general in nature, but there are plenty that allow you to specialize in a photographic genre: Landscape, wildlife and travel themed holidays are particularly popular... But there are also workshops and courses available in photo-editing, studio portraiture, macro photography and much more besides.
Here are some great tips and useful advice on choosing the right photography for you.
1. Getting teacher's attention
The tutor's time is one of the most expensive costs of a workshop, so the more people there are on the course, the less expensive it is. A high student-to-teacher ratio is not always a bad thing, but it can limit your picture-taking opportunities in some locations and with some genres. If you want more time from your tutor, look for courses that offer one-to-one training – these can be a lot less expensive than you think.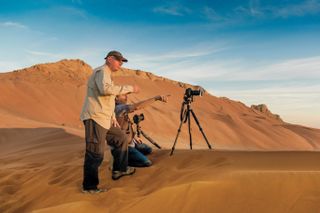 2. Location, location, location
You can go on photographic holidays almost anywhere in the world. This not only means that you get to see and photograph exotic places and wildlife, but you also get to spend time with other photography enthusiasts. How far you go, of course, will greatly affect the travel costs. But the costs of meals and accommodation may actually prove to work out cheaper the farther you roam.
3. What do you want to achieve?
Picking a course that is the right level for you is key. Some courses are designed to give people condence with using their cameras, and to show them how to use basic features. Others are designed to force seasoned enthusiasts out of their comfort zone.
5. How is the time spent?
Check the itinerary carefully, and ask questions if you are unclear about what each day entails. On some courses you will be expected to get up before dawn, and keep shooting until after dusk – which may be perfect for some, but not for those who are expecting some rest from their holiday. On some workshops, you may spend more time travelling by car or on foot than you do actually taking pictures.
5. How fit do you need to be?
If you are shooting mountains, you may need to do some climbing! Most courses give a pretty accurate idea of how t you will need to be in order to keep up with the others and reach the locations with ease.
6. Teaching experience
Many top photographers supplement their income by taking photographic courses, but this does not mean they are natural teachers. So if you need practical help as well as inspiration. Look for feedback from people who have already been on the course and see what they have to say about their experience.
7. What else will you need to pay for?
Check carefully what's included in the price of your course. Sometimes you are simply paying for the tutor's time and expertise – everything else is extra. Typically you will need to pay separately for travel and some meals. But you will nd some options where accommodation, board and travel is all included. Insurance, visas and vaccinations are all items you should factor into the cost for more exotic locations.
8. Local knowledge
It can be exciting to follow a professional photographer exploring a new location, but for a workshop you will usually want someone who knows the location well, so that he or she can get you to the best vantage points at the right times of day without even having to think about it.
9. What camera kit will I need?
Course leaders should provide you with a list of the key bits of kit that you should have in order to get the most out of the course – filters, tripods, lenses, laptop and so on. Do remember you can hire cameras and specialist lenses, if you need, say a super-telephoto, for your photo holiday adventure.
10. What else to pack?
It is not just your photo gear you need to think about. For outdoor workshops you may well need to have decent footwear, waterproofs, and thermals – and you will have to budget for these if you don't own them already. The organizer should be able to give you advice if you really need it.
11. When do you have to pay?
Many popular workshops can fill up over a year in advance, so you may simply have to pay a deposit in order to book your place, with the balance being due nearer to your actual departure date. But do check what you have to pay when – and what the cancellation policy is.