Nikon Europe Ambassador David Yarrow profiles the animals and people that call Kenya home, presenting two very different sides to the country…
Dandora, Nairobi, offers something different and locks on to my style of photography, which is staged scenes in places that are sometimes removed from our everyday life. The 30-acre rubbish heap in Dandora offered a completely unique setting and challenging visual.
The idea of having two assignments in one week shows the two sides of my photographic 'personality.' The same country, 300 miles apart, staged or natural, these photos are a clear representation of what drives me – uncovering the relationship between mankind and wildlife, and seeing how this can play in different settings.
The resulting shots were planned separately and use different locations, but they are connected by several things: a composition defined by behaviour, the ability to choose what I include/exclude, and, most importantly, showing two sides of this country.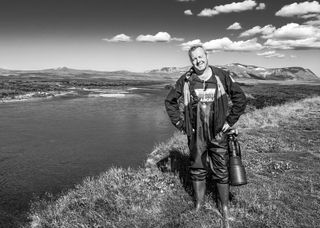 Many people hear Kenya and think of its incredible wildlife and national parks, but Nairobi is different – there are still so many areas where territorial and gang violence exists, and the city, especially Dandora, continues to battle with waste and environmental problems. I wanted these images to have the same impact as the shots of elephants.
Kenya is also home to a handful of the largest and most endangered elephants in the world, otherwise known as 'big tuskers'. Sadly, there are only 22 of these beautiful creatures, whose tusks are so long they touch the ground, left in the wild.
I have been to this part of the world before to photograph these animals, and knew I had a good chance of seeing the largest elephant out here again. He's called Tim, and when you see him, you know you'll never photograph anything like him again.
Gallery: David Yarrow's Kenya images
Whatever lens you use to photograph an elephant, if you're sitting in a jeep, anyone with an understanding of cameras, or the capabilities of your equipment, will know that the photo has been taken from an artificial position in a car. To convey the enormousness of an elephant in all its glory, you must shoot from the ground. Having worked with Tim before, I was confident that I understood his behaviours enough to get within 20-25 metres. Given how close I was, I didn't need anything longer than the AF-S Nikon 200mm f/2G ED VR II or the AF-S Nikon 105mm f/1.4E ED, both great prime lenses. Prime lenses are nearly always my choice for projects like this.
I wanted to photograph Tim just being Tim, not charging around, but quietly going about his business. This meant I didn't need a high number of frames per second, but a crisp resolution – the D850 was ideal. The resulting photo is a front-on look at this elephant in all its glory; revealing every texture of his skin, the ambition and intelligence in his eyes, and the beautiful tusks he carries with pride.
A load of rubbish
Dandora in Nairobi is a tough place to shoot. It hosts one of the world's biggest rubbish dumps, with such high volumes of chemical waste that you have to wear a mask. Sadly, the health risks of this waste site are being felt by the nearby suburbs.
The area also has a large gang culture, and I knew ahead of the trip that I wanted to profile some of its members. We contacted the deputy lieutenant of the gang to ask if they were happy to be part of it.
This is not about taking a portrait of an individual against a rundown area of Nairobi – it's about creating something thought-provoking and challenging. To achieve the scale of Dandora, we built and used a ladder to elevate the shot. This image is the epitome of a visual disconnect – the juxtaposition of smart, fit men in black suits against the dump.
For the profile of the deputy lieutenant, I used the AF-S Nikon 35mm f/1.4G. He has a powerful, sinister face, and the 35mm's wide-angle captured this perfectly.
This is an extract from David Yarrow's Special Project for Nikon Europe
Read more: