With the world glued to screens, it's all too easy to only ever share your images on social media and websites, which means many images are never shown very big or seen at their best. It may take effort getting the images off your hard drives and arranging to get them printed, but displayed as a big prints is the ultimate way to see images in all their glory.
At The Photography Show: Spring Shoots, Joas Souza – a rising talent in architectural, aerial and interior photography – revealed the secrets behind a great printed picture with Canon imagePROGRAF PRO series printers.
• Read more: Best large format printers
PhotoPlus: The Canon Magazine editor and photographer Peter Travers interviewed Joas Souza, where they discussed why printing is an experience to share, how it's a relatively affordable investment and can be an alternative revenue stream, and that printing is easy! The interview is available on demand for a limited time – register FREE for The Photography Show to check it out.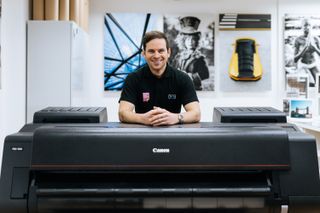 Brazilian-born, London-based Joas specialises in making exceptional spaces look even better on paper. A tireless perfectionist, he focuses on getting the most out of photographs through large-format print.
Joas also runs the Image Print Centre in south-east London, which specializes in professional photo and fine art giclée printing, using the Canon imagePROGRAF PRO-4100 printer.
• Canon imagePROGRAF PRO-1000 review
• Canon imagePROGRAF PRO-300 review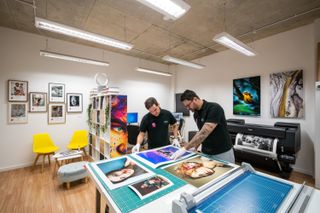 Large-format printing
Passion for printing
Printing is just amazing. Taking a picture is a personal experience, the atmosphere, the surroundings, but it is a relationship between the camera, the environment and the photographer. With printing you can open up this experience to a wider audience and share with them your emotions and feelings. Printing can bring an image to life and it is really the other side of photography, it is the way to materialize the photo.
You also have full creative control over the picture. Just think about a moody black and white picture and how this can be beautifully reflected on a paper. Or think how vivid the colors and how the details are so nicely printed in a large print.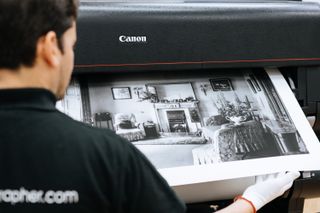 New revenue stream
For professional photographers, printing can unlock extra revenue streams. It can open up new business opportunities, it is a passive income. Yet only one in ten photographers have a printing facility. It is missed opportunity and I believe that this is due to the digital movement we are in now, but printing is a great opportunity to promote your own works and showcase it in any environments, whether in an office reception, the wall in people's home, or as big prints in hotel atriums.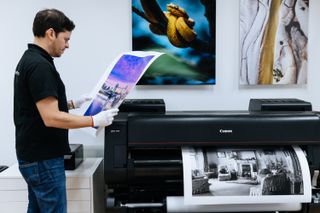 Printing is easy!
There is this myth that printing is difficult and time consuming, but it is not! Canon has made life easier for me and my colleagues in photo printing. I'm able to work entirely in Photoshop as I already do for post-production, and Canon's imagePROGRAF technology seamlessly integrates, meaning that I can produce prints as easily as I can save a digital file.
The media auto detection mode means you don't have to profile a media every time you use it, you load the paper roll in and it's automatically detected. The sensors automatically measures the reflectance and the media thickness to detect the loaded media type and keeps memory of the history data. The more you use the better it gets in terms of accuracy.
As a photographer and a business owner, this means I can reduce the time that I have to manually intervene on the machine, and I can focus editing images, potential new customers and quoting et cetera.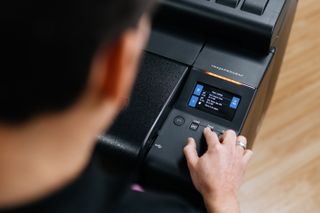 Printer technology
Joas uses a Canon imagePROGRAF PRO-4100 printer, and explains three key technologies that have made his life easier…
1) Accounting Manager
This is free software that came with my printer, and it's very useful to record the volume of ink used per print accurately and automatically. It also calculates the cost of the ink and paper used for each job, but it keeps track of the time periods, and if multiple users have access to the printer, it records users as well. So in a glance you can have all the information at hand.
2) Hot Swap Tank
How annoying is it to stop your printer while it's working to replace the ink cartridges? My printer keeps some ink in reserve sub-ink tanks, which is used automatically as needed to enable ink tank replacement during printing. Not only does this prevent downtime, but also reduces ink wastage and, therefore, operational costs.
3) Ink cartridges
Canon printers come with a huge amount of ink as a starter kit. My PRO 4100 came with almost two liters and then, according to my needs, I can mix and match different tank sizes.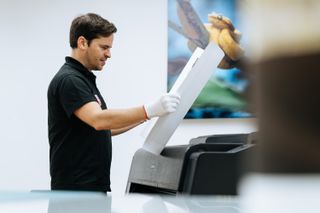 Why Canon?
Canon's a premium brand in imaging with a long experience in photo and large format. I have been using Canon for over 20 years, in photo and in printing. All the elements from image input to image output make the workflow easier and as fun as possible. Quality and engineering process is at the forefront of everything you do.
The Photography Show: Spring Shoot on demand
If you missed the show or any sessions this weekend, don't worry, lots of the videos are now on demand for you to enjoy for a limited time. You can still register FREE for The Photography Show and check out the full programme of sessions and the star-studded Super Stage speakers. If you've missed out, you can catch up with plenty of sessions and videos on demand.
Read more
Best photo printers
Best photo paper for inkjet printers
Best portable printers
Best photo books
Best online printing
Best 3D printers