Canon's new "red line special" imagePROGRAF PRO-1000 is a 17-inch, A2 format photo printer which brings a pro-grade build and capabilities to the enthusiast sector. The imagePROGRAF name has been used on Canon's professional large-format inkjet printers for a while and the PRO-1000 will, of course, also appeal to pro users, especially as it's designed to fit on the desktop rather than being a space-hungry standalone unit.
The imagePROGRAF PRO-1000 replaces Canon's imagePROGRAF iPF5100 which was pretty much exclusively a pro-level model if only because of its price. However, it was a highly-sophisticated and very much state-of-the-art A2 printer for its time. Now, almost a decade later, the long-awaited – if overdue – successor has arrived at a much more attractive price, but no less sophisticated or state-of-the-art.
The PRO-1000 occupies a position between the top-of-the-range PIXMA PRO-1 and the large-format floor-standing imagePROGRAF models. In many respects though it has far more in common with the latter group, including a vacuum system, long 'checks and balances' delays between prints, and even distinct operational sounds. As the only feature adopted from Canon's 'prosumer' printers is the Chroma Optimiser cartridge, it's very much a large-format printer that just happens to be compact enough to be located on a sturdy desk.
• See also Best Canon printers
Canon says that the PRO-1000 is not only designed for professional photographers and discerning enthusiasts, but also for photo schools, design companies and advertising agencies who all demand accurate, high-quality prints. In order to place an emphasis on quality, Canon's signature red line – a visual designation of the higher-performance D-SLR cameras and L Series lenses – has been assigned to the PRO-1000 and runs across the front panel.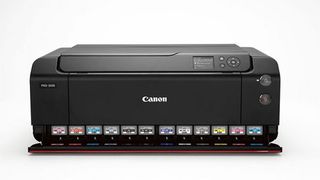 On the outside
As far as its external housing is concerned, the PRO-1000 is as elegant and handsome as a printer can get. The matte black finish has a distinguished fine-stippled top area, well suited as a holding zone for paper or a completed print. Everything is rock solid with the paper feed and receiving trays both strong items. No doubt the heavy construction and all the technical goodies within contribute to the significant weight of 32 kilograms.
The printer incorporates a newly-developed Lucia PRO pigmented inkset of 12 colours to further enhance colour gamut and smooth gradations. Canon claims the colour gamut is increased by 110 percent of the PIXMA PRO-1's capacity on lustre or gloss media and 119 percent on matte. The matte and photo black inks have separate channels for black and white work and are supplemented by grey and photo grey cartridges. Magenta, yellow, cyan, photo magenta, photo cyan, red, blue and the Chroma Optimiser make up the remaining inks. For the very first time with an A2 printer, a Chroma Optimiser cartridge has been included, in line with the PIXMA PRO-1 and PIXMA PRO-10S models. The optimiser places a clear overlay over gloss or semi-gloss media to minimise the problems of gloss differential and bronzing situations associated with printing pigmented inks on gloss.
Having a Gloss Optimiser cartridge in an A2 printer opens up a cupboard full of potential, especially when the 300 gsm Canon Photo Paper Pro Platinum and 260 gsm Photo Paper Pro Lustre papers are involved. Being able to stand back and admire a glossy or semi-gloss A2 with minimal hint of gloss differential or bronzing is a whole new experience and one that hasn't been seen since the last days of the 24-inch wide dye-based printers.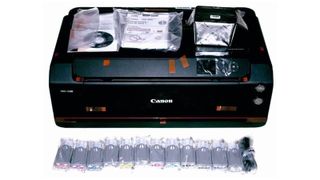 The PRO-1000's 1.28-inch print head is 1.5 times larger than that of the PIXMA PRO-1 and employs a total of 18,432 nozzles, capable of delivering 32 million droplets per second. Of considerable importance is a new image processing engine called 'L-COA PRO'. This is designed for more accurate droplet placement with an ink injection system using temperature regulation to help maintain ink at the correct viscosity for optimal, consistent droplets of ink. Any malfunctional nozzle is immediately detected and corrections made. If paper is slightly askew in either of the two paper feeding supports, the printer adjusts automatically and, with a vacuum air feeding system to keep paper flat, the paper pathway is perfect.
As pigments reside on top of the paper surface, abrasions can be a problem, but with silicon added to the new inkset the PRO-1000 takes a step towards providing a protective measure. There is no way of determining if the silicon additive does make for a more resilient print surface, but it's encouraging to know Canon is addressing the issue.
The rear paper support tray and front receiving trays slide out in three sections. At the back of the printer is the single sheet manual feed intended for heavy and fine-art papers. It also slides out in three sections and is of the same heavy duty construction.
An uncomplicated operational panel consists of the LCD screen, 'Home' and 'Return' buttons, 'OK' buttons with arrows and, at the right-hand side, the 'Power' and 'Stop' buttons.
Everything is designed for smooth and efficient running, even to the extent of an occasional "agitating the ink – please wait" phase appearing between prints when the printer clatters away for a few seconds.
In the box
Aside from the printer itself, the box contents include the power lead, CD-ROM, 12 full-capacity (80 millilitres) Lucia HD ink cartridges, the print head, two set-up instruction sheets and A4 paper (MP-101) for the print head alignment check. The maintenance cartridge is already fitted.
The packing carton measures a sizable 99x55x43 centimetres and weights a hefty 39 kilograms in total – enough to warrant a trolley for transport, while two people are needed to lift the printer out of the box. However, the heavy-duty plastic wrapping around the printer is strong enough to actually hold the printer and so is the easiest way to lift it out of the box.
After removing all the plastic sheeting and orange protective tape, the printer is switched on. The orange clamp for the print head should be retained as this will need to be re-fitted if the printer is moved later. As initially daunting as fitting the print head may be, it is simple enough provided the blue handle is used for this procedure. Here is where one of the set-up videos on the Internet will be helpful.
An unusual feature is the way the ink cartridges are inserted. The normal arrangement is for the cartridges to stand upright, however with the PRO-1000 they are inserted on their sides. A fair amount of ink is required to charge up the ink lines and the print head. This works out at about 42 millilitres per cartridge or a total of about 504 millilitres of ink to leave ink levels indicating less than 50 percent capacity… or a total of about 456 millilitres available for printing. A massive amount of ink is involved, but fortunately it is a once-only affair with replacement cartridges remaining at their full 80 millilitres capacity. By comparison, the Epson SureColor SP-P800 allocates about 138 millilitres to its set-up. Although the 64 millilitres cartridges supplied with the Epson printer are of the 'start-up' variety, it still leaves about 438 millilitres for printing.
The ink required for the PRO-1000's set-up relates to the broad spacing of the 12 cartridges and the need to fill long supply lines. It is a design curiosity that holds a large reservoir of ink being continually replenished by new cartridges. When the printer is eventually discarded, about half a litre of ink goes with it. Very few buyers coming up from A3+ prosumer printers would give much thought to this characteristic, but when you consider there is nearly $500 worth of ink involved, it's hard to dismiss. Welcome to the world of large-format printers – Canon style.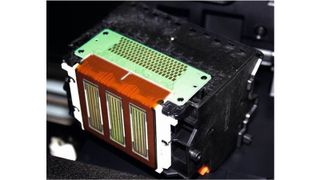 After the print head is inserted a "please wait momentarily" message appears and gives instruction to load one of the provided A4 sheets. Thereafter the printer gurgles away for about 20 minutes, continually showing its progress on the LCD screen as it gets itself organised to charge up the print head. Finally, the set-up CD-ROM is inserted in the computer for prompts to be followed.
No matter how experienced you might be with inkjet printers, it's good practice to always read and follow the instructions carefully, especially when the printer is not a basic type. The PRO-1000 is a complex piece of finely-tuned machinery whose user manual requires consultation before undertaking critical manoeuvres. Absorbing in detail the 858 pages of the Online User Manual from beginning to end doesn't make for light reading, but when approaching particular features of the printer it is wise to do the appropriate research. A basic manual is part of the CD-ROM while the very comprehensive full manual can be downloaded from the Canon Website.
Playing around with the menu to 'see what happens' isn't a good idea with this printer. For example, there is a difference between moving the printer a short distance across a room and transporting it over a fair distance. Putting the printer into its transport mode means draining ink into the maintenance tank and starting again with another inkset in its new location. However, moving the printer by vehicle doesn't require the full transportation ink dumping procedure, provided the unit can be kept in a level position.
Printing
The first test print was made on A3 matte paper, but the printer had a 25 millimetres margin default that needed to be turned off via 'Page Setup', 'Print Options' and then 'Cancel the safety margin regulation for paper size'.
The rear and manual paper feed systems performed admirably with no false feeds or head strikes, or any problems running a set of A4 pages for a book. The centre positioning of paper supported by the two guides and the vacuum platen seal ensure a precise pathway and perfect ink placement. The feed slot cover on the rear paper feed must be closed to allow printing to proceed. After a few days of being constantly reminded to close the cover, the message soon sinks in.
Most printing was carried out using 'Let the printer manage colour' via Photoshop and locking into the appropriate ICC profiles. This proved to be a most satisfactory approach with excellent results over a variety of papers. Settings for favourite papers may be saved to appropriate names for quick recall, thereby overcoming the need to be always re-organising all the parameters.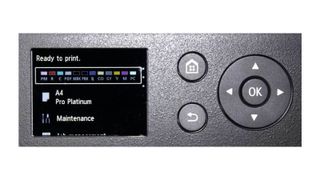 All 16 ICC profiles for the Canon listing were accurate and many proved suitable for similar 'other brand' papers. For example, several prints on Innova 280 gsm Fibraprint matte printed so accurately to the screen using the Canon matte profile that a custom ICC profile just wasn't necessary. Profiles provided by manufacturers like Hahnemühle, Canson and Innova are recommended for best performance or custom ICC profiles can be organised.
Compared to A3+ format printers, the 'vacuum cleaner' operation of PRO-1000 is noisy, but by no means objectionable. While printing on medium matte paper proceeds quietly enough, printing on heavier papers is noticeably louder (heavier paper = more suction?). The printer does have a 'Do not use quiet mode' default in 'Device Settings' that can be changed to 'Use quiet mode' but, according to the manual, the operational speed may be reduced.
All prints created exhibited excellent colour depth with pronounced blacks and strong reds. On gloss media the prints compared well with the brightness and impact of prints created with the dye-based PIXMA PRO 9000 Mark II and the PIXMA PRO-100S.
Crisp and clean may not be technical terms to describe the Canon PRO-1000 prints, but without precise instruments to determine D-max and make colour gamut comparisons, this description may be regarded as highly complimentary.
The black depth is significant and critical in establishing a foundation for the colour or grey scale tonality ranges.
Canon recommends that the printer be left switched on continuously. This is achieved via 'Various Settings', 'Device Settings', 'Energy Settings' and then having 'Auto power off' set at 'Never' and changing the 'Auto power on' to 'Off'. This is a long way into the menu and just part of the unit's sophistication… plus the need to become familiar with the user manual.
Software and connections
The supplied CD-ROM not only contains the printer driver, but also bundled software, including Print Studio Pro and Device Management. Canon Print Studio Pro acts as a plug-in for the likes of Photoshop, Elements and Lightroom to provide an alternative means of print-making with the added capacity to handle 16-bit files. In Photoshop it is accessed via 'File' and 'Automate'. For those who might like to prepare custom ICC profiles to accommodate 16-bit files, Print Studio Pro doesn't appear to have any means of turning colour management off.
The Device Management software allows control of multiple printers through a single console. A Quick Utility Tool Box, Media Configuration Tool and Account Manager software (for print cost calculations) are also included.
Ethernet connectivity is available as well as a capacity to print wirelessly from a range of devices, including laptops, tablets, smartphones and cameras. Direct printing via PictBridge or from on-line storage services such as Dropbox and Google Drive is available along with compatibility with Apple AirPrint and Canon's own PIXMA/MAXIFY Printing Solutions.
Canon indicates PRO-1000 prints under glass will last approximately 60 years and 200 years in dark storage (i.e. in albums). These are Canon's figures, so we'll need to wait until Wilhelm Research conducts its own tests. However, a rating of 60 years by Wilhelm Research would put the PRO-1000 at the very bottom of the pigment longevity table… which is highly unlikely. Wilhelm Research rates the Lucia inks for the Canon large format printers at just less than 100 years under glass and over 200 years in dark storage so there is good reason to believe the Canon PRO-1000 inkset will be similar.
Wilhelm Research longevity ratings are conducted under strictly controlled laboratory conditions and essentially act as a means of comparisons between various ink and paper combinations. Needless to say, the longevity characteristics of the prints you make will be dependent on the protective measures you choose to apply (such as spraying), and the display and storage conditions.
The printer driver allows custom paper sizes that vary from 89 to 432 millimetres in width and from 127 to 594 millimetres in length. Panoramic prints on paper considerably longer than 594 millimetres are not possible. Without this capacity and for all of its wonderful features, the PRO-1000 has at least one major limitation.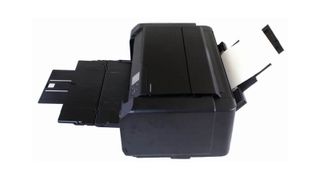 Job history
By down arrowing on the LCD screen to 'Job Management' and 'Display Job History', all the details of a print can be viewed and printed out if required. Although only the last ten jobs appear on the LCD, all jobs back to square one can be printed out. The details not only include print date, media type, print size, times to the second and total ink consumed, but also the amount of ink per individual cartridge.
All this information may be regarded as little more than a curiosity or it can be put to good use for small business accounting. For example, it took 1.2 millilitres of ink to produce an average A3 print at the highest quality level. As the 80 millilitres cartridges cost $80 each, this results in about $1.30 worth of ink being consumed. For multiple copies of a print or a run of book pages, the time and ink records relate to the total task, not to individual pages.
The Job History may be downloaded using WiFi fusing and the Web Browser function. This requires a password set-up and the serial number of the printer.
Gorgeous glossies
Canon's Chroma Optimiser and Epson's Gloss Optimiser (as in the SureColor SP-P405) are intended to overcome the problems of gloss differential and bronzing that have been commonplace with pigment ink on gloss or semi-gloss media.
The availability of Canon's Pro Platinum Glossy 300 gsm paper in A2 sheets would appear to open up a whole new world of enjoyment and a 'wow' impact for those who like to go glossy. Unfortunately, the clear overlays provided by both Canon and Epson do not entirely overcome the problems. So much depends on the picture content in terms of the clear (or un-inked) areas and the distribution of blacks.
The capacity of the PRO-1000 to produce striking gloss prints at A2 could well be reason enough for some to be chasing this printer, especially if using Pro Platinum paper. Admittedly, it's not exactly the same as the flawless and more resilient surface of a dye-based printer, but it is close enough, and has virtually the same colour vibrancy plus, of course, it comes with greater longevity.
We don't tend to appreciate what the Chroma Optimiser does until comparisons are made with images produced on a printer that doesn't have this facility. The gloss differential and bronzing situations may not be entirely overcome on the slightly dulled down surface of a clear coating application from the PRO-1000, but the difference between not having the optimizer is most noticeable.
Papers like Canon's Platinum Pro Lustre have always been popular for both dye and pigment printing because they occupy the middle ground between relatively flat matte prints and the high sheen of gloss. That makes the paper a good selection for both framing and hand viewing. The facility of the Chroma Optimiser certainly enhances the blacks.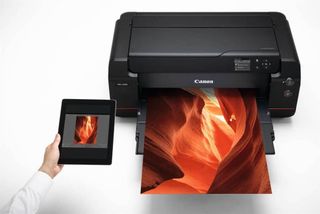 Black and white
The grey and photo grey inks in combination with either the photo black or matte black ensure neutral prints with deep blacks and good tonal spread from highlight to shadow areas.
The 'Grayscale' print panel allows adjustments to be made, if required, to the settings of 'Pure Neutral Black', 'Warm Black' or 'Cool Black'. Variation between 'Cool' and 'Warm' may be made by changing 'X' and 'Y' values or by moving the cursor around on a small target screen. By clicking on 'View Color Pattern', the differences can be monitored.
If a black and white image has been assigned RGB colour mode it can be printed as colour with unlimited colour tints. It should also be noted that printing B&W images assigned as RGB mode as 'Colour' rather than 'Grayscale' on certain media can produce more pleasing results and retain better shadow detail. Black and white prints created by the 'Colour' method were ever so slightly warmer than those by 'Grayscale'. There are no rights or wrongs attached, it's just a matter of what pleases.
A few A3 prints made on a variety of media were sufficient to place a very large tick against the black and white department of this printer. Images on gloss, especially the Pro Platinum paper, were simply outstanding and were reminiscent of darkroom glossies. Admittedly, some gloss differential is evident, but it takes little away from the pleasure of viewing prints that have such immense impact.
Economy
A full set of replacement ink cartridges will cost $960 or about half the initial cost of the printer. As daunting as this may appear, the discerning aspects are the cost per millilitre and the total number of prints that can be produced. At about a dollar per millilitre, the inks work out cheaper than other printers, especially the A3+ format, and with ink 'spray down' being fairly small per print, the PRO-1000 would appear to rate well in the ink economy department.
The real cost of printing is not always measured by the amount of ink laid down per print. Other factors come into play as well, such as the amount of ink required to prime a printer, the average print sizes and the amount of ink directed to the maintenance tank.
There is one aspect of the printer that needs to be clearly understood. After every print, a check is made and a tiny amount of ink goes to the maintenance tank. This amount is constant, irrespective of the size of the print. Larger prints like A2 require much more ink per print compared to smaller ones like A4 or A5 yet have the same discharge between prints. Those smaller prints consuming an average of 0.3 millilitres could well be sending the same amount to the maintenance tank. Essentially, the PRO-1000 will be far more efficient on ink if the prints are large. Using an A2 format printer to run off postcards and book pages might seem like overkill when an A3+ printer would seem more appropriate, the PRO-1000 is a versatile printer that can handle the smaller tasks as well as the larger ones in any volume.
Printing a sequence of pages for book projects presented no problems with the printer being left unattended while other office duties were handled. Nevertheless still be mindful of the more frequent ink dumps to the maintenance tank.
If an accurate assessment on ink usage is to be made, calculations on the levels of the screen graphs should not be adopted. These levels don't move incrementally and may stay the same for some time and then take a big leap. The best approach is to weigh cartridges and the maintenance tank as empty, full or partially-full and then do the sums. Incidentally, the swapping from photo black to matte black ink or vice versa involves no loss of time or wastage of ink. The opposition is still struggling with this.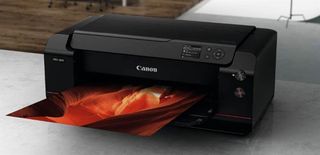 Verdict
In a sweeping overview, Canon's PRO-1000 would appear to have advantages over its main competitor – the Epson SureColor SC-P800. However, it's still not going to be an easy choice for intending buyers to make. The PRO-1000 has 11 colours, a Chroma Optimiser, no losses with the black ink changeovers and a 16-bit print capacity. It's heavy-duty all round and can handle traffic all day without a whimper.
Nevertheless, it's also a heavy unit, limited to A2 and consumes a heap of ink that never finds its way to actually making prints.
Over three week of testing the printer was given a solid workout. Using paper varying in size from postcards up to A2 on a mix of Canon and other brand papers, but there was not one false paper feed nor any head strike marks, thanks to a precise delivery system.
The PRO-1000 is essentially the top-class machine for making A2 exhibition prints, especially on lustre papers with the benefit of the Chroma Optimiser, so the delays between prints are not likely to be an issue. However, printing a run of smaller-sized prints, including book pages, is another matter and here those delays could be frustrating and the ink dumps to the maintenance tank much too numerous.
The PRO-1000 is very much a state-of-the-art A2 printer with the potential to extract every nuance from print files. Some enthusiasts will be able to utilise the 12 inks to near maximum capacity with 16-bit print files featuring an extensive tonal scale, but most of us working with print files adjusted for impact might be hard pressed to see the difference against prints produced with an eight or nine colour inkset. The professional print-maker will find the strength and quality of the PRO-1000 appealing while the keen enthusiast who appreciates top class machinery will be equally attracted.
In the appraisal of any printer, we are keen to purchase we look at many aspects including the initial outlay, running costs, print quality, image longevity, print speeds and overall reliability. The PRO-1000 is a fortress that will endure for many years. It is competitively priced, turns out prints with quality second to none (but is limited to the A2 size as the maximum printable), has a 'jury out' on print longevity, needs large prints for the best ink economy and actually requires firmware attention to the Chroma Optimiser settings.
Nevertheless, on balance, the Canon imagePROGRAF PRO-1000 is a formidable package with similar conclusions as for the iPF5100. It's a finely-tuned machine that requires patience and understanding to master before stepping back to savour the output it can produce.
Read more:
The best photo printer in 2020`
The best large format printer for photographers, exhibitors and studios
Budget inks for printers - the pros and cons