Just a month after release, the Canon EOS RP's sales have taken a nosedive in Japan – despite it being the country where compact mirrorless products, including Canon's M-series cameras, have proved the most successful.
The report (hat tip to Canon News) comes courtesy of a story by BCN+R, a Japanese organization that aggregates point of sale data from the nation's retailers. The outlet illustrates the Canon EOS RP's sales information with an alarming graph, demonstrating the nosedive after just a month on sale.
The RP – a smaller, lighter version of the Canon EOS R – was envisioned by Canon as a way for existing APS-C customers, including those using the company's original mirrorless cameras like the Canon EOS M50, to graduate to a full-frame mirrorless system.
Its initial performance was very promising, with the camera outselling all competitors in its class, securing almost 35% of all full-frame mirrorless sales upon its Japanese launch on 14 March. Indeed, Canon's latest financial report notes that sales of the RP "got off to a flying start".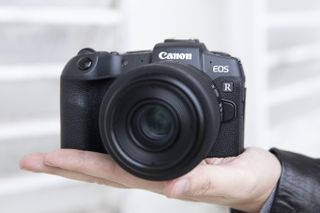 However, those figures did not sustain in Japan. After just a week it had been leapfrogged by the Sony A7 III, with its share dropping to 25%, and despite a brief mid-month uptick it ultimately finished the month with just a 14% share – still second among all full-frame mirrorless cameras.
After a month, the A7 III had rocketed to a 42% share with the RP only slightly above the EOS R (whose sales had incrementally grown over the same period) – a far cry from Canon's strategy of securing the top slot in the full-frame category.
BCN+R concluded that, while the EOS RP's low price gave it an advantage, ultimately pricing is not as important to customers buying full-frame mirrorless cameras. A much more critical factor is the lens ecosystem – and, with only four native RF lenses available, the RP faltered next to the A7 III's rich selection of optics.
With six more products on the Canon RF lens roadmap due to launch by year's end, including the imminent release of the Canon RF 85mm f/1.2L, the EOS RP (and EOS R)'s performance should experience a second wind.
Until the R system is more mature, though, it will be a tough battle to wrest the top slot from Sony.
Read more:
Canon EOS RP review
Canon EOS RP vs EOS R: key differences and how to choose between them
Canon Imaging: 23% decline in camera sales, 81% drop in operating profit