We're always on the lookout for Canon's latest patents as they generally include tantalizing clues as to what the firm's next cameras could look like. And this latest one is among the most intriguing ever: it appears to show a camera with a radically redesigned hollow grip for one-handed shooting.
In other respects, the camera in the diagrams looks a lot like the Canon EOS R3, which we know is coming soon and in fact has already popped up at the Tokyo Olympics. And so that has led us and others to wonder – could this in fact be the Canon EOS R1, which has been the subject of endless camera rumors even though the R3 isn't even here yet?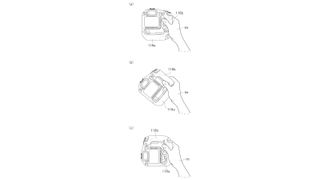 The grip of the camera features an L-shaped hollow for the hand to sit in securely. According to a rough Google Translation of the patent by the folks at Canon Watch, the purpose of this design is to allow for quick, one-handed switching between horizontal and vertical shooting. Whatever the orientation, the user can keep a safe grip on the camera.
The patent also makes mention of an L-shaped touch sensor, which presumably would be included to enable control of key settings with the same hand that's gripping the camera.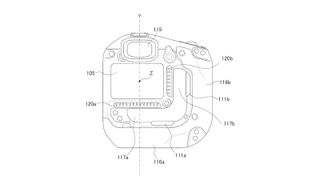 So what makes people think this is the EOS R1 specifically, and not just a different EOS R camera altogether? Well, the diagrams do give measurements for the size of the camera, and the enterprising folks at Asobinet (who spotted the patent) have noted that it is listed as being bigger than the R3 – which makes it unlikely to be anything other than an EOS R flagship.
Some sleuths have also pointed out that this could be the Canon EOS R5c – the cinema-oriented version of the Canon EOS R5 that supposedly banishes the overheating issue, due to arrive in 2022.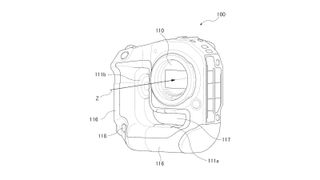 Rumors about the R1 have been swirling around for quite literally all of 2021 – back in January we were hearing reports it would have Quad Pixel Autofocus and a global shutter. Canon makes a lot of patents and not all of them turn into products, so it's possible that this may be a concept that never sees the light of day.
However, Canon has shown a welcome willingness to innovate in recent years, and with stiff competition from Sony it makes sense that the firm would be looking for anything that could give its latest cameras an edge. We'll have to wait and see which features do and don't make it into the EOS R1 as and when it's announced…
Read more: